Past Projects - Age Allies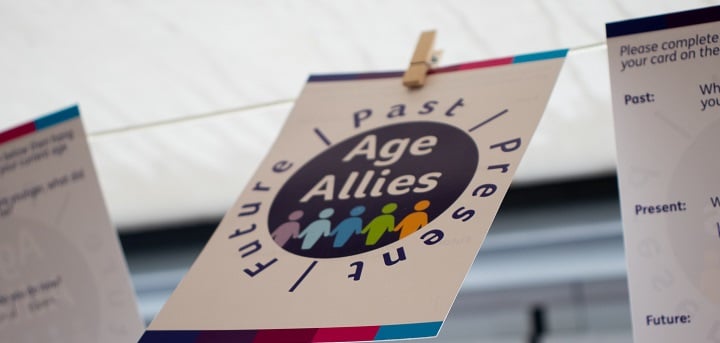 Published on 09 May 2017 05:17 PM
The Age Allies project has now come to an end. To find out about our current campaign to make London an Age-friendly City, please click here.
Age Allies was a three year programme that provided FREE age awareness workshops to businesses and organisations across London.
Age Allies was a Programme, funded by the City Bridge Trust, that provided FREE Age Awareness Workshops to organisations and businesses across London. The half-day workshops were developed in collaboration with older Londoners and were designed to help participants identify their own unconscious attitudes and assumptions about older people.
"The Age Allies Workshop brought unexpected benefits, improving customer awareness and the quality of interactions and service delivery across the board."
Unconscious Bias
Attitudes to age and older people have not kept pace with changes in society. Life expectancy has increased enormously and people are living active and healthier lives for longer than ever. Yet 50 is still often seen as the point when one is considered old. These days that would make us old for almost half our lives! Does the label of "old" put all those people in the same category? Are they one homogenous group or a varied and diverse array of individuals with different life-styles, life-chances, motivations and responsibilities who often do not perceive themselves as "old".
"The workshop opened my eyes to the invisibility of older people in some situations."
Everyone holds unconscious beliefs about various social and identity groups, and these biases stem from one's tendency to organize social worlds by categorizing. Our biases are influenced by our background, cultural environment and personal experiences.
Innovation and Forward Thinking
The Age Allies Programme is a unique opportunity to develop age awareness within your team. The results have the potential to influence service and product design and delivery and can have real and positive impacts on operational effectiveness and performance. Participants leave our workshops with a greater awareness of themselves in relation to older customers and service users, and with a personal way forward.
The workshop format has been developed with a small group of older volunteers who also act as co-facilitators. Using a series of interactive exercises our workshops are designed to be effective across different sectors and business types. They are not just for customer service workers - they are relevant to staff in all roles and at all levels.
"Thank you for running the workshop – all of us over here agreed that it was a very valuable session. It was great in stimulating us to think about all sorts of issues, both personal and relating to our work."
In the workshop we hear directly from older people about their own experiences and begin to understand the consequences of our own attitudes and language. We move through a process of identifying the current situation and our own unconscious assumptions, through establishing a way forward for individuals and your organization, to an invitation to commit to making personal change.
We are delivering these FREE half day workshops to businesses and organisations all across London. If you would like to find out more about the workshops and discuss the benefits for your organisation, please get in touch. We also host mixed workshops, where employees from different organisations join us at our offices to learn more about their own unconcious approaches towards ageism and to share best practice.
The Age Allies project has now come to an end. To find out about our current campaign to make London an Age-friendly City, please click here.
Age Allies Evaluation Reports and Toolkit
Following the completion of the Age Allies project, we produced a set of evaluation reports detailing key findings from the programme as well as a toolkit for organisations looking to continue the work of the project. Please download these files to find out more about the Age Allies Project.