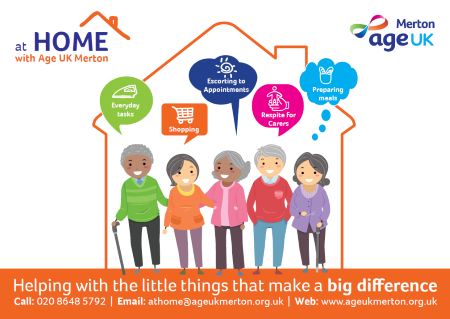 At Age UK Merton we understand the challenges faced as we get older and we are here to help.

At Home with Age UK Merton provides practical help to enable people to continue to feel comfortable, safe and secure at home. We also provide a short term respite/ sitting service for carers. We offer the carer quality time outside of their caring role to have space for themselves with peace of mind.
At Home with Age UK Merton is a flexible and trusted service which can provide as much or as little help as needed. Our At Home Helpers are fully trained, supervised and police (DBS) checked.
As well as the practical help and support received, we can connect people to the other services provided by Age UK Merton. Including:
• Face to face and telephone befriending
• Sole Mates foot care and nail cutting
• Support for health conditions
• A range of activities, classes & a lunch club at our activity centre in Mitcham.

We can arrange a free benefits check with Age UK Merton's Information & Advice service to make sure all eligible benefits are being claimed – if eligible for Attendance Allowance this could help with the cost of the At Home service.

What else do I need to know?
At Home with Age UK Merton is available Monday - Friday 9am - 4pm.
We charge an hourly rate to cover the cost of providing the flexible and trustworthy service. As a charity we make no profit - the payments go to paying the staff and keeping services running.
We are unable to offer personal care such as helping to dress, go to the toilet or take medication.


What is your "Never Walk Away" policy?
This is a pre-arranged emergency plan that we follow if one of our clients doesn't open the door. We won't leave until we know where the client is – this could be by contacting next of kin, hospitals, carers or in some cases the police. This policy offers reassurance to clients and their families.

What happens next?
If you are interested in finding out more about the service give us a call on 020 8648 5792 or email athome@ageukmerton.org.uk.
We will arrange a time to come round and have a chat to find out how we can help.