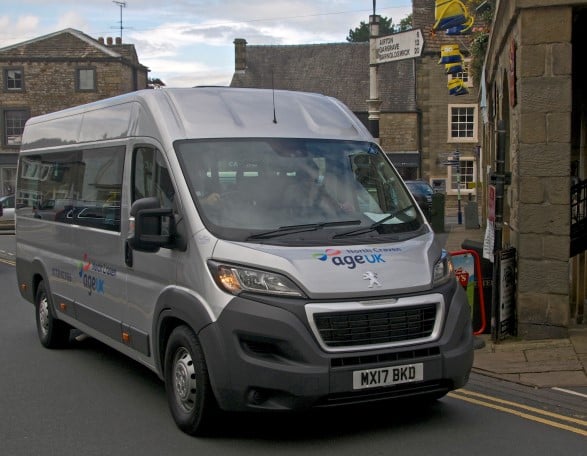 Update -
The Volunteer car scheme, taking people to health appointments, is still operating on a smaller basis, our Minibus shuttles have re-started, see Shuttle Service, but our trips are still suspended for the moment.
We are at looking at new ways to offer local trips etc and will update you here.
We know how important reliable transport is. Age UK North Craven offers transport services to help you get to the places you need to go, as well as enjoyable local trips and days out.
Age UK North Craven's transport services
Transport shuttle service

Our regular and friendly shuttle service has restarted in Settle and Kirkby Lonsdale. Please click below for further information.

Community car scheme

If you have important health appointments that are difficult to get to, our volunteer –run community car scheme can help you to get to the places you need to go.

At the present time, we are still running this service.

Local trips and days out

Minibus Day trips will are suspended at the moment, but we are looking at starting these again soon. Please keep checking here for updates.


Wheelchair Hire
Age UK North Craven now has a wheelchair hire availble if you are interested please ring 01729823066 for more information.
Mobility Devices care and repair service
Airedale mobility is a team that services and repairs wheelchairs and other mobility devices, including scooters. Contact at: 01535292638
Bus Routes
Bus Routes that go towards Ingleton and Skipton.
http://getdown.org.uk/bus/bus/581.shtml
Skipton and Craven Action for Disability (SCAD)
SCAD provides a variety of different transport services such as Wheelchair accessible transport and
Wheelchair hire.
Demand Responsive Service –DR06 North Craven Village Bus
Monday to Friday from 9:00 to 14:30 Door to door service.
http://www.northyorkstravel.info/timetable/DR06_may15.pdf
This service is for people who:
Live in an area without an accessible bus service, such as those who have mobility issues and cannot easily reach a bus stop.
For those who need to do something that using a standard bus may be inconvenient or not suitable such as having to wait a long period of time.
There is a need to book this service 24 hours in advance. There is a cost to using this service, but if you have a older persons bus pass then the cost is reduced by 50%.
11 - Horton In Ribblesdale - Tosside
https://bustimes.org/services/11-horton-in-ribblesdale-tosside
A bus service operated by north yorkshire county council.
Love the countryside? Try our Country Connect service!
Country-Connect takes people, who often may be otherwise almost housebound, back into the country to rediscover simple pleasures in the countryside, such as seeing woodland bluebells or hay meadows, enjoying picnics or listening to birdsong.