Take a seat and catch your breath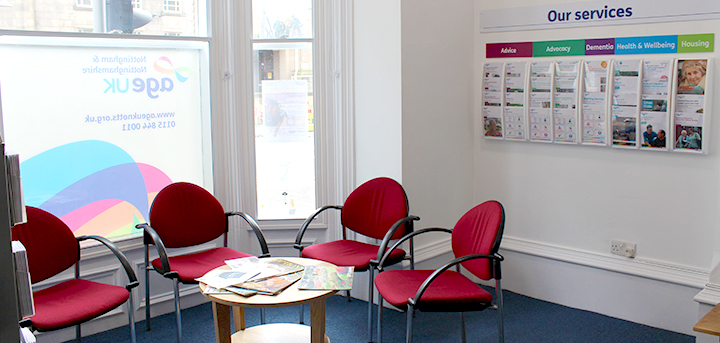 Published on 23 October 2018 02:10 PM
Did you know that Age UK Notts is one of the over 300 premises which offer older people a chance to sit down - 'Take a Seat' and catch their breath when they are out and about?
'Take a Seat' was introduced by Age Friendly Nottingham (AFN) in September 2015 in Clifton and has been rolled out to cover other areas of the city. It is about raising awareness of how people sometimes struggle to get out and about because there is not enough seating available. In order to encourage more older people to remain part of their local community, AFN is working with local businesses to provide more seating for people who need to take catch their breath.
Mick Tinkler, Chief Executive of Age UK Notts said: "It's vital that we help older people stay independent and get out into their local communities. We're very passionate about being involved in 'Take a Seat', having a seat in our Head Office in Bradbury House and the sticker in the window shows the rest of the world that we are very proud to care and that we are part of a wonderful Age Friendly Nottingham initiative."
If you are out and about in Nottingham and would like to sit down and catch your breath, please feel free to visit our Head Office at Bradbury House, 12 Shakespeare Street, Nottingham NG1 4FQ.
And if you are planning a journey anywhere in the city, don't forget to see where you can take a seat. See list of places (businesses and community premises) where you can take a seat.