Commemorating VE Day in Lockdown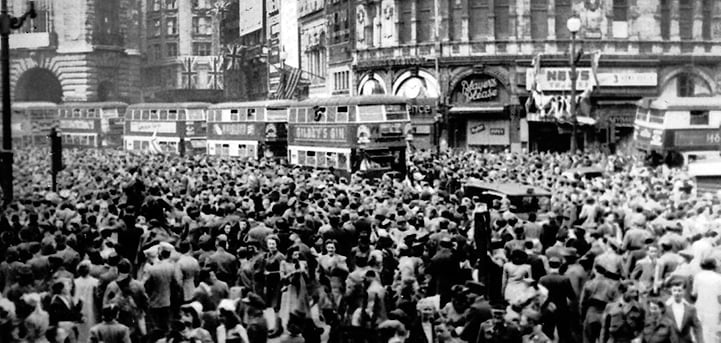 Published on 06 May 2020 01:38 PM
This Friday marks the 75th anniversary of VE (Victory in Europe) Day, the day that the nearly six, long years of the Second World War finally came to an end. At the first VE Day, millions of people filled the streets, rejoicing that Germany had surrendered.
Due to the coronavirus pandemic, we can't celebrate the 75th anniversary of this day in the same way, but it doesn't mean we can't celebrate!
Here are 5 things you can do to mark the occasion:
Contact a veteran or older person you know and have a chat
At Age UK Notts we support older veterans in several ways, including befriending. Volunteers say it is really interesting to hear about their experiences of the war and post-war years. If you know an older veteran, or anyone who was there on the first VE day, why not ask them what they remember from that day?
Take part in the two minute silence
At 11am on Friday (8th) you can join the country in a national moment of reflection and remembrance for all those who gave so much to secure peace and an end to the war.
You are invited to take part in the Silence in whatever way you feel appropriate - be that standing at their window, stepping outside their home, whilst remaining distanced from others, or taking the opportunity for a quiet moment of reflection.
If your locked-down with children, why not get them involved?
The Royal British Legion have created some resources for children to teach them about remembrance. You can find those here: https://www.britishlegion.org.uk/get-involved/remembrance/teaching-remembrance
You could even arrange an afternoon tea party in your garden to recreate the street parties that were held on that first VE day, or make your own bunting!
Listen to stories from the comfort of your armchair
Following the Silence, the Royal British Legion is hosting a VE Day livestream, sharing stories and memories from those who served and sacrificed during the Second World War. The Legion is inviting people to grab a cup of tea and join them for the livestream as we bring the World War Two generation together with today's generation to chat about their experiences.
The stream will be live from 11.15am on the Legion's website www.rbl.org.uk/veday75 and Facebook page www.facebook.com/OfficialPoppyLegion.
There will also be a BBC One special form 2.45-3.45pm you could watch on your TV.
Sing along with The People's Celebration (BBC One, 20:00-21:00)
The BBC, in partnership with The Royal British Legion, will be honouring and celebrating the World War Two Generation with an evening of memories and music. Featuring some of those who remember this historic day, together with Britain's favourite performers who will entertain us with popular songs of the era. In a fitting finale at 9.00 pm we will see the nation unite for a very special rendition of Vera Lynn's "We'll Meet Again" as we all give thanks to our veterans and remember our loved ones.
However you chose to mark the anniversary, we hope you are able to engage with the day in some way – remembering those who made it possible, and celebrating the freedom that they won.
Also, if you are concerned about the wellbeing of any older people, do give us a call so we can help.
Image: Mrjspence at English Wikipedia / CC BY-SA (https://creativecommons.org/licenses/by-sa/3.0), cropped to fit image size