Coronavirus (COVID-19) related scams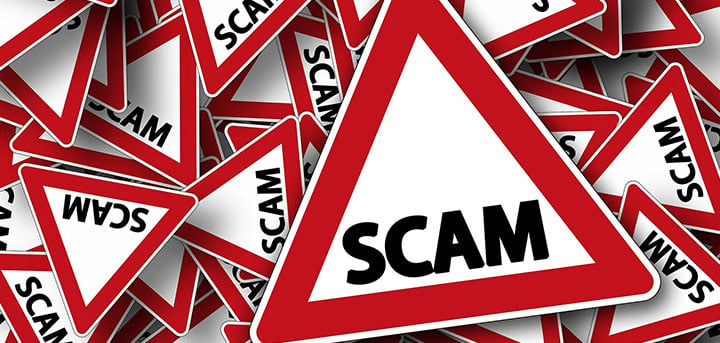 Published on 31 March 2020 02:26 PM
Action Fraud:
According to Action Fraud, reported Coronavirus scams cost victims in the UK over £800,000 in a single month. Here's how to help avoid them:
Be wary of approaches from supposed travel agents, tour operators, airlines, cruise companies, insurance companies or compensation firms promising to arrange travel, accommodation or event entry refunds: they may well be fraudulent. If in doubt, call the company you have been dealing with, on the phone number you know to be correct. These approaches can take the form of emails, texts, social media posts, direct messages, online advertisements and phone calls.
Be wary of ads for products such as facemasks, hand sanitiser, vaccines, cures and hard-to-get goods, as they could be for non-existent products. Never pay by bank transfer, and where possible pay by credit card as doing so provides additional protection.
As always, don't click on unknown links in emails, texts or posts, or email attachments. They could link to websites that capture your passwords and other confidential details or cause a malware infection, both of which can result in financial or identity fraud. They could also link to adult, hate, extremist or other content.
Phishing emails
There are over 200 reports of coronavirus-themed phishing emails. These attempt to trick people into opening malicious attachments which could lead to fraudsters stealing people's personal information, email logins and passwords, and banking details.
Some of the tactics being used in phishing emails include:
Fraudsters purporting to be from a research group that mimic the Centre for Disease Control and Prevention (CDC) and World Health Organisation (WHO). They claim to provide the victim with a list of active infections in their area but to access this information the victim needs to either: click on a link which redirects them to a credential-stealing page; or make a donation of support in the form of a payment into a Bitcoin account.

Fraudsters providing articles about the virus outbreak with a link to a fake company website where victims are encouraged to click to subscribe to a daily newsletter for further updates.

Fraudsters sending investment scheme and trading advice encouraging people to take advantage of the coronavirus downturn.

Fraudsters purporting to be from HMRC offering a tax refund and directing victims to a fake website to harvest their personal and financial details. The emails often display the HMRC logo making it look reasonably genuine and convincing.
Superintendent Sanjay Andersen, Head of the National Fraud Intelligence Bureau, said: "Fraudsters will use any opportunity they can to take money from innocent people. This includes exploiting tragedies and global emergencies. The majority of scams we are seeing relate to the online sale of protective items, and items that are in short supply across the country, due to the COVID-19 outbreak. We're advising people not to panic and to think about the purchase they are making. When you're online shopping it's important to do your research and look at reviews of the site you are buying from."
Graeme Biggar, Director General of the National Economic Crime Centre, said: "We have already seen fraudsters using the COVID-19 pandemic to scam people looking to buy medical supplies online, sending emails offering fake medical support and targeting people who may be vulnerable or increasingly isolated at home. These frauds try to lure you in with offers that look too good to be true, such as high return investments and 'healthcare opportunities', or appeals for you to support those who are ill or bogus charities. The advice is simple, think very carefully before you hand over your money, and don't give out your personal details unless you are sure who you are dealing with. We are working together across law enforcement, government and the private sector to combat this criminal activity and protect the public. If you think you have been a victim please report to Action Fraud."
Protect yourself
1) Watch out for scam messages
Don't click on the links or attachments in suspicious emails, and never respond to unsolicited messages and calls that ask for your personal or financial details.
2) Shopping online:
If you're making a purchase from a company or person you don't know and trust, carry out some research first, and ask a friend or family member for advice before completing the purchase. If you decide to go ahead with the purchase, use a credit card if you have one, as most major credit card providers insure online purchases.
For more information on how to shop online safely, please visit: https://www.actionfraud.police.uk/shoponlinesafely
3) Protect your devices from the latest threats:
Always install the latest software and app updates to protect your devices from the latest threats.
For information on how to update your devices, please visit: https://www.ncsc.gov.uk/guidance/securing-your-devices
HMRC
HMRC is also aware of fraudster purporting to be from HMRC with email and sms scams, tax refund and rebate scams, phishing email and bogus website, text messages, bogus phone calls, WhatsApp messages and social media scams, please see link https://www.gov.uk/government/publications/phishing-and-bogus-emails-hm-revenue-and-customs-examples/phishing-emails-and-bogus-contact-hm-revenue-and-customs-examples
Age UK
We've been made aware of a fake website asking for donations on behalf of Age UK. We've found this early and the site has been removed. Any texts/emails you receive with a .me link are not from Age UK. Contact us if you receive any messages with that link at contact@ageuk.org.uk
Universal credit scammers
According to BBC News, benefit claimants are being targeted by scammers promising a low-cost loan or even a grant from the government.
What they don't tell you is that the money you'll receive is actually an advance for Universal Credit. After the fraudsters have taken their cut of your advance, victims are left to pay back the total amount after their Universal Credit payments begin. One scammer took £1,000 as their "fee" from a payment of £1,525.
According to the DWP, 10% of new Universal Credit claims could be fraudulent. Victims have included vulnerable people such as those who are out of work, homeless or have drug dependency issues.
See link https://www.moneyadviceservice.org.uk/blog/scam-alert-watch-out-for-universal-credit-scammers