Dear Friends - Tackling loneliness in Nottinghamshire's hospitals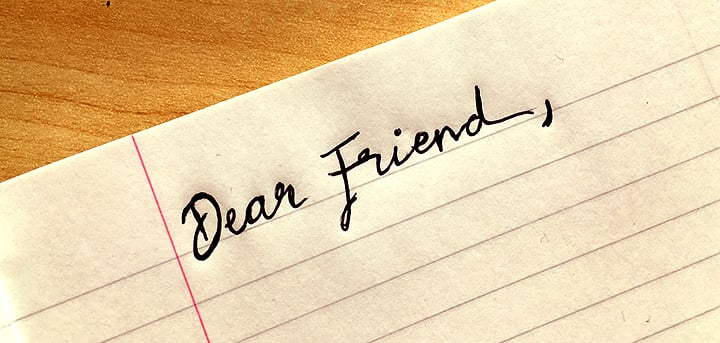 Published on 05 June 2020 11:51 AM
The Dear Friend scheme, launched in April with Nottinghamshire Healthcare, called for cards and letters to be sent to patients in hospital, who because of Covid-19 and social distancing and or shielding restrictions, were no longer receiving visitors.
Almost 500 letters have been received and shared amongst the patients and staff on the wards at Lings Bar.
Everyone has been really touched by the effort made by the correspondents as many cards and letters have included artwork, pictures and photographs. The contents cover a whole range of topics from landscape, pets, cooking, sports, steam engines, art and art works, books and even interesting facts like 'did you know that mice are ticklish?' Some people sent their letters with additional gifts such as mini-Easter bunnies or sweets for staff and patients.
The letters and cards have enabled the staff to sit with patients and read a letter together, have a chat about the contents and provide a chance to reminisce and share a conversation that isn't about illness or anxiety.
The letters, cards and pictures can be sent home with a patient upon discharge, or used to decorate lockers, walls and rooms to help the patients remember that they may be in hospital but they have not been forgotten.
Some of the reactions have included: "I've just read a card to a patient – there are no words to describe his face and the reaction it got. Makes such a difference."
"That's really touched me. Thank you."
"Such beautiful cards and letters."
"My patient was really anxious. I read him a letter and, for 5 minutes, I know he was somewhere else."
The letters have also benefited people in the community who want to do something useful at this time. The scheme enables people to do something immediate, dynamic and thoughtful whenever they want, especially if there aren't any current volunteer vacancies. It is a way of contributing to the collective effort that is manageable, doesn't take up too much time and which can be repeated over and over.
Hundreds of individuals have responded as well as staff members from Age UK Notts' corporate and statutory partners such as Capital One, Nottinghamshire Fire and Rescue, and HSBC Bank Community Champions. Heymann Primary School has also supported the scheme by encouraging children to write and send pictures as part of their home schooling.
Sara-Jane Ashmore, Divisional General Manager of Community Health Services at the Trust said: "This has been a fabulous effort from everyone and really has made a positive difference to our patients, it has really been appreciated from us all. An excellent example of how people can make a difference in difficult times."
The scheme is still running at Lings Bar, but has also now been extended to other areas across the Trust.
If you would like to take part in the Dear Friend scheme, here are some guidelines for you to follow:
DO:
Address the letter to 'Dear Friend'
Share general information about yourself – job, hobbies, garden, seasonal anecdotes (the daffodils blooming in your garden, visiting birds etc)
Do offer some reminiscence opportunities – your favourite places, childhood memories, favourite food etc
Postcards are nice with pictures of gardens, animals and pets, artworks, coastal views etc – all help to stimulate conversations and memories
Ask questions to encourage the patient to think about their own lives – for example, 'I always enjoy a Sunday roast. What's your favourite meal?'
Encourage the recipient to follow government guidance on keeping themselves safe
Sign your letter with your first name only
DON'T:
Add any details that will identify you specifically – address, date of birth, age etc
Be political or share conspiracy theories
Please remember to put a stamp on your card or letter and send them to one of the following locations:
Age UK Notts, Castle Ward, Lings Bar Hospital, Beckside, Gamston, Nottingham, NG2 6PR
Lisa Prevett, Kingsley Ward, Millbrook Mental Health Unit, Kings Mill Hospital, Sutton in Ashfield, Nottinghamshire, NG17 4JT (for older inpatients)
Millbrook Mental Health Unit, Kings Mill Hospital, Sutton in Ashfield, Nottinghamshire, NG17 4JT (for Adult Mental Health patients)
Nicola Threlkeld, Integrated Care Team Leader, Larwood & Bawtry PCH Team, Larwood Surgery (for inpatients and community patients who are isolated)
Staff at the hospital will follow relevant guidance when distributing the letters.
Alternatively, you can email any messages to volunteering@nottshc.nhs.uk and they will be passed on to the relevant team.
Thanks for providing some much-needed cheer and celebrating the traditional art of letter writing!