News Round-up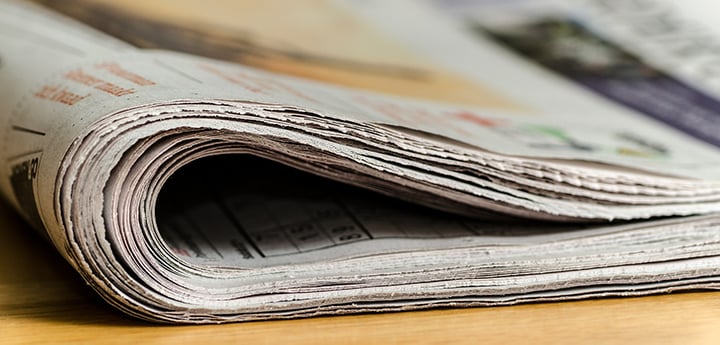 Published on 03 April 2020 11:27 AM
I don't know about you, but the last few weeks have been a bit overwhelming. Press conferences every day, constant news coverage, and lots of changes to the way services and companies, even us at Age UK Notts, are operating. When you add to that to the fact that many of us are trying to navigate what life looks for us personally during this pandemic, it can leave us not knowing where to start.
With so much information out there, we thought we'd sift through it and provide you with a handy digest of some of the updates and messages we've seen that may be of interest to you.
What's happening at Age UK Notts?
It has been a busy few weeks here at Age UK Notts, as we have sought to help local older people navigate this crisis. As part of our response, we made the decision to close all of our venues and redeploy staff from closed services to our new Welfare Service, to comply with the governments announcements and better serve isolated older people.
Welfare Service
On 25th March, we launched our new Welfare Service. The Welfare Service provides shopping for essential items, prescription collection and daily welfare phone calls for older people who have no support at this time.
Since the beginning of the crisis, we have seen a 400% increase in phone calls from local older people needing help. We also have been humbled by the number of people offering to volunteer.
If you, or someone you know, needs assistance at this time, call us on 0115 844 0011 or email info@ageuknotts.org.uk. Our lines are very busy at the moment, but please keep trying or leave a message and we will get back to you ASAP.
If you would like to volunteer to support isolated older people, please contact our volunteering team on volunteering@ageuknotts.org.uk
Local generosity & our urgent appeal
While demand for our service has increased 400%, our fundraising activities have decreased to 0% with the closure of our income generating services.
In the last few weeks we have been grateful for the support of many generous organisations and individuals. We are very thankful to Capital One who donated £20,000 to help us set up our Welfare Service, Muslim Hands who donated £20,000 to help us deliver telephone support through the Welfare Service, and the many individual donors who are giving generously at this time.
We know that for many this is a financially uncertain time, but if you are able to give to help us support more older people please visit our website today and click the donate button at the top of this page.
For Notts County FC fans, you can also support Age UK Notts when you preorder a number of experiences for the 2020-21 season. Visit the Notts County FC website to find out more: https://www.nottscountyfc.co.uk/news/2020/april/crowdfunding-campaign-010420/ - Thanks Notts County FC for the support!
Also, we were delighted to receive a donation of Easter eggs from Brewster Partners, Parcelhub and Barrowcliffes. These will be delivered to some of our Welfare Service clients as an extra treat to brighten up their day!
What's happening in the community?
Nottingham City Council
Nottingham City Council have launched a food parcel delivery service. You can see a video announcement from Councillor Rebecca Langton here.
Or find out more about this and other services offered by the council, here: https://www.nottinghamcity.gov.uk/coronavirus
Nottinghamshire County Council
Nottinghamshire County Council have launched a Community Support hub. After answering a few questions about where you live and what kind of support you need, it will list for you the range of community support on offer in your area.
Neighbours supporting neighbours
Since the beginning of the crisis many people have been offering support to their neighbours – it has been humbling to see communities coming together to support its more vulnerable members!
Useful links:
Cutting through the noise
With more time on our hands and many different news providers, it is easy to spend the day immersed in the news. For many this causes an increase in anxiety and maybe even some confusion about what is true. Here are a few top tips we've gleaned to hopefully help:
Limit your sources
With the internet, there are now a whole host of different news sources available. Unfortunately, not all of these can be relied on for the accurate picture. It may be best to choose a few trustworthy sources to be your go-to for news at this time.
For up-to-date advice from the NHS, you can go here: https://www.nhs.uk/conditions/coronavirus-covid-19/
For up-to-date guidance from the government, you can look here: https://www.gov.uk/coronavirus
Limit the number of times you look
With not much to do, it can be easy to stay online all day and constantly refresh the news. This can leave us feeling awful and anxious if we are not too careful.
Many people say that limiting the amount of time they spend checking the news has helped them. Consider deciding a few specific times in the day to check the news, maybe just once or twice. Also, try to avoid reading the news right before bed so you can wind down without any additional stress.
Curating your echo chamber
Social media right now is, in many ways, a wonderful place. Lots of artists are live-streaming concerts from their living rooms, people are reaching out to support each other and it is providing access to community. However, it can also be a place where people share nerve-wracking news articles, negativity, or things that make you feel inadequate.
Along with considering limiting your time on social media, it may be worth curating your audience. Consider hiding posts on Facebook, or muting people on Facebook or groups on WhatsApp, or just simply unfollowing people. You can always re-follow people after the pandemic is over.
Further reading:
More useful links:
Avoiding scams
Staying healthy
Shopping
Many supermarkets are now offering restricted opening hours for certain groups and changes to deliveries. It is worth checking the measures on offer at your local supermarket before attending. Some useful links include:
There are also several local greengrocers and independent businesses still open and offering home delivery. It may be worth searching for your local shop online to see what they are doing to support their customers.
Disclaimer: Age UK Notts accepts no liability for the accuracy of external links or the activities of linked groups. As this is an ongoing situation information may change, so please check the date of any article and follow all up-to-date NHS and government guidelines.