Do you need help to enjoy your life? Do you live in Mansfield, Ashfield or Newark & Sherwood?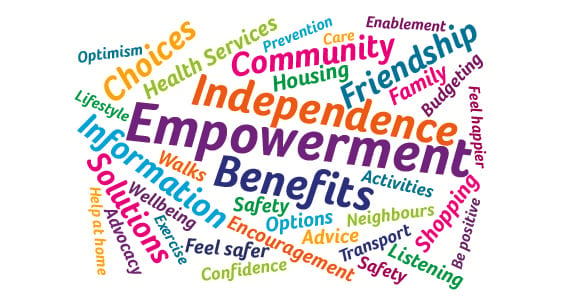 Age UK Connect is a free, friendly and problem-solving service with a focus on helping people maintain their independence. Since the service started in 2016, we have been able to help many people enjoy their life and overcome a wide range of issues.
Based in the mid-Nottinghamshire, the Connect team are able to offer support to people living in the districts of Mansfield, Ashfield and Newark & Sherwood who feel they have deteriorating independence because of factors associated with age, mobility, disability, long term health conditions or bereavement.
(If you live elsewhere in the county, contact our main number and we will happily point you to other local services that may offer similar, or see the numbers below for the Connect service from other providers in different areas of the county).
The Connect team are able to offer information, advice, signposting and practical support around physical and mental health, care needs, housing, finances, social interaction and engagement with community.
We can help you access:
Advice and information
Gardeners, cleaners and handyperson services
Home adaptations and living aids
Social activities, clubs and groups
Support groups, advocacy and talking therapy
Welfare benefits
Financial advice
Available transport
Exercise and falls prevention
Help manage long term conditions, including dementia
Carer support
Housing and care options
How to access the service in Mansfield, Ashfield and Newark & Sherwood
If this sounds like something that you, or a loved one, would benefit from, get in touch with our team today on 01623 488217 or use the below contact form.
Please note: Age UK Notts' Connect service only operates in Mansfield, Ashfield and Newark & Sherwood.
Connect in other areas of the county:
To access this service in Gedling, Rushcliffe or Broxtowe please call 0115 939 5406.
To access this service in Bassetlaw please call 0115 844 3541.
To access a similar service in the Nottingham City please call 020 3535 5150.
You've donated and we are grateful!
We've received numerous donations from many people throughout the past few months and every single penny has made a real difference. Thank you to everyone who sent in a cheque or donated online. Your donations have made it possible for us to help people when they felt most vulnerable and afraid. We've shopped, collected medication and made wellbeing telephone calls to isolated people. Your donations have helped make that possible. We're working hard to continue to provide services that matter to older people and donations always help us to deliver. If you're looking for a worthy cause to support, well…look no further!
Downloads
Find out more about the Connect service