Veterans Information Point
Providing free information and advice for Forces veterans and active service personnel in Portsmouth

The Veterans Information Point is supported by the Royal Navy & Royal Marines Charity and has been set up to offer free, independent and confidential information, advice and support to military veterans and active servicemen and women in Portsmouth and South East Hampshire.
Issues we can help you with
Benefits and entitlements including War and Armed Forces Pensions
Leisure and social activities including access to regimental associations
Applying for a service medal or Veterans Badge
Mental health support including PTSD
Housing options
Money matters
Energy efficiency for your home
Staying independent at home
Family and personal matters
Coping with bereavement
Wills and funeral planning
Legal issues
Signposting to other agencies for additional services and support
Welfare benefits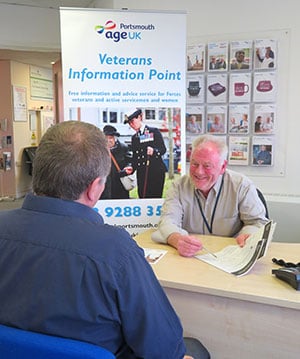 Benefits checks are one of our most common requests, and last year we were able to help claim over £1.3 million in benefits for people living in the Portsmouth area. It is estimated that every year over £3.5 billion of benefits go unclaimed across the country, with three million older people living below the poverty line.
Many people are put off claiming either by the complexity of the benefits system, or they assume they cannot claim anything because they have some savings or own their home.
Our Veterans Information Adviser and team of trained volunteers can check to see if you are entitled to claim any welfare or disability benefits, and can help you through the claims process from start to finish. If needed we can give you assistance filling in all of the forms.
We need more volunteers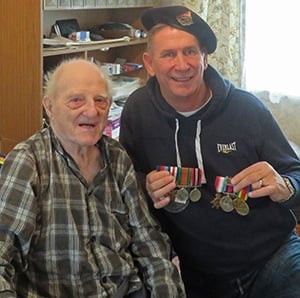 Ideally we are looking for people with a Forces background, but anyone who can spare an hour or two a week to give help and advice to veterans would be welcome. Volunteers will need to undergo a DBS (Disclosure and Barring Service) check and will be fully trained to ensure that the information, advice and support they provide is accurate and appropriate for our service users' needs.
How to contact us
The Veterans Information Point is open Monday to Friday, from 9am to 4:45pm (4.30pm on Fridays) at the Bradbury Centre. We can offer telephone advice or face-to-face office appointments and even home visits if necessary.
You can telephone for an appointment on 023 9288 3500 or email us at enquiries@ageukportsmouth.org.uk or write to us at Age UK Portsmouth, The Bradbury Centre, 16-18 Kingston Road, Portsmouth PO1 5RZ.
Free booklets and online information
Age UK produces free information guides and factsheets on a wide range of topics, including home adaptations, dementia, and advice for carers. You can find a complete list of guides and factsheets on the Age UK national website.

If you prefer to read information online, the Age UK national website has information and advice on many topics, including how to find a care home, how to avoid scams, and Power of Attorney.