Partnership working in Portsmouth
Age UK Portsmouth works in partnership with many local companies and trusts with the aim of helping to improve the quality of life for older people in the community.
We're delighted that the Co-op Local Community Fund have selected Age UK Portsmouth as one of their chosen causes.
We are one of three causes in our local community which Co-op Members can select to support between now and 23 October 2021. The more members who select us and shop with the Co-op will help us create a special community café which will include community-led, volunteer-coordinated events in a safe and supportive setting.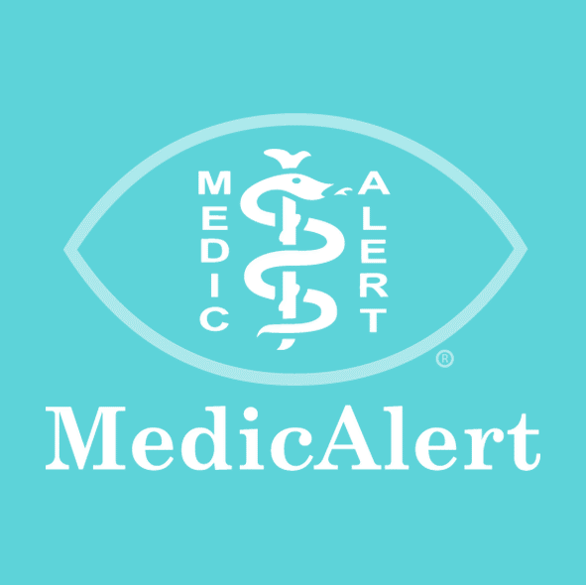 MedicAlert is the only charity provider of medical ID services in the UK and has provided peace of mind to its members since 1964. They make custom engraved medical IDs to alert emergency professionals to your medical details in case you are unable to communicate with them. Age UK Portsmouth have partnered with MedicAlert to provide 15% off their IDs and membership for our service users with the code 'AUKP'. Find out more about MedicAlert here.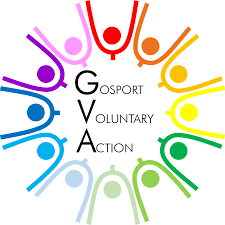 A main partner on our Close Encounters project, which has been created to combat loneliness in older people in Portsmouth and Gosport. Over the next three years we will be working with Gosport Voluntary Action (GVA) to enhance quality of life for lonely and isolated older people within our community. They provide older people's services including advocacy, information and advice, form filling and end of life planning among other services.

A partner on our Close Encounters project, South Central Ambulance Service (SCAS) will be referring older people to the Close Encounters project who have been calling the ambulance service frequently, with no medical need, but appear to be lonely and socially isolated.
A partner on our Close Encounters project, the University of Portsmouth will help evaluate the project's impact on socially isolated and lonely older people in Portsmouth.
Fare Share donate low risk foods to our Café, rather than them being wasted, that we can turn into delicious meals and sell to our customers.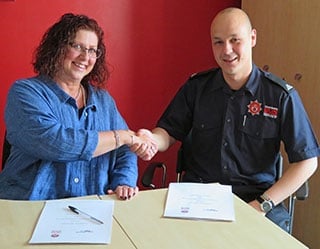 Hampshire Fire and Rescue Service and Age UK Portsmouth have agreed to work together to bring non-medical support, social care and community services to help older people in Portsmouth with multiple long-term health conditions.The principle aims of the partnership are:
To support vulnerable older people in reducing the risk of fire within their homes
To support vulnerable older people in reducing the risk and length of stay of unplanned hospital admissions
To reduce the reliance on the use of primary, secondary and acute healthcare services
To develop increased socialisation and independence keeping people safe in their own homes for longer

Over the next three years Age UK Portsmouth is working with Age UK's national head office and 11 other local partners in supporting older veterans through the Joining Forces project. The partnership is supported by the Aged Veterans Fund, funded by the Chancellor using LIBOR funds.
Our aim is to mitigate against loneliness through offering social activities and peer befriending. We will enable veterans to have increased participation in community activities, outings, events, breakfast club and social networks.
We also assist veterans in accessing local practical and emotional support from voluntary, statutory and community-based organisations if needed. Our focus is on what matters most to the person and through using personalised Guided Conversations we can assist in setting agreed goals. We aim to empower people to take an active role in planning, managing and enhancing their wellbeing to ensure they maintain choice and control over their own lives.
The Royal Navy and Royal Marines Charity provides funding support for Age UK Portsmouth's Veterans Information Point, which offers free information and advice to military veterans and active servicemen and women in Portsmouth and South East Hampshire.

The Royal Navy and Royal Marines Charity is the principal charity of the Royal Navy. It works hard to ensure that sailors, marines and their families exist in a world in which they remain supported, for life.
From life changing grants during times of immediate need, to smaller deployment grants that aid morale and retention - the RNRMC works hard to ensure that no one is forgotten.
For more information on the Royal Navy and Royal Marines Charity, call 023 9387 1520 or visit www.rnrmc.org.uk

The British Red Cross and Age UK Portsmouth deliver the Portsmouth Support at Home service as commissioned by Portsmouth City Council's Integrated Commissioning Unit. This service commenced on 1 July 2015 and is still active today.
Eligible service users, who have been discharged from hospital, attended A&E or referred from the community healthcare teams, are supported within their own homes by the British Red Cross and Age UK Portsmouth as part of the Portsmouth Rehabilitation and Reablement Programme. Service users are encouraged to work towards achievable, mutually agreed outcomes in order to help regain their independence.
Through the links above you are able to link to other websites not under the control of Age UK Portsmouth. We have no control over the nature, content or availability of those sites. The inclusion of these links does not necessarily imply a recommendation or endorsement of the views, products and services expressed or advertised within them.