There are lots of imaginative ways in which people have helped to raise money for Age UK Portsmouth including: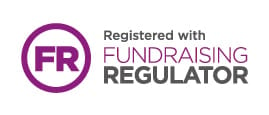 taking part in a marathon
table top sales
holding a cake bake and sale in the office
getting a drastic haircut!
coffee mornings
quiz nights
sponsored walk, run, swim, bike ride and pie eating
Walking the Great Wall of China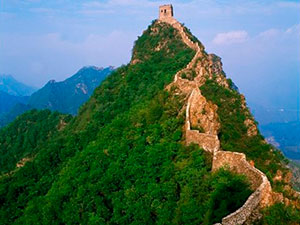 Our Business Development Manager, Carol Elliott, spent her holiday in September 2017 walking parts of the Great Wall of China.
Carol said 'As a small charity it is not always easy to raise money. Every pound raised helps us to provide older people in Portsmouth with the support they need to improve their lives.'
Carol made the most of her adventure in China by raising funds for Age UK Portsmouth through sponsorship of her walk on the Great Wall.
Jodie's Great South Run challenge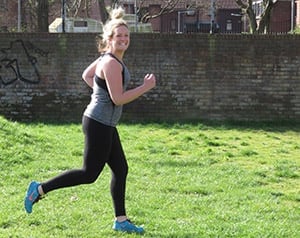 Jodie is one of Age UK Portsmouth's Help Around The Home (HATH) Assessors. She has been working for the local charity for three years and says she really enjoys working within the community, supporting older people.
Being so passionate about her role led Jodie to want to help by raising much-needed funds for Age UK Portsmouth. So she challenged herself to take part in the 2017 Great South Run.
Jodie said 'I will need to do a lot of training, as I am not the best of runners and I do like my food. However, I enjoy the odd leisurely run to keep fit, but I mainly enjoy boxing and Brazilian jujitsu. I am looking forward to taking on the challenge and I am ready to push myself to complete the total 10 miles!'
Home Coffee raises £878 for Age UK Portsmouth on Christmas morning
One of Portsmouth's most popular coffee shops took the unusual step of opening its doors on Christmas morning 2016 - but it was not for the usual round of lattes and flat whites for their loyal regulars and the till remained firmly switched off!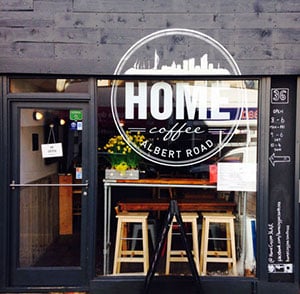 Home Coffee in Albert Road, Southsea and High Street, Cosham opened its doors to welcome in those people who would otherwise be alone on Christmas Day.
Home Coffee was stunned by the positive response of the local community and big business who got behind the idea. "It truly made us realise that we live in a caring society who genuinely want to help others, particularly at the busy Christmas period." explained Andrew Chance, one of the partners.
Big company suppliers, like Bidvest and Co-op pitched in to help, along with regular customers who offered to bake mince pies for the big day or just come in and wash up! There were even offers from local musical artists who wanted to come and entertain the guests.
Home Coffee had a huge response on social media regarding their Christmas Day opening and over 220,000 people viewed their posts. Many kind people asked if they could help by making a donation. Home Coffee therefore generously offered to donate any funds they raised to Age UK Portsmouth to help us provide support to lonely and isolated older people over the Christmas period.
The Cosham branch collected £406.14 and the Southsea branch collected £472.25, making a magnificent total of £878.39 to support Age UK Portsmouth's work.
Thank you to South East McCarthy & Stone
A big 'thank you' goes out to South East McCarthy & Stone Construction Manager Andy Burns and his team of dedicated runners for raising a fabulous £5,000 for Age UK Portsmouth by taking part in the Great South Run in 2016.
Cindy's Parachute Jump for Age UK Portsmouth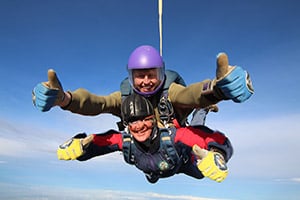 Cindy Lillington, one of our lovely Living Well Coordinators, celebrated her 51st birthday by jumping out of a plane at 13,000 feet for a tandem skydive.
Cindy raised much-needed funds for Age UK Portsmouth through sponsorship of her jump. And in fact Cindy enjoyed her parachute jump so much that she is already planning to book another one as soon as she can!
Get in touch
If you are interested in supporting Age UK Portsmouth we would love to hear from you. Please contact us on 023 9286 2121 or email enquiries@ageukportsmouth.org.uk.
If you are planning to organise a sponsored event to raise funds for Age UK Portsmouth you can download a Sponsorship and Charity Gift Aid Declaration Form below to help you collect sponsors.