We rely on your support to help older people in Portsmouth.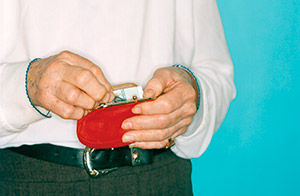 If you or a loved one have benefited from one of our services, or you just want a way to help support older people locally, then please consider giving a donation to Age UK Portsmouth.
We promise that your gift, however large or small, will be spent wisely and will make a genuine difference to the lives of older people who need our help and support.
Your donation can be sent by post to Age UK Portsmouth, The Bradbury Centre, 16-18 Kingston Road, Portsmouth PO1 5RZ.

You can also make a donation online by visiting Age UK Portsmouth's JustGiving page.
For further information please ring us on 023 9286 2121 or email enquiries@ageukportsmouth.org.uk.
Help us be there for the older people of Portsmouth day after day
Donate your foreign currency and pre-decimal coins

You can help us raise funds by donating any unwanted old or foreign currency.

We can accept:

foreign coins and notes
pre-Euro currency
pre-decimal coins
commemorative coins
obsolete currency

You can leave your donation of foreign coins with our Reception at the Bradbury Centre.

Don't forget to Gift Aid your donation

We can make your gift worth 25% more! The Gift Aid scheme allows charities to claim back the tax paid on donations, which means we get more out of the money you give to us.

If you are a UK taxpayer, you can Gift Aid any donations you make.

All you need to do is fill out a simple Gift Aid declaration form so that we can claim back the tax paid from HMRC.

You can download a Gift Aid form below. The Single Donation form can be used for one-off donations or the Multiple Donation form will also include any donations you make in the future and those made over the last four years.

Gift Aid Declaration - Single Donation(PDF, 126 KB)