Malnutrition Awareness Week 2021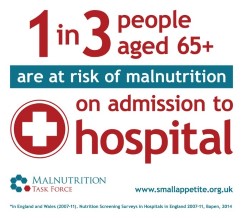 Malnutrition Awareness Week 2021 takes place from Monday 11th October - Sunday 17th October.
The week is celebrated nationally to raise awareness on the prevalence, signs, symptoms and consequences of malnutrition in older age. Hundreds of organisations, services and teams across the UK are taking part to create energy and focus to highlight and educate people on the implications of malnutrition in older age.
You can download these useful documents to support Malnutrition Awareness Week 2021