Providing information is one of the most important things that we do.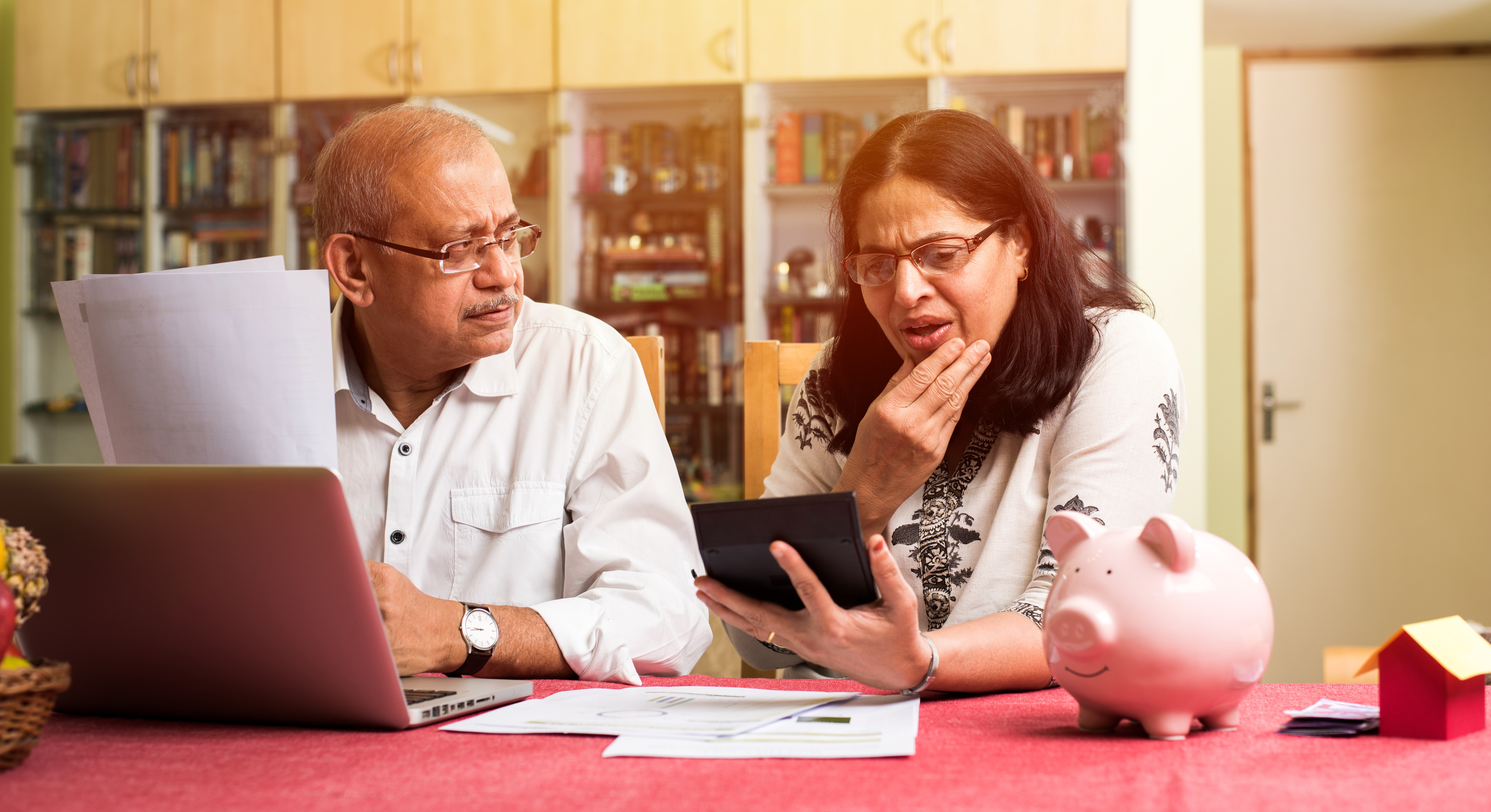 We provide a free service helping you with welfare benefits, financial issues associated with approaching retirement, and social care. You can access our advice service via our office-based appointments, email enquiries, and telephone consultations. So, if you need help to apply for a blue badge, universal credit or any other welfare benefits, want to know your rights on any goods or services you have purchased or have any questions about how to access social care services, assessments or information on care costs, we are here to help..
To Book An Appointment: call 0161 308 5000 Select Option 1
or Email: Info&advice@ageuktameside.com
Benefits We Can Help With
Benefit Check
Blue Badges including renewals
Attendance Allowance including renewals
Carers Allowance
State Pension and Pension Credit
PIP (Personal Independent Payment)
Universal Credit
ESA Capability for Work Questionnaires
Social Care Costs (residential and non-residential)
Disability Living Allowance
SMI (support for mortgage interest)
Housing Benefit
Council Tax Reduction including severe mental impairment and disabled reduction
Winter Fuel and Boiler Grants
Over 75 Free TV Licence
Housing Advice
Referrals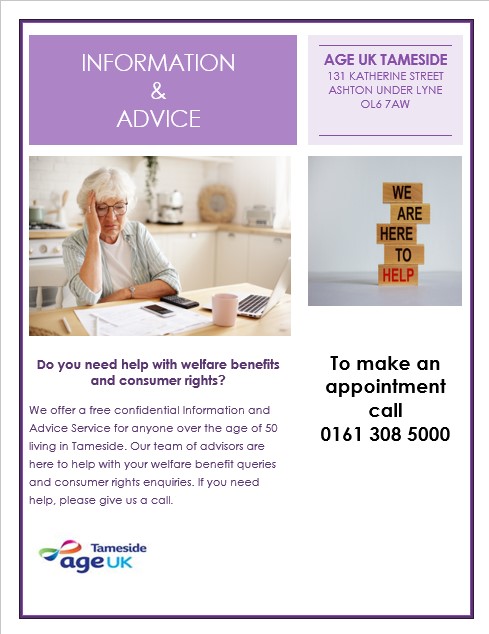 If you would like to make a referral to our Information and Advice Service, complete and return a referral form to info&advice@ageuktameside.com. Click here to download the form.
One of our advisors will contact you within 7 working days.
We are proud to have achieved the Age UK Information & Advice Quality Assured Marque
The I&A Quality Programme has two main sets of
benchmarks, which state that a service must show that it:
Provides consistent, relevant and effective advice to clients and demonstrates this by providing sufficient information in their client records.
Has clear and relevant systems and procedures in place to manage the delivery of consistent, good quality information and advice.
Monitors its services and seeks feedback from clients and stakeholders.

Free booklets and online information
Age UK produces free information guides and factsheets on a wide range of topics, including home adaptations, dementia, and advice for carers. You can find a complete list of guides and factsheets on the Age UK national website.

If you prefer to read information online, the Age UK national website has information and advice on many topics, including how to find a care home, how to avoid scams, and Power of Attorney.
Legal Services and Clinics
We are pleased to provide access to representatives from Garratts Solicitors and Touch Solicitors, who provide a range of legal services and clinics based at our centre at 131 Katherine Street, Ashton-under-Lyne, OL6 7AW.
Wills Service - Garratts Solicitors
Garratts Solicitors operate a fortnightly will-writing and will-signing service on Thursdays, 2pm - 5pm. It is provided at a reduced rate and costs £84 inc. VAT for a single will and £126 for wills completed for married couples, cohabiting couples and those in civil partnerships.
Age UK Tameside receives a fixed donation for hosting and fixing appointments, which is 10% of the cost, and this helps us cover the cost of providing office facilities.
Make a Will Monday - Touch Solicitors
Make A Will Monday is a scheme offered by Age UK Tameside in partnership with Touch Solicitors. This will-writing service is offered to customers approximately twice a month on Mondays, 9.30am - 11.30am, and is open to everyone residing in Tameside, regardless of age.
Free Legal Advice Clinics - Touch Solicitors
We also offer access to legal clinics, run by Trusha Velji of Touch Solicitors. They run approximately twice a month on Wednesdays, 9.30am - 11.30am. Trusha can advise on the following areas:
Wills including Will Trusts
Probate and Estate Administration including obtaining a grant of Probate/Letters of Administration (Intestacy)
Lasting Powers of Attorney & Enduring Powers of Attorney including registration
Court of Protection applications
Care home issues including funding, assessments, disputes with Social Services / NHS /Care Home
Disabled Persons Trusts as well as discretionary, Life Interest, and Personal Injury Trusts
Contested Probate and disputed Wills
Inheritance (Provision for Family and Dependents) Act 1975
Future planning, either for mitigating liability to inheritance tax or towards care home fees
In all cases, if you instruct the solicitors firm of your choice they will act entirely on your behalf independently and observe strict confidentiality at all times. We will not be privy to any information regarding your instructions and the work that they complete for you. Once you have instructed a solicitor, any queries regarding the work they are completing for you should be addressed to them directly.
Where: Age UK Tameside, 131 Katherine Street, Ashton-under-Lyne, OL6 7AW
To book an appointment: Call 0161 308 5000 or email info&advice@ageuktameside.com