Silver Surfers Computer Classes
(Computer Classes and Digital Inclusion)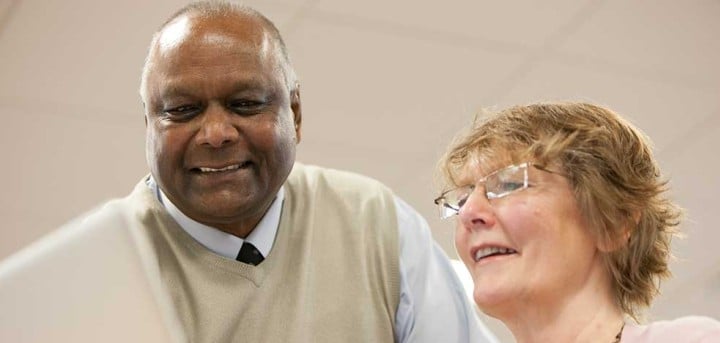 Computer Classes for adults aged 50+
Don't get left behind in the modern technological world. Our sessions are for you, ranging from absolute beginners to more advanced topics. We cover all manner of technology subjects for PCs, Laptops, Tablets and Phones. There is something to suit all interests and experience. We have been running computer training for older people (50+) in Waltham Forest for more than a decade.
Our sessions are relaxed and friendly. You'll meet other people just like you who want to dip a toe in the water. Don't miss out. Technology should not be a chore, it can be exciting, interesting, useful, and fun.
Feedback from people attending our sessions is very positive. We often see people who arrive at a session feeling rather nervous of technology but by the time they leave they are enthusiastic and wanting to know more. We frequently hear the expression: "I should have done this a long time ago. I'm not sure what I was worried about".
Sessions are designed to be interesting and entertaining, presented in easy to understand ways. We avoid using confusing jargon and proceed at a pace that suits the attendees. The sessions involve presentations, demonstrations and (where appropriate) the opportunity to try things for yourself.
Our sessions are low cost but high quality. Our volunteer tutors have many years of computing experience and understand the needs of our target age range.
Venues: Our main teaching venues are in the Chingford Mount shopping area, but we also have a venue in Walthamstow. All are well served by transport links from Leyton, Leytonstone, Chingford and Highams Park.
For full details of our current schedule of classes and how to book, click here: Computer Classes Schedule »


Topic Based Classes
We cover a wide range of topics, including Tablets (beginners and more advanced), computer security, digital photos, ebay, music, twitter, facebook, Skype, eReaders, mapping, etc. See the latest schedule for the full list. Most are priced at just £5 a class.
Complete Beginners Course
We also offer a beginners 10 week course, which covers all aspects of getting started with using a computer. We start right from the basics and move on to show you how to surf the Internet, use email and tackle basic word processing tasks.
Each weekly session lasts 2 hours. Because we understand that everybody learns at a different pace, we keep our classes small, to enable participants to receive lots of individual support. The complete course costs £39.90.
One-to- One Lessons
We also offer one-to- one lessons which can take place in the comfort of your own home or you can choose to have lessons at our offices if you prefer. These sessions cost £10 per hour. Terms and Conditions and a booking form can be found here »
Silver Surfers (50+) Computer Club
Through our monthly technology club we give ongoing support and advice to people who have attended our sessions. We won't leave you in the lurch when you get stuck. For more information, dates and times click here »
---
Contact Emma Tozer, Chief Executive
Phone: 0208 558 5512
Email: e.tozer@ageukwalthamforest.org.uk
(Note: Office Opening Times Monday to Thursday 9:30am to 4:00pm Friday 9:30am to 2:00pm)
---