Denbigh v Snowdon - Success!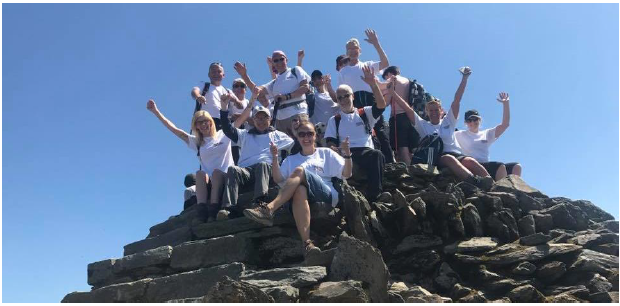 Published on 29 May 2018 10:54 AM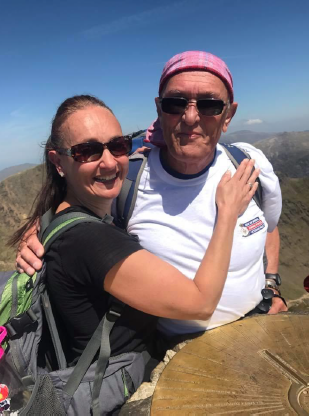 Tom Denbigh is a military veteran who joined Age UK Wirral as part of the Joining Forces Veterans Project. Unfortunately, in August 2017, Tom suffered a heart attack. This was devastating to Tom and his family.
Since the heart attack, Tom has been attending a Cardio Rehab Centre and it was there that he was asked 'What is your goal?' Tom's reply, 'To walk up Snowdon before I'm 70!'
Congratulations Tom and everyone!
There were 15 walkers on the day; Tom Denbigh, Tina Wells (Tom's daughter), Barbara Cook, Ann Jones, Joan Coman, James McElroy, Derek Jane, Michael Wherly, Allan Corlett, Bill Dowling, Jenny Hewitt, Evan Smith, Alan Tomkinson, Paul Reily and myself.
We walked the Llanberis Path which is 9 miles (14 ½ km) with an ascent of 3199 feet ( 975 metres). It is the longest and most gradual path of the six main paths up Snowdon and has fantastic views of Cwm Brwynog, Llanberis and over the Menai straights towards Anglesey. The path follows the railway track and passes Hebron, Halfway and Clogwyn stations.
We started around 9am and finished around 5pm, having a celebratory afternoon tea and drinks in the Royal Victoria Hotel. Tom's wife Pat and other daughter Karen joined us at the start to wave us off and met us at the end to welcome him down. He was also surprised by his sisters and brother in law at the end of the walk as they had driven out to see him finish.
"A brilliant day"
We had a brilliant day, the weather was great and we are super proud of everyone that took part, it was a first for many people on the day. Special thanks to Tom for letting us help him, James for leading and driving the minibus, Allan Corlett for coming as a walk leader and everyone in general for being part of an amazing team that supported each other the whole day.
Tamzin Jones
Project Manager, Joining Forces