If you are aged 18+, living in Wirral, and are looking for free and impartial information and advice on a range of issues, our specialist Ask Us Wirral advisors are here to help you.
Working as part of the Ask Us Wirral partnership, we offer a telephone helpline on on 0808 278 7848 (Lines are open between 9.00am - 4.00pm)
If you are aged 18+, living in or caring for someone on the Wirral, and are looking for free and impartial information and advice on a range of issues, our specialist Ask Us Wirral advisors are here to help you.

Are you confident that you're receiving all of the income, benefits and entitlements available to help you? Each year up to £5.5 billion in Pension Credit, Housing Benefit and Council Tax Benefit goes unclaimed by older people. Let us help make life easier!

We have a range of publications, including factsheets, booklets and information guides, that cover the full spectrum of later life issues.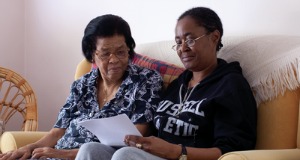 Some of the issues we can help you with:
Benefits and pensions

Housing

Consumer

Debt

Community care, including funding issues

Independent living

Local services
What is Ask Us Wirral?
Ask Us Wirral is a partnership service delivered by staff and volunteers from Citizens Advice Wirral, Age UK Wirral, Wirral Mencap and Wirral Change. In order to ensure that we provide the best possible service to you, your enquiry will be dealt with by the most appropriate person from the relevant organisation.
We record information about you to help with your enquiry, we have a legitimate interest to do this. Your information will only be accessed by authorised staff and volunteers within the partnership, and by our trusted external auditors who check the quality of our work. Any information we hold is only with your explicit permission. Information is held within a secure case management system controlled by Citizens Advice Wirral.
If you wish to make a comment or complaint about Ask Us Wirral, please use the relevant organisation's Comments and Complaints Form. Comments or complaints about data handling and processing should, in the first instance, be made to Citizens Advice Wirral.
We have a series of free factsheets on issues facing you in your life - download them or contact us and we will post them out to you.
The I&A Quality Programme demonstrates that we provide consistent, relevant and effective advice to clients. We have clear and relevant systems and procedures in place to manage the delivery of consistent, good quality information and advice. We monitor our services and seek feedback from clients and stakeholders.

As well as meeting Age UK Wirral's own quality standards, the service has gained the 'Advice Quality Standard' Quality Mark. The Advice Quality Standard (AQS) tells our clients that we offer a quality assured service. It also communicates our commitment to professionalism, quality and customer care.
How to access Ask Us Wirral
By Telephone: 0808 278 7848 (usual opening hours weekdays 9.00am to 4.00.pm)*
Visit the website www.askuswirral.org.uk
What you can expect from us
•To be treated fairly by polite and professional staff and volunteers
•To receive an efficient and high quality service
•To be invited to give your feedback on the service you have received
•To be treated equally, regardless of age, disability, gender, faith or beliefs, race, sexual orientation or the area of Wirral in which you live.
•For us to work within the AQS Quality Standard
•To be given a reason if a service cannot be provided, and to have the right to ask the Chief Executive for a review.
•To be treated as an individual and have your views and preferences respected.
•To be provided with a safe environment within the premises used for the provision of the service.
•To have any complaints heard in accordance with the organisation's Comments and Complaints Procedure.
•To have access to any records maintained relevant to their use of the service, and to expect any such records to be maintained in strict confidence. The only exception to complete confidentiality will be in those cases where law or Safeguarding Adults procedures require otherwise.
What we expect from you
•To be respectful of our staff and volunteers and not to display any aggression, violence or abusive behaviour
•Not to deliberately withhold information from us that may assist an advisor in helping you
•Not to access the service whilst under the influence of alcohol or drugs
If you wish to complain about any member of staff or volunteer or the service you have received, please ask for details of our Comments & Complaints Policy.
Information we hold about you
Age UK Wirral needs to keep certain information on its staff, volunteers, service users, Trustees, supporters and suppliers that is necessary to carry out its day to day operations, to meet its objectives and to comply with legal obligations.
The organisation is committed to ensuring any personal data will be dealt with in line with the Data Protection Act 1998. To comply with the law, personal information will be collected and used fairly, stored safely and not disclosed to any other person unlawfully.
Unless you tell us otherwise we assume that you consent to us holding this data.
The Data Controller within our organisation as specified in our notification to the Information Commissioner is Jamie Anderson, Chief Executive.
Case records are kept for a period of 6 years after the closure of a case. After this time records are shredded and electronic records deleted.
If you wish to see the information we hold about you, please write to Data Controller, Jamie Anderson (Chief Executive). A charge of £10 will be made for each copy of information provided, and we aim to comply with requests for access to personal information as quickly as possible but will ensure that it is provided within 40 days.
Full details are available in the Data Protection & Information Handling Policy, a copy of which is available from any member of staff.
Free booklets and online information
Age UK produces free information guides and factsheets on a wide range of topics, including home adaptations, dementia, and advice for carers. You can find a complete list of guides and factsheets on the Age UK national website.

If you prefer to read information online, the Age UK national website has information and advice on many topics, including how to find a care home, how to avoid scams, and Power of Attorney.