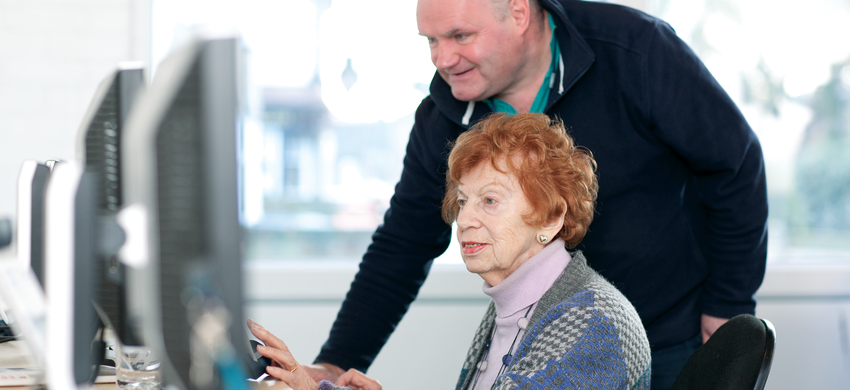 Age UK York relies on volunteers to help us offer vital services in the local community. Would you like to lend a hand?
We would like to thank everyone who contacted us during the pandemic to offer their support. As always, the people of York responded in an incredible way to support our older residents.
We have a wide range of volunteering roles on offer and aim to match you with a role that you will find interesting and fulfilling. These are summarised below, with more details about the roles and services in the tabs below.
Retail assistants, in our Fossgate, Burton Stone Lane and Bishopthorpe Road shops.
Shopping volunteers, to support our clients to access supermarket deliveries and/or do clients' shopping.
Community café volunteers, who represent Age UK York at community café events.
Outreach volunteers to organise and staff an Age UK York information and advice desk, initially based at St Sampson's centre, with an intention to roll out at additional venues in York.
A volunteer to liaise with parish councils and high footfall organisations, to display Age UK York posters and information and to collate information on activities taking place in these areas.
Minibus driver, to transport an older person to an Age UK York day club or activity. MIDAS qualification required, or Age UK York may fund.
Car drivers, to transport older people from their home to an age UK day club.
Befriending
Information and Advice
Shopping
Respite Care - In Safe Hands
Shops
Day Clubs
Keep Your Pet
Community Cafe
Drivers
Trustee
Thank you for considering Age UK York for a volunteering role. We have over 300 volunteers supporting us to deliver services to older residents in York.
We aim to match volunteers with a volunteering opportunity that will be both enjoyable and rewarding. As such, we undertake a comprehensive recruitment process, taking six to eight weeks and comprising of an application form, interview, references, criminal records check (for most roles) and induction training. For most volunteer opportunities, we ask our volunteers to be in a position to commit to regular and longer term volunteering of at least a year. This is to allow us to provide ongoing support to our older clients. We are only able to accept your application if you are 18 years or older.
You will be joining a commited group of volunteers who provide invaulable support as we deliver services in York and we very much look forward to welcoming you to our team.
Application Forms
If you would like to progress your application, please download the application form and return to the email address below, or send to our office in Walmgate.

Download our application form (Word)
Download our application form (PDF)
If you are interested in a trustee role, please download our trustee application form here. (PDF version here.)
To find out more about these opportunities or volunteering generally, please contact our Volunteer Manager.
t Office 01904 627995 Direct 01904 933611
e volunteering@ageukyork.org.uk