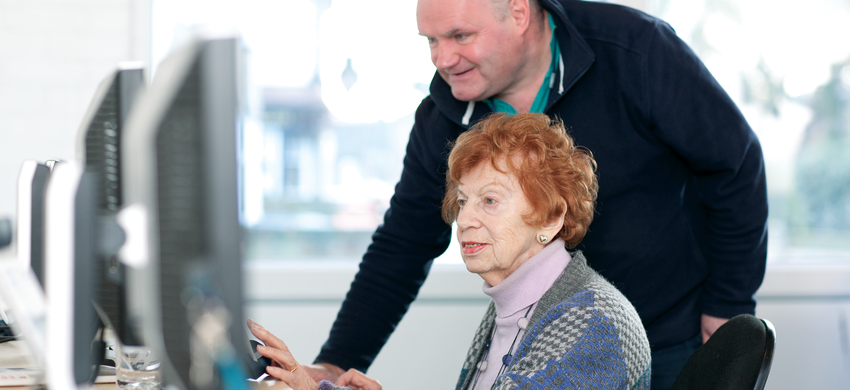 Age UK York relies on volunteers to help us offer vital services in the local community. Would you like to lend a hand?
We would like to thank everyone who contacted us during the pandemic to offer their support. As always, the people of York responded in an incredible way to support our older residents.
Whilst we are currently unable to offer the full array of volunteering opportunities, we are now accepting applications from potential volunteers for specific roles.
We have an immediate need for the following:
Retail assistants, in our Fossgate, Burton Stone Lane, Bishopthorpe Road and Haxby shops.

Please refer to the tabs below for information about the services and the volunteer role descriptions.

Befriending
Our befriending service provides companionship and support to housebound older people living alone in the community. Many older people have few social contacts and feel socially isolated and lonely. We try to alleviate this by matching the older person with a carefully selected volunteer who agrees to call regularly, usually once a week
Our keeping in touch service provides regular monitoring calls throughout the year to older people with more limited social contacts. These calls provide friendship and the opportunity to raise any questions or concerns the older person may have.
Role Description Befriending Volunteer
Home from Hospital
Our home from hospital service supports older people for three after they have left hospital or intermediate care, to ensure their recovery goes well and to reduce hospital readmission.
Home for hospital volunteers support older clients, often after a stay in hospital or intermediate care, to attend pre-arranged medical and outpatient appointments. This may involve transporting them to York, Malton and Castle Hill Hospitals. Volunteers may also deliver prescriptions and equipment after discharge.
Respite Care - In Safe Hands
Our In Safe Hands service offers short breaks to relatives and friends who look after an older person. Could you give a carer a break by caring for an older person in their home on an occasional or regular basis? We have a particular need for evenings and weekends.


Shops
Our shops in Walmgate, Bishopthorpe Road, Burton Stone Lane and Haxby are looking for shop floor volunteers. Tasks are varied and include greeting customers, advising and helping with sizes, operating tills (training provided), putting out stock, reducing stock and displays. If you are welcoming and friendly and can spare anything from a couple of hours to half a day a week, please contact us.
Help with transport
Day club volunteer drivers transport clients to and from our day clubs in York. Hours are approximately 8.45 am to 10.30 am and 2 pm to 3.30 pm. The role can be as a minibus driver (MIDAS trained or training offered) or a car driver using own car with business insurance (expenses covered).
Role Description Day Club Minibus Driver Volunteer
Day Clubs
Volunteers support our day clubs, which run every weekday in different venues throughout the city. The clubs offer local older people an attractive social meeting place, hot lunch, refreshments and interesting activities. If you can spare one to five hours a week to support older people, then why not join our friendly team? If you have an interest in dementia we have a number of specific clubs.
Keep Your Pet
Fundraising
We always welcome enthusiastic volunteers to support in this key area.



Thank you for your interest in volunteering with Age UK York.
Thank you for considering Age UK York for a volunteering role. We have nearly 350 volunteers supporting us to deliver services to older residents in York.
We aim to match volunteers with a volunteering opportunity that will be both enjoyable and rewarding. As such, we undertake a comprehensive recruitment process, taking six to eight weeks and comprising of an application form, interview, references, criminal records check (for most roles) and induction training. For most volunteer opportunities, we ask our volunteers to be in a position to commit to regular and longer term volunteering of at least a year. This is to allow us to provide ongoing support to our older clients. We are only able to accept your application if you are 18 years or older.
You will be joining a commited group of volunteers who provide invaulable support as we deliver services in York and we very much look forward to welcoming you to our team.
Application Forms
If you would like to progress your application, please download the application form and return to the email address below, or send to our office in Walmgate.

Download our application form (Word)
Download our application form (PDF)
If you are interested in a trustee role, please download our trustee application form here. (PDF version here.)
To find out more about these opportunities or volunteering generally, please contact our Volunteer Manager.
t Office 01904 627995 Direct 01904 933611
e volunteering@ageukyork.org.uk