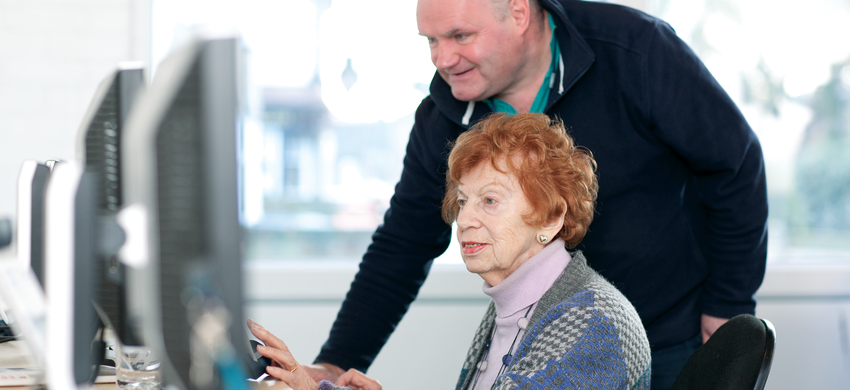 Age UK York relies on volunteers to help us offer vital services in the local community. Would you like to lend a hand?
Why volunteer?
Volunteering is a great way to meet new people, learn new skills, and support the work we do in the community.
Who can volunteer?
Almost anyone can be a volunteer. We have a wide range of roles which suit different people and different skills.
How much time do I need to give?
It depends on the volunteer role you are interested in. Some people give an hour a week, other people do more.
We welcome and value volunteers within Age UK York and have ongoing opportunities within a range of services. If you have an interest in any of these areas and feel your skills and experiences could be of value to us, please get in contact.
Our recruitment process takes between six to eight weeks and comprises an application form, interview, references and criminal records check, followed by two induction courses. In addition to this process, we do ask our volunteers to be in a position to commit to regular and long term volunteering, of at least a year. This is to allow us to provide ongoing support to the older people of York.
If you would like to progress your application, please download the application form.
You will be joining a team of committed volunteers who provide invaluable support as we deliver services within York.
To find out more about these opportunities or volunteering generally, please contact our Volunteer Recruitment Organiser.
t 01904 627995
e volunteering@ageukyork.org.uk
Thank you for your interest in volunteering with Age UK York.
Befriending
Our befriending service provides companionship and support to housebound older people living alone in the community. Would you like to visit an older person regularly for a chat and to develop a friendship? One hour a week can make a huge difference to someone's life.
Check Visiting
Our Check Visiting volunteers conduct regular visits to older members of the community who live alone, highlighting any areas of need. Check Visitors are allocated a number of visits on a monthly basis and these can be organised according to your availability.
Respite Care - In Safe Hands
Our In Safe Hands service offers short breaks to relatives and friends who look after an older person. Could you give a carer a break by caring for an older person in their home on an occasional or regular basis?


Shopping
We are currently looking to expand our shopping services and recruit friendly, flexible volunteers who have an understanding of older people and their needs. Could you:
Take an older person shopping? Driving licence and car required, with mileage paid at 41p per mile.
Do the shopping for an older person?
Take a shopping list over the telephone and order via the internet? IT skills and accuracy is essential in this role.
Shops
Our shops in Walmgate, Bishopthorpe Road, Burtonstone Lane and Haxby are looking for shop floor volunteers. Tasks are varied and include greeting customers, advising and helping with sizes, operating tills (training provided), putting out stock, reducing stock and displays. If you are welcoming and friendly and can spare anything from a couple of hours to half a day a week, please contact us.
We have an urgent need for volunteers in our Walmgate shop, particularly Wednesday and Friday, and in our Burtonstone Lane shop, any day Monday to Friday.
Transporting Clients
We are in urgent need of volunteer drivers to transport clients to and from our day clubs in York. Hours are approximately 8.45am to 10.30am and 2pm to 3.30pm. We require:
Mini bus drivers: MIDAS trained or training will be provided.
Car drivers using own cars with business insurance. Expenses covered.
Drivers for wheelchair adapted car.
We have an immediate need for a volunteer to drive the minibus, providing holiday cover and cover for additional trips, with ad hoc hours across the week. MIDAS training offered.
Day Clubs
We are looking for volunteers to work in our day clubs which run every weekday in different venues throughout the city. The clubs offer local older people an attractive social meeting place, hot lunch, refreshments and interesting activities. If you can spare up to five hours a week to support older people why not join our friendly team? If you have an interest in Dementia we have a number of specific clubs.
We have a particular and urgent need for volunteers at:
Acomb Methodist Church on Mondays 9.30am – 3.00pm
St Lawrence Church Hall, Lawrence Street on Thursdays 9.30am – 3.00pm
Keep Your Pet
Keep Your Pet is a short term support service for domestic pet owners. Volunteers offer short term support for older and vulnerable pet owners by providing fostering, dog walking, taking the pet to the vet, animal feeding etc. We have an urgent need for cat and dog fosterers
Administration
Do you have any administration or office skills? We occasionally have opportunities in our Walmgate or Priory Street offices.


Reception
Would you be interested in volunteering for half a day at our Walmgate Office? We are looking to train a number of receptionists to cover absences. Receptionists meet and greet visitors to the Age UK offices, transfer telephone calls, take messages and undertake basic administration tasks. This is an essential role for Age UK York and full training will be given.


Day Trip Volunteers
Age UK York run minibus outings for elderly people who would normally find it difficult to leave their own home. The outings usually take place every Tuesday from May to September and we would be delighted if you could help out possibly two or three times during this period. We are looking for volunteers who enjoy the company of older people and are happy to escort them to different attractions and venues. You should have a good sense of humour and be reasonably fit and active as you will on some outings be required to push a wheelchair. Training is given and you will be expected to attend a relevant First Aid course.


Fundraising
We always welcome enthusiastic volunteers to support in this key area.



Thank you for your interest in volunteering with Age UK York.