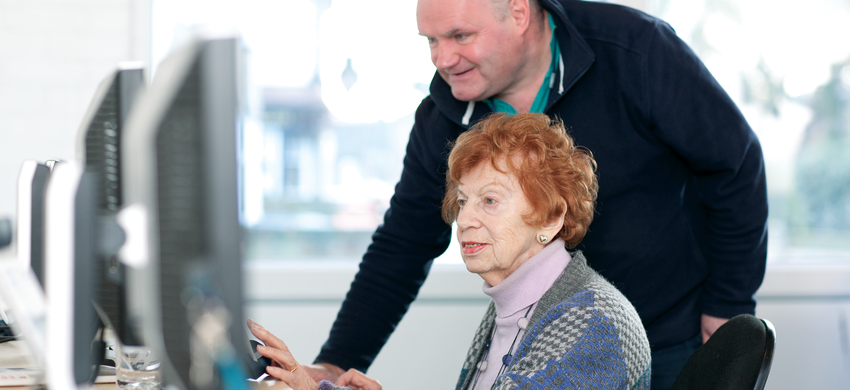 Age UK York relies on volunteers to help us offer vital services in the local community. Would you like to lend a hand?
We would like to thank everyone who contacted us during the pandemic to offer their support. As always, the people of York responded in an incredible way to support our older residents.
Whilst we are currently unable to offer the full array of volunteering opportunities, we are now accepting applications from potential volunteers. We always match volunteers with a suitable opportunity, so currently, you can progress through our volunteer recruitment process for an immediately available role, or, wait for a role to open again.
We have an immediate need for the following:
Retail assistants in our Walmgate and Burton Stone Lane shops
Keep Your Pet volunteers
Home from Hospital volunteers
Carer Respite volunteers
Escorted Shopping volunteers
Please refer to the tabs below for information about the services and the volunteer role descriptions

Befriending
Our befriending service provides companionship and support to housebound older people living alone in the community. Many older people have few social contacts and feel socially isolated and lonely. We try to alleviate this by matching the older person with a carefully selected volunteer who agrees to call regularly, usually once a week
Our keeping in touch service provides regular monitoring calls throughout the year to older people with more limited social contacts. These calls provide friendship and the opportunity to raise any questions or concerns the older person may have.
Role Description Befriending Volunteer
Home from Hospital
Our home from hospital service supports older people for up to six weeks after they have left hospital or intermediate care, to ensure their recovery goes well and to reduce hospital readmission.
Home for hospital volunteers support older clients, often after a stay in hospital or intermediate care, to attend pre-arranged medical and outpatient appointments. This may involve transporting them to York, Malton and Castle Hill Hospitals. Volunteers may also deliver prescriptions and equipment after discharge.
Respite Care - In Safe Hands
Our In Safe Hands service offers short breaks to relatives and friends who look after an older person. Could you give a carer a break by caring for an older person in their home on an occasional or regular basis?


Shopping
We are currently looking to expand our shopping services and recruit friendly, flexible volunteers who have an understanding of older people and their needs. Could you:
Take an older person shopping and/or collect and deliver a click and collect order? This role can be done as two separate roles. Driving licence and car required, with mileage paid at 45p per mile. (Role description escorted shopping volunteer).
Chat and take a shopping list over the telephone?
Chat and take a shopping list over the telephone and order via the internet? IT skills and accuracy are essential for this role. (Role description internet shopping volunteer.)
Role Description Internet Shopping Volunteer
Shops
Our shops in Walmgate, Bishopthorpe Road, Burtonstone Lane and Haxby are looking for shop floor volunteers. Tasks are varied and include greeting customers, advising and helping with sizes, operating tills (training provided), putting out stock, reducing stock and displays. If you are welcoming and friendly and can spare anything from a couple of hours to half a day a week, please contact us.
We have an urgent need for volunteers in our Walmgate shop, particularly Wednesday and Friday, and in our Burtonstone Lane shop, any day Monday to Friday.
Role Description Shop Volunteer
Help with transport
Day club volunteer drivers transport clients to and from our day clubs in York. Hours are approximately 8.45 am to 10.30 am and 2 pm to 3.30 pm. The role can be as a minibus driver (MIDAS trained or training offered) or a car driver using own car with business insurance (expenses covered).
Role Description Day Club Minibus Driver Volunteer
Day Clubs
We are looking for volunteers to work in our day clubs which run every weekday in different venues throughout the city. The clubs offer local older people an attractive social meeting place, hot lunch, refreshments and interesting activities. If you can spare one to five hours a week to support older people, then why not join our friendly team? If you have an interest in dementia we have a number of specific clubs.
Keep Your Pet
Keep Your Pet is a short term support service for domestic pet owners. Volunteers offer short term support for older and vulnerable pet owners by providing fostering, dog walking, taking the pet to the vet, animal feeding etc.

Reception
Would you be interested in volunteering for half a day at our Walmgate Office? We are looking to train a number of receptionists to cover absences. Receptionists meet and greet visitors to the Age UK offices, transfer telephone calls, take messages and undertake basic administration tasks. This is an essential role for Age UK York and full training will be given.


Fundraising
We always welcome enthusiastic volunteers to support in this key area.



Thank you for your interest in volunteering with Age UK York.
Age UK York has over 400 volunteers who provide invaluable services for the older people of York. We could not provide our services without your support. We provide a wide range of volunteering opportunities which can involve either directly helping older people, working in our shops or providing support in our offices.
Our recruitment process takes between six to eight weeks and comprises an application form, interview, references and criminal records check, followed by two induction courses. We have a general induction session for Age UK York and a session specific to the area you are volunteering in.In addition to this process, for most volunteer opportunities, we ask our volunteers to be in a position to commit to regular and long term volunteering of at least a year. This is to allow us to provide ongoing support to the older people of York. We are only able to accept volunteering applications from people aged 18 or above.
Application Forms
If you would like to progress your application, please download the application form.
You will be joining a team of committed volunteers who provide invaluable support as we deliver services within York.
Download our application form (Word)
Download our application form (PDF)
To find out more about these opportunities or volunteering generally, please contact our Volunteer Recruitment Organiser.
t 01904 627995
e volunteering@ageukyork.org.uk