All the money from our shops goes towards providing vital funds to support older people living in York.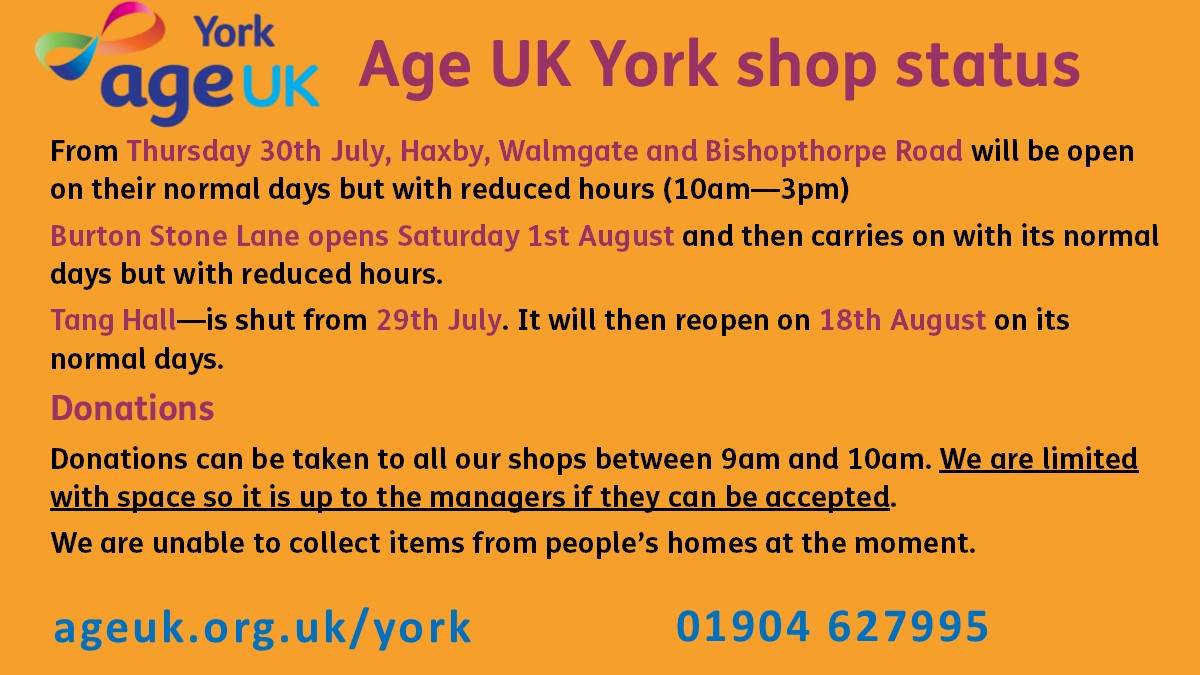 About our shops
We have five shops in the York area. All money raised from our shops goes towards funding our local services in York and your contribution can make a big difference. We rely on your donations and your support as volunteers in our shops.
We are unable to accept videotapes and sometimes are unable to accept large donations as we may not have enough space in our shops. It may be advisable to contact the shop prior to bringing a large donation in to ensure that we can accept it.
Locations
City Centre - 70 Walmgate, YO1 9TL,Tel: 01904 627995 (9.30 am - 4.30 pm, Mon to Sat)

215a Burton Stone Lane, YO30 6EB, Tel: 01904 635917 (9 am - 4 pm, Mon to Sat)

24 The Village, Haxby, YO32 2HT, Tel: 01904 393050 (9 am - 4 pm, Mon to Sat)

19 Bishopthorpe Road, YO23 1NA Tel: 01904 651574 (9 am - 4 pm, Mon to Sat)

Our furniture shop is in Tang Hall. Please contact them if you have any furniture that needs collecting.
77 Fourth Avenue, Tang Hall, YO31 0UA, Tel: 01904 411282 (10.15 am - 3 pm, Mon to Fri)

Volunteering at our shops
Our shops rely on volunteers for sorting stock, creating interesting window displays, and attending to customers. If you are interested in volunteering with us, please visit our volunteering page to see the charity shop role description and how to get in touch.