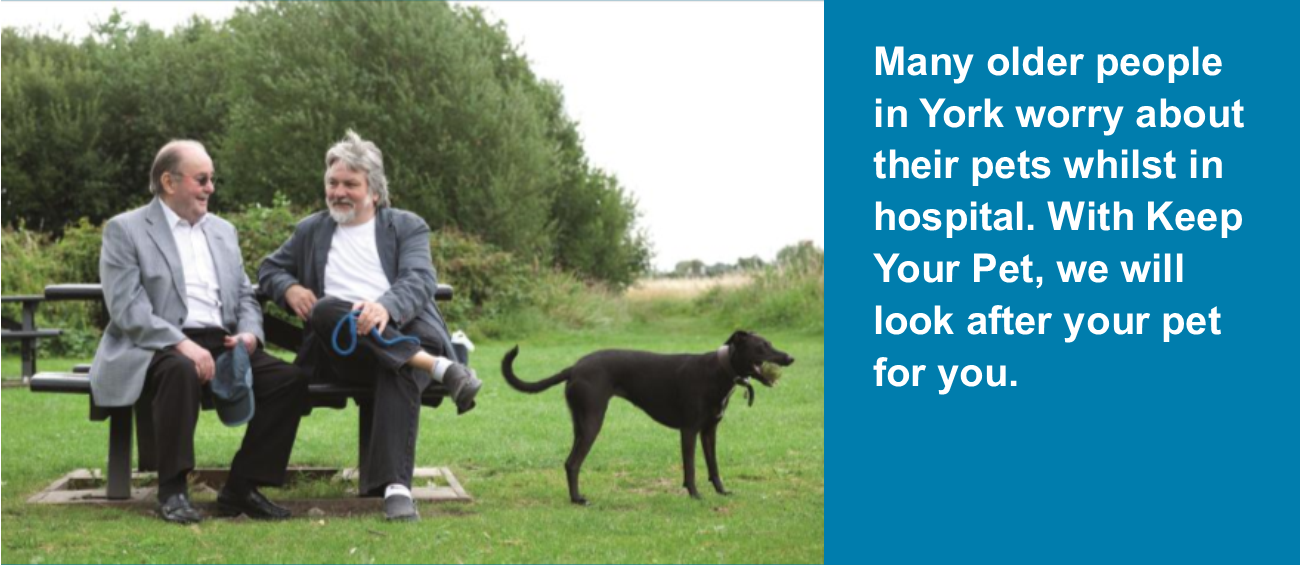 Who would look after your pet whilst you were in hospital?
For many older people in York, their pets are a part of their family and they worry about what would happen if they were in hospital. Age UK York and the RSPCA York Branch have identified a need for a service to help older and vulnerable owners with short term help and support to care for their pets and have joined forces to set up Keep Your Pet.
What we offer
Dog Walking

Visiting a home to feed an animal

Taking an animal to the vet

Short term fostering for any domestic animal
These services are provided by volunteers who have undergone rigorous vetting and training. Out fosterers have had a home assessment by the RSPCA York and District Branch.

Sally Hutchinson, Chief Officer Age UK York said:
'We often find that care of their animals is a particular worry for older people when they are unwell. But we also know how vitally important the animals are in speeding recovery & promoting wellbeing in the long term. We see this service as a natural extension of our work and are delighted to be collaborating with the RSPCA.'
For the owners, the contact & friendship with the volunteer is almost as important as the benefits to their animal, but experience elsewhere has shown that the service is equally valuable to the volunteers. There are many people who are unable to have an animal of their own, or those whose own animals have recently died may not feel ready for another animal of their own but wish to have contact with animals.KYP really does offer a win-win situation.
Contact us: 01904 866070
Or visit the Keep Your Pet website for details on how to register your pet or to become a volunteer.