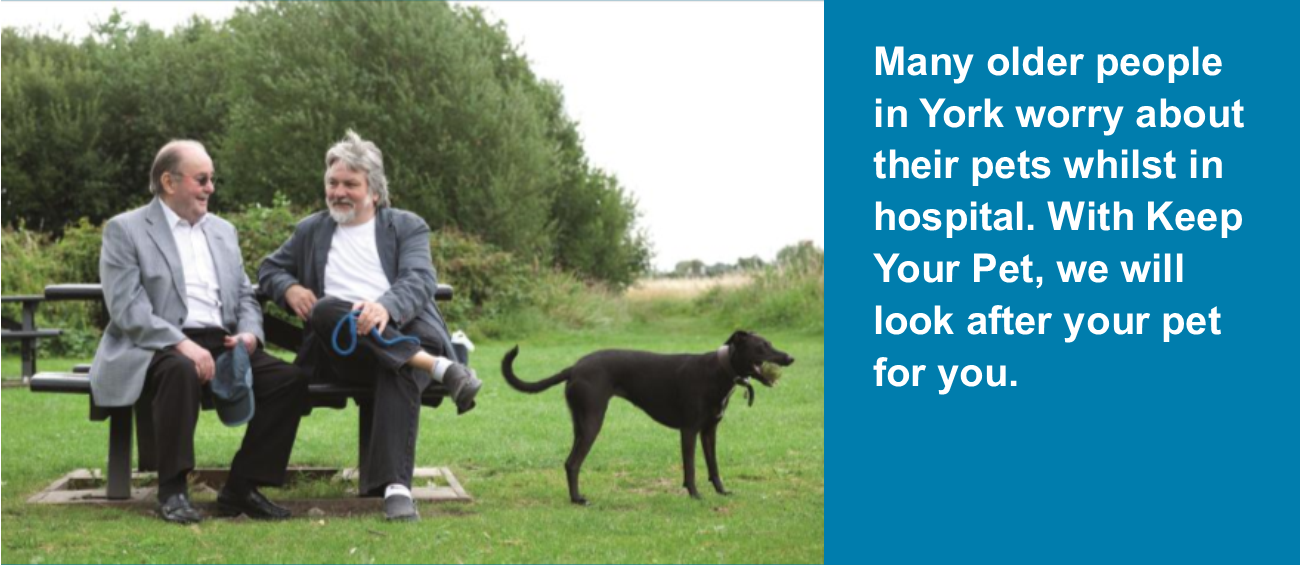 Who would look after your pet whilst you were in hospital?
For many older people in York, their pets are a part of their family and they worry about what would happen if they were in hospital. Age UK York and the RSPCA York Branch have identified a need for a service to help older and vulnerable owners with short term help and support to care for their pets and have joined forces to set up Keep Your Pet. Our unique partnership stops older people missing important medical treatment and can support them in a crisis.
What we offer
These services are provided by volunteers who have undergone rigorous vetting and training. Out fosterers have had a home assessment by the RSPCA York and District Branch.
Dog walking
Visiting a home to feed an animal
Taking an animal to the vet
Short term and long term fostering for most domestic animals
Collecting pet food and medications
Advice and signposting
Keep Your Pet services are carried out by volunteers who have undergone rigorous vetting and training, with foster homes undergoing a home assessment by York, Harrogate and District RSPCA.
We know the work we do really improves the wellbeing of pets and owners – they tell us:
"KYP helped me on so many levels. The volunteers were lovely with my 2 dogs, it was a major relief knowing that they would get a good walk most days as I was unable to walk myself due to a knee op and bad back. Your visits also helped me get better by giving me time to do my physio without 2 furry helpers!!!
Contact us: 01904 866070
Or visit the Keep Your Pet website for details on how to register your pet or to become a volunteer.