Who we are and what we do
Who we are
Age UK Bradford District is a company limited by guarantee, governed by its Memorandum and Articles of Association dated 21st July 1993 and amended to allow for the current governance arrangement on 11th October 2019 It is registered as a charity with the Charity Commission and our details, including access to our annual report and accounts can be found on this link: AGE UK BRADFORD & DISTRICT - 1025961 (charitycommission.gov.uk)
Age UK Bradford District is an independent local charity. We serve the whole of the Bradford Metropolitan District including the towns of Bingley, Keighley, Ilkley and Shipley as well as the surrounding neighbourhoods, villages and rural areas.
TIMELINE
July 1993 Age Concern Bradford & District established
April 2009 Age Concern England and Help the Aged merge to become Age UK
December 2014 We become Age UK Bradford & District changing to become Age UK Bradford District in October 2019
2020 Age UK Bradford District devolves its work to 6 Community Hubs across Bradford District covering:
Bradford East
Bradford South
Bradford West
Keighley and Ilkley
Shipley and Bingley
We currently employ over 30 staff, however as an organisation we rely heavily on the work of volunteers whose vital contribution assist us in achieving our objectives. Our volunteers are currently a 180+ strong team of individuals who bring a wide range of skills and commit varying amounts of time to support our work which includes roles as volunteer Hub Assistants, Community Buddies and Admin/Other support.
What we do
Age UK Bradford District has six Community Hubs, - focusing on the specific needs of older people in the diverse communities across the District. .
We work with each community to build our work around what they tell us they need to live their best life supporting them to have the choice, control and connections they need through:
Information Points – providing access to range of Age UK Information booklets and relevant local community information.
Help & Support – with access to a 'drop in' chat zone for friendly chats with others, including our volunteers, links to our team of volunteer community buddies and also to awareness raising events making sure the voices of older people are heard.
Advice and Casework – on a range of issues including welfare benefits and support after a major life event
Activities – these are developed with you and for you, we will be delivering a programme of community conversations in local neighbourhoods to develop and delivery the local activities and groups people tell us they want and supporting people and to support people to connect with existing community activities and resources.
Our funding comes from the local community including through retail income from the charity shop element of each hub, community fundraising and events, donations and legacies as well as grants.
Read our Charter for Everyone We Work With, a document setting out what this commitment means in practice, what the people that we work with can expect from us and what we expect from them in return.
Read our brochure detailing who we are and what we do.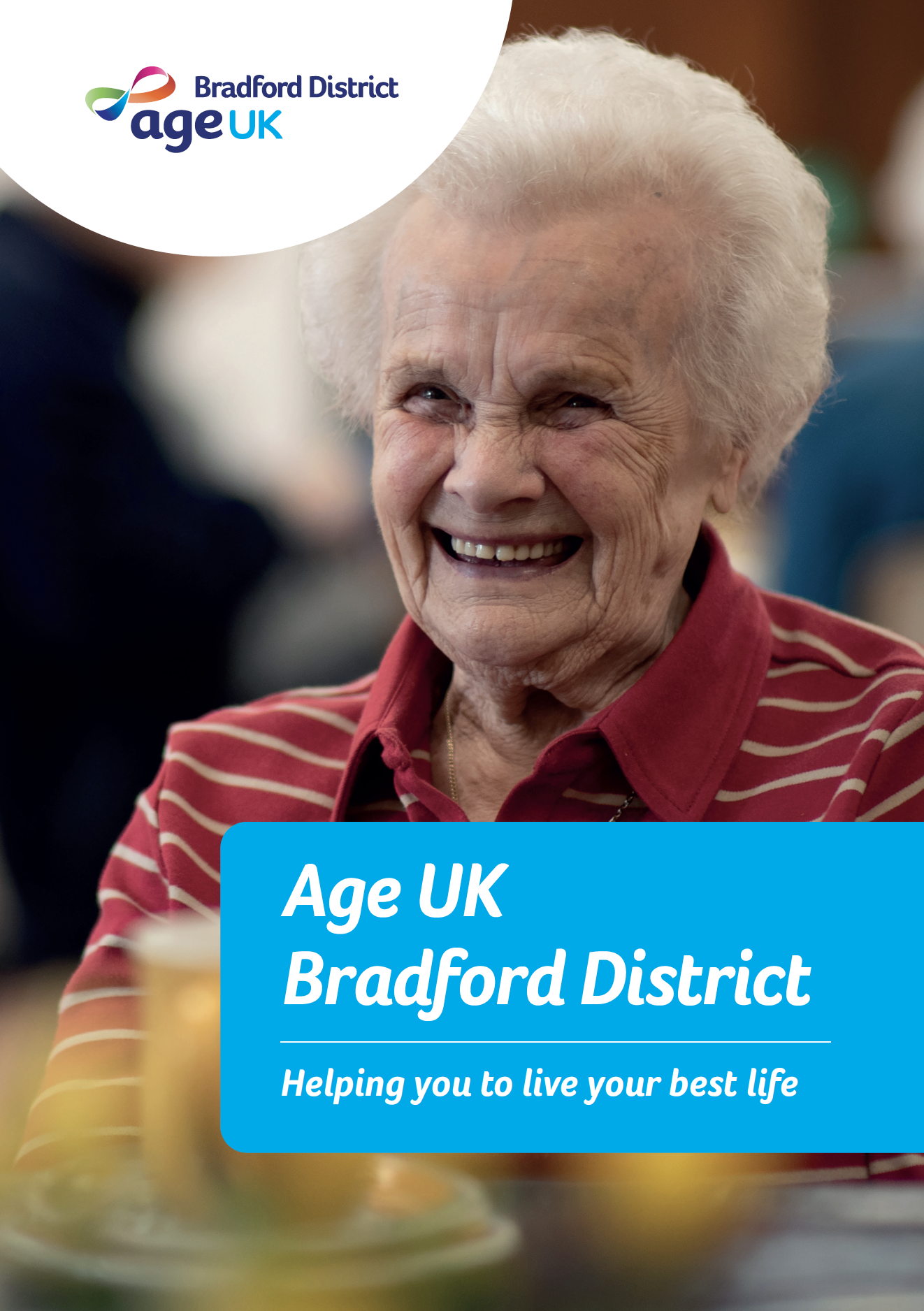 Click to view a PDF of the brochure.
Our brochure has been revised for 2022 and reflects where Age UK Bradford District are currently at and how we are supporting older people.