Age UK Bradford District offers a free and confidential information and advice service for older people, their families and carers.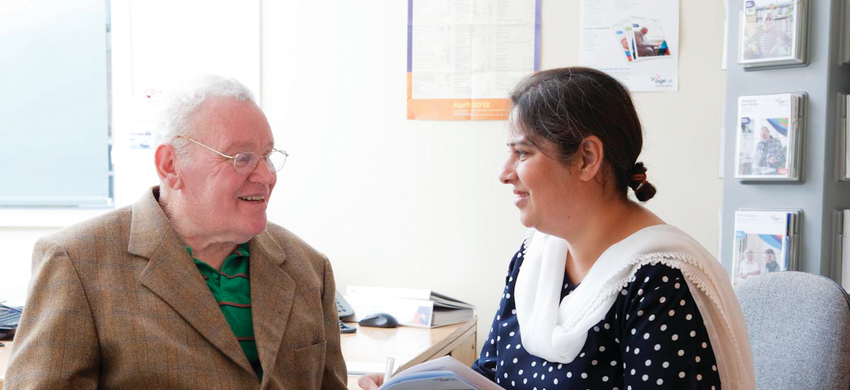 Our Information & Advice service holds the Advice Quality Standard (AQS). The AQS is the quality mark for organisations that provide advice to the public on social welfare issues. Organisations that hold the standard have demonstrated that they are easily accessible, effectively managed, and employ staff with the skills and knowledge to meet the needs of their clients, for more information, please visit the AQS website.
We can help you with:
Benefits

Housing

Health and social care

Leisure and social activities

Family and personal matters

Your rights to local services

And most other things that affect your quality of life
We will always give you information that is accurate and up-to-date, and can explain the choices you have open to you. If you want us to, we may be able to take action on your behalf.
If we can't help, we can put you in touch with people who can.
How we work
We will not charge you for our service – its free

We will not tell anyone about your business without your permission

You can talk to us in private

We will not make judgements about your life and what you want to do
The information and advice provision is available across the Bradford district.
How to access the service
For any information or advice enquiries you can contact us on our telephone number or email address detailed below.
Unfortunately we are not doing home or base visits due to the restrictions regarding Coronavirus, however we provide information and support with telephone appointments.
Email: info@ageukbradfordanddistrict.org.uk
Tel: 01274 391190
Current Office Hours
Monday to Thursday 9.30am to 3.00pm
Friday 9.30am - 1.00pm
or

Age UK Bradford District
75 Wrose Road
Wrose
Shipley
Bradford
BD18 1HX
Free booklets and online information
Age UK produces free information guides and factsheets on a wide range of topics, including home adaptations, dementia, and advice for carers. You can find a complete list of guides and factsheets on the Age UK national website.

If you prefer to read information online, the Age UK national website has information and advice on many topics, including how to find a care home, how to avoid scams, and Power of Attorney.