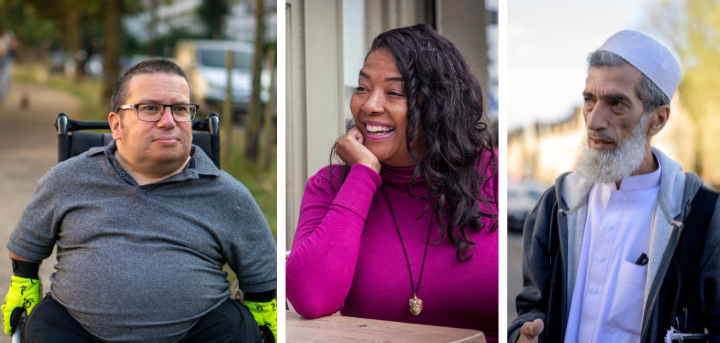 Equality monitoring involves the collection of information about staff, volunteers and service users and is a very important part of tackling inequality and discrimination. It will help us to check whether the services provided by Age UK Bristol are meeting the needs of our local communities. It is more than just gathering data. By collecting monitoring information we will be able to provide evidence that we are reaching the people that need particular services and identify where the gaps are. It can help us identify possible barriers to services and areas for improvement. Equality monitoring by itself does not explain why a service is under or overused by some people. It provides an evidence base and starting point for highlighting issues. This enables us to identify how we can improve services to make them more accessible, diverse and inclusive.
What we monitor:
Under the Equalities act there are 9 main characteristics that we will ask questions about:
Age
Gender
Disability
Race
Gender Reassignment
Marriage and civil partnership
Pregnancy and maternity
Religion
Sexual Orientation
Monitoring these characteristics will vary and may not need to be asked to all completing monitoring forms.
What we do with monitoring information:
The equality information we gather enable us to:
Reveal and tackle discrimination
Determine whether we are reaching and listening to all groups in the community and treating them fairly
Identify access issues and barriers to our services
Evidence the need for new services
Review the way we deliver our current services and how they may need to be amended
Identify any services or policies we have which may negatively impact people from diverse communities
Enable Age UK Bristol to understand and create a staff and volunteer workforce that better reflects the many communities of Bristol
Confidentiality and data protection
We will only collect data for lawful and specified purposes and will not publish data in any way that makes it possible to identify an individual without their permission. This means that in most cases, it will be necessary to obtain your explicit consent to hold and process any personal data that you are willing to provide. You can be assured that any data you provide will be treated in the strictest confidence. You can opt out from having your equalities data collected. If you have any concerns about providing the data, then please contact our Data Protection Officer on 0117 929 7537 or e-mail gdpr@ageukbristol.org.uk