Equality, Diversity and Inclusion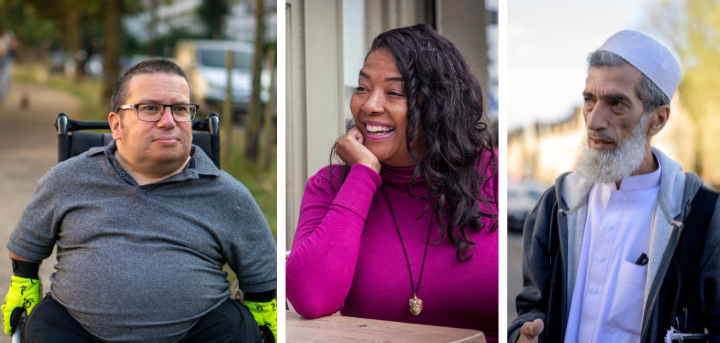 Equality, Diversity and Inclusion
Age UK Bristol is committed to valuing diversity, tackling inequalities and promoting equality of opportunity. We recognise our responsibilities under the Employment Act 2008, Human Rights Act 1998 and will support and uphold the principles enshrined in the Equality Act 2010. We will continuously improve our equalities practice so that no service user, member of staff, volunteer, trustee or stakeholder receives less favourable treatment (either directly or indirectly) on grounds of age, disability, gender reassignment, marriage and civil partnership, pregnancy and maternity, race, religion or belief, sex, or sexual orientation (the protected characteristics under the Equality Act 2010).
A diverse and inclusive workplace is good for everyone involved. Our aim is to make a real difference as an equal opportunities employer and service provider, and in our role as an organisation which champions the interests and aspirations of all older people in Bristol. At AUKB, diversity is valued and equality of opportunity promoted in all our policies, services and activities.
AUKB is an age-friendly employer, supporting staff of all ages. We are Age Proud and are able to support older workers to continue with meaningful work into later life.
Age UK Bristol has staff from across the age spectrum, bringing different types of skills and experience to the team. See the chart below.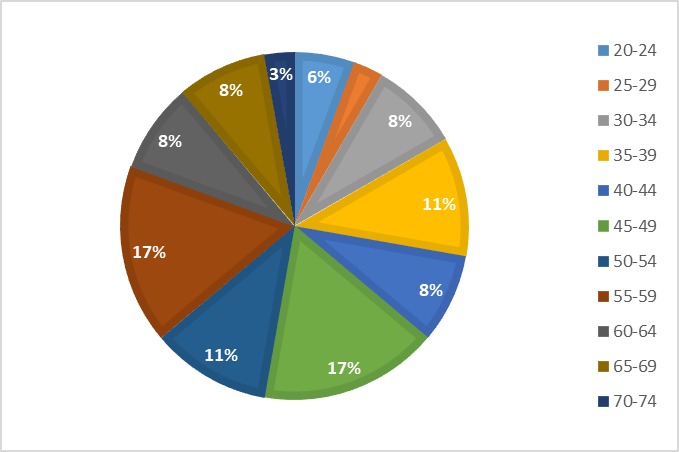 November 2023
Equalities Monitoring
What we monitor:
Under the Equalities act there are 9 main characteristics that we will ask questions about:
Age
Gender
Disability
Race
Gender Reassignment
Marriage and civil partnership
Pregnancy and maternity
Religion
Sexual Orientation
Monitoring these characteristics will vary and may not need to be asked to all completing monitoring forms.
What we do with monitoring information:
The equality information we gather enable us to:
Reveal and tackle discrimination
Determine whether we are reaching and listening to all groups in the community and treating them fairly
Identify access issues and barriers to our services
Evidence the need for new services
Review the way we deliver our current services and how they may need to be amended
Identify any services or policies we have which may negatively impact people from diverse communities
Enable Age UK Bristol to understand and create a staff and volunteer workforce that better reflects the many communities of Bristol
Confidentiality and data protection
We will only collect data for lawful and specified purposes and will not publish data in any way that makes it possible to identify an individual without their permission. This means that in most cases, it will be necessary to obtain your explicit consent to hold and process any personal data that you are willing to provide. You can be assured that any data you provide will be treated in the strictest confidence. You can opt out from having your equalities data collected. If you have any concerns about providing the data, then please contact our Data Protection Officer on 0117 929 7537 or e-mail gdpr@ageukbristol.org.uk
Information about permissions given to take photos, audio recordings and videos of you and share your story in our publicity materials:
You can download our information sheet here.