0117 929 7537
This is a new Support Hub for older people and their families to cope with the impact of coronavirus [COVID-19] in Bristol.
The Support Hub provides a range of different support for older people via our helpline, including Practical Support, Emotional Support and Virtual Activities.
You can also view a list of useful links and contacts, and information of scams online by clicking on the subheadings on the left of this page.
Listen to Laura Thacker, BAB Joint Head of Programme, describe the services on offer through the Support Hub:
Opening hours and how to get in touch

The Support Hub is staffed 9am - 5pm Monday to Friday. If you call outside of these hours please leave a message and someone will respond to you as soon as possible.
Call us on 0117 929 7537 or email admin@ageukbristol.org.uk
We also have put together a list of online resourses, links to other useful organisations, and information about scams.
Click here to visit our list online resources
Click here to visit our scams advice page
Practical Support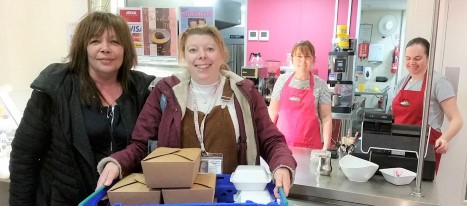 We can help with home maintenance, provide official guidance on coronavirus using the government and NHS websites, information on avoiding coronavirus-related scams and staying safe, and more. We can also offer information and advice about finances, benefits and allowances for older people, their families and carers.
Please call the Support Hub on 0117 929 7537 or email admin@ageukbristol.org.uk further information.
Emotional Support
Are you or someone you know feeling lonely or isolated? We can set up a weekly telephone call for a friendly chat with a volunteer for anyone over 50.
For those feeling anxious, we can refer people to a qualified professional for a free 30-minute counselling session over the phone. You can also refer someone you know, or self-refer by emailing info@oasis-talk.org or calling 0117 927 7577. It is important to please remember to mention the Support Hub when you contact Oasis-Talk.
We can also offer telephone bereavement counselling to support those who have lost someone.
Call our Support Hub on 0117 929 7537 and a member of our team will talk you through the all different types of support available, and help determine the most suitable.
Virtual Activities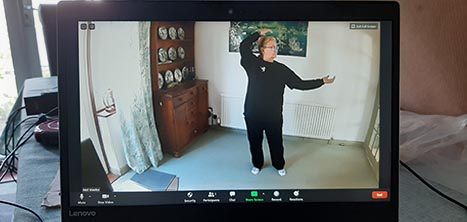 We have a range of activities that you can take part in from the comfort of your own home, such as telephone reading/discussion groups and online Tai-Chi sessions. Please visit the Linkage website by clicking here to find out more about virtual activities taking place. We will also be sharing these activities in newsletters and on our social media.
Sign up as a Friends Ageing Better (FAB) member to stay informed of virtual activities and Support Hub info, and to receive the FAB newsletter, available by email or post. We are conscious that not everyone has access to the internet, therefore we have included activities that you can access by telephone and in printed form as well as online.
If you would ike to sign up as a FAB member you can do so yourself by clicking here or by calling the Support Hub. Membership is free!
Please contact admin@ageukbristol.org.uk or ring 0117 929 7537 for further information on what is available.
How to support us: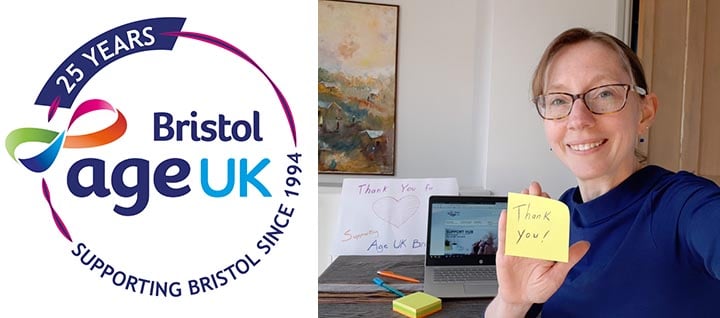 Donate to Age UK Bristol
Our team are working tirelessly to assist as many older people as we can. Your donation will make a huge impact on our work reaching the most vulnerable and isolated older people in the community. You can donate online via our Virgin Money Giving page or our JustGiving page. Click on the buttons below to donate.
Donate online with Virgin Money Giving Donate online with JustGiving
If you would like to donate to one of our partner organisations, please go through to their website.
Additionally, if you are a company or business who would like to offer support please get in touch. In recent days we have had donations of spare stock from local shops that we have distributed to older people in urgent need, as well as access to a community vehicle that our staff can use when supporting clients.
Get in touch with fundraising@ageukbristol.org.uk if your business can donate something.
Spread the word!
Share our Support Hub information on social media or by word of mouth or flyer - help us reach those who are digitally excluded! Tell your neighbours, relatives, friends -
Download a copy of our Support Hub flyer and help promote the service

Volunteer
If you are fit and able to volunteer please get in touch as we have a range of volunteering opportunities available. Please send an email to volunteering@ageukbristol.org.uk ideally answering the following questions so that we can best match you to a suitable role.
Your name and contact details
The type of volunteering you would like to do
The area of the city you would like to volunteer in
Whether you have a car
Whether you have a DBS check
With thanks to our funders:
John James Foundation, Quartet Community Foundation and St Monica Trust.
The Support Hub has been developed by a partnership of several voluntary organisations that work to support older people in Bristol.
We are: Age UK Bristol, Age UK Somerset, Age UK South Gloucestershire Active Ageing Bristol, Alive Activities, Alzheimers Society, Bristol After Stroke, Bristol Ageing Better, Bristol and Avon Chinese Women's Group, Bristol Bears, Bristol Black Carers, Bristol Community Navigators, Bristol Drugs Project, Bristol Older People's Forum, Bristol Rovers, Carers Support Centre, CASS Bristol Cruse Bereavement Care, Dhek Bhal, Independent Age, LinkAge, Macular Society, Marmalade Trust, Nilaari, North Bristol Advice Centre, Oasis-Talk, Playlist for Life, Re-Engage, RSVP West, Sight Loss Council, Somerset and Avon Rape and Sexual Abuse Support, Sovereign, St Monica Trust, The Exercise Club, The Reader, Vision West of England, Trust, We Care Home Improvements, WECIL,and Wyldwood Arts