Questions about the Coronavirus vaccine?
We have pulled together information from a variety of sources to answer your frequently asked questions.
eNewsletter
Sign up to receive our newsletter by email.
Free Taster Sessions available
email lauren.foyle@ageuksomerset.org.uk or call 01823 345618 and leave a message.
UPDATE ON OUR SERVICES AND OUR OFFICE - 4th January 2021


In keeping with the Government's latest guidance, our office is again closed until further notice. All Toenail Cutting appointments will continue as planned unless clients hear differently through contact from us.

But we are only a phone call (or email info@ageuksomerset.org.uk) away!
We are continuing to run most of our services, so if you need:
Benefits advice then please do call us on 01823 345613, leave a message on the answerphone and someone from our team will call you back.
We can help with assessments to see what you may be entitled to,
We can advise you on Pension Credit (which you'll need to continue to get a free TV Licence) and,
We can find a Volunteer to assist you over the phone with forms such as Attendance Allowance.
We are currently working hard to be able to resume our Ageing Well exercise sessions at some point in the future and many of our existing class members are participating in many classes online! Find out more here.
Our Befriending service continues to run over the phone only.
For those who would like to have someone to chat to on the telephone we now offer a Friendly Phone Calls service. Call 01823 345610 if you'd like more information.
Our Toe Nail Cutting service has restarted in a small way and our existing clients have been contacted to arrange a suitable way forward.
We are still working hard to do all we can to support older people in Somerset and North Somerset so please don't hesitate to get in touch. We are fully staffed and are standing by to be of service!
Toenail Cutting Assistant Vacancies
Do you have an interest in Health & Social Care and can work for around 8/10 hours in a month?
Our Toenail Cutting service works in conjunction with the Somerset Podiatry Service, helping older people who are no longer able to hold toenail clippers or bend down to reach their feet.
We currently have a number of vacancies across the county for Toenail Cutting Assistants.
If you are willing to learn and have a nice way with people get in touch! Full training given.
Dianne Ramsay
28th May 1970 - 18th September 2020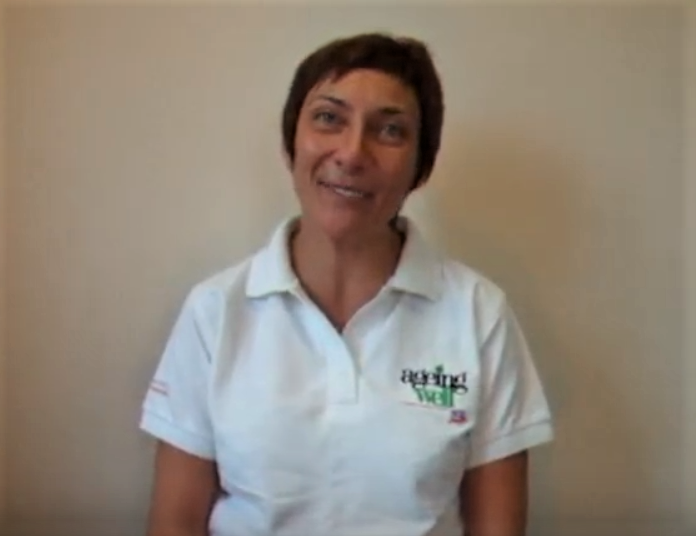 As you may know it was dear Di's funeral this morning (30th September 2020). Under a grey sky and rain in the pretty village of Kentisbeare, Di's service took place in the beautiful church in the centre of the village.
Around 20 Age UK Somerset staff and Ageing Well volunteers were there, outside the church, wearing our bright AUKS t-shirts, between two large pennants proudly proclaiming 'Age UK Somerset'. And how fitting because no one championed Age UK Somerset more than Di.
We, who attended, represented all our staff and volunteers. Because in normal times we all would have gone to pay our respects to a remarkable woman.
The service was for only 30, as per Government guidelines, and so after silently watching the lone piper pipe the coffin into the church, and after a spontaneous round of applause, we said a silent 'farewell' to our amazing colleague.
During the time that Di was at home I told her about my plan to introduce an annual 'Di Ramsay Award'. She laughed. But Keith, her husband, told me she was flattered and a little bit proud. She was remarkable and we will ensure her legacy lives on. New volunteers and new members of staff will be told about Di. It is the very least we can do. But that is for later. Now is the time to think of happier times with Di and, if it is your wish, say a silent prayer for her tonight as you raise a glass to someone we were very privileged to call a colleague.
Phil Dolan,
Chief Executive, Age UK Somerset
Full tribute to follow.
Our Office may be closed but we are still available for you by telephone and email and through our new website www.ageuksomersetcoronavirus.org.uk
Call us

We are experiencing a high number of calls so please leave a message and we WILL call you back.

email us

Find us on Facebook

Follow us on Twitter
Volunteering
Friendly Phone Calls Service
We have recently set up a new service in response to Coronavirus and the increased isolation it has caused many older people to experience. The Friendly Phone Calls service involves making a weekly call to an older person, to alleviate their sense of loneliness. If you'd like to volunteer, please email volunteers@ageuksomerset.org.uk.
Here are some other ways you can help:
Neighbourly Volunteering
Take part in neighbourly volunteering and help support older people in your community who are staying at home due to the coronavirus epidemic.
To help you get involved we have produced a postcard that you can print off and complete with key information (including our contact details) and post to older people in your area to let them know you are available should they need support.
Download and print Age UK Somerset's Neighbourly Volunteer Postcard
More information and a training video can be seen here
________________________________________________________________________________
What we are doing
As the local charity for older people we are working with local authorities and other local voluntary groups and organisations at this trying time to put in place a county-wide plan to ensure that those in need of help are supported. With new government advice that people over 70 should self-isolate we are urgently reviewing how we will be providing our services. More information will follow.
Be aware of SCAMS!
Some nasty people are taking advantage of people's anxiety during this time to try to scam them. We've had some information about various scams going round.
Help with benefits
Would you like some help understanding which benefits you may be entitled to? Our Information and Advice Advisors are here to help you.
Your questions answered
We provide information and advice for older people, their families, friends and carers. If we can't help we'll know someone who can!
Our Coronavirus Support website
Our quality marks

Age UK Somerset has achieved the Age UK Charity Quality Standard (CQS). The CQS is externally assessed by quality assessment experts, SGS.