UPDATE ON OUR SERVICES AND OUR OFFICE - 23rd Feb 2021


Further to the statement on the easing of lockdown from the Government yesterday, Age UK Somerset is leaning on the side of optimism that the proposed steps will happen on the dates planned.
We are now excitedly preparing to have all of our services "back to normal" as we get to Step 4 in the recovery roadmap, currently planned as 21st June.
This means that our group, in-person Ageing Well exercise and strength and balance sessions, of which we had over 100 across the county before lockdown, will resume.
Our office will be open to visitors again as soon as this is possible according to the roadmap.
We will be able to begin recruiting Volunteers for all of our services again. Our existing Volunteers who provide home visits for Befriending or to offer help with benefit claim forms will resume these visits only when it is deemed safe, and they feel confident to do so.
Watch this space for more updates as we see how things pan out.
Although we can't wait, June is a long way off and during the remaining 4 months we will continue to offer our services by telephone, email and online. These include our Information and Advice and benefits support services, our Friendly Phone Calls service, our Cognitive Stimulation Therapy sessions and our popular online Ageing Well relaxation and exercise sessions. Our Toenail cutting service has been continuing throughout with strict hygiene, full PPE and frequent staff testing and now the Toenail Cutting Assistants have had their vaccinations.
Because of the success and popularity of our online and telephone based services, we may carry on offering these, in addition to face-to-face options, even after things are "back to normal".
Questions about the Coronavirus vaccine?
We have pulled together information from a variety of sources to answer your frequently asked questions.
eNewsletter
Sign up to receive our newsletter by email.
Free Taster Sessions available
email lauren.foyle@ageuksomerset.org.uk or call 01823 345618 and leave a message.
Toenail Cutting Assistant Vacancies
Do you have an interest in Health & Social Care and can work for around 8/10 hours in a month?
Our Toenail Cutting service works in conjunction with the Somerset Podiatry Service, helping older people who are no longer able to hold toenail clippers or bend down to reach their feet.
We currently have a number of vacancies across the county for Toenail Cutting Assistants.
If you are willing to learn and have a nice way with people get in touch! Full training given.
Our Office may be closed but we are still available for you by telephone and email and through our new website www.ageuksomersetcoronavirus.org.uk
Call us

We are experiencing a high number of calls so please leave a message and we WILL call you back.

email us

Find us on Facebook

Follow us on Twitter
Friendly Phone Calls Service
At the start of the pandemic we set up a new service in response to the increased isolation it has caused many older people to experience. The Friendly Phone Calls service has gone from strength to strength and we are now seeking more Volunteers!
The role involves making a friendly weekly phone call to an older person you will be matched with, to brighten their day and alleviate their sense of loneliness.

If you'd like to volunteer, please email volunteers@ageuksomerset.org.uk.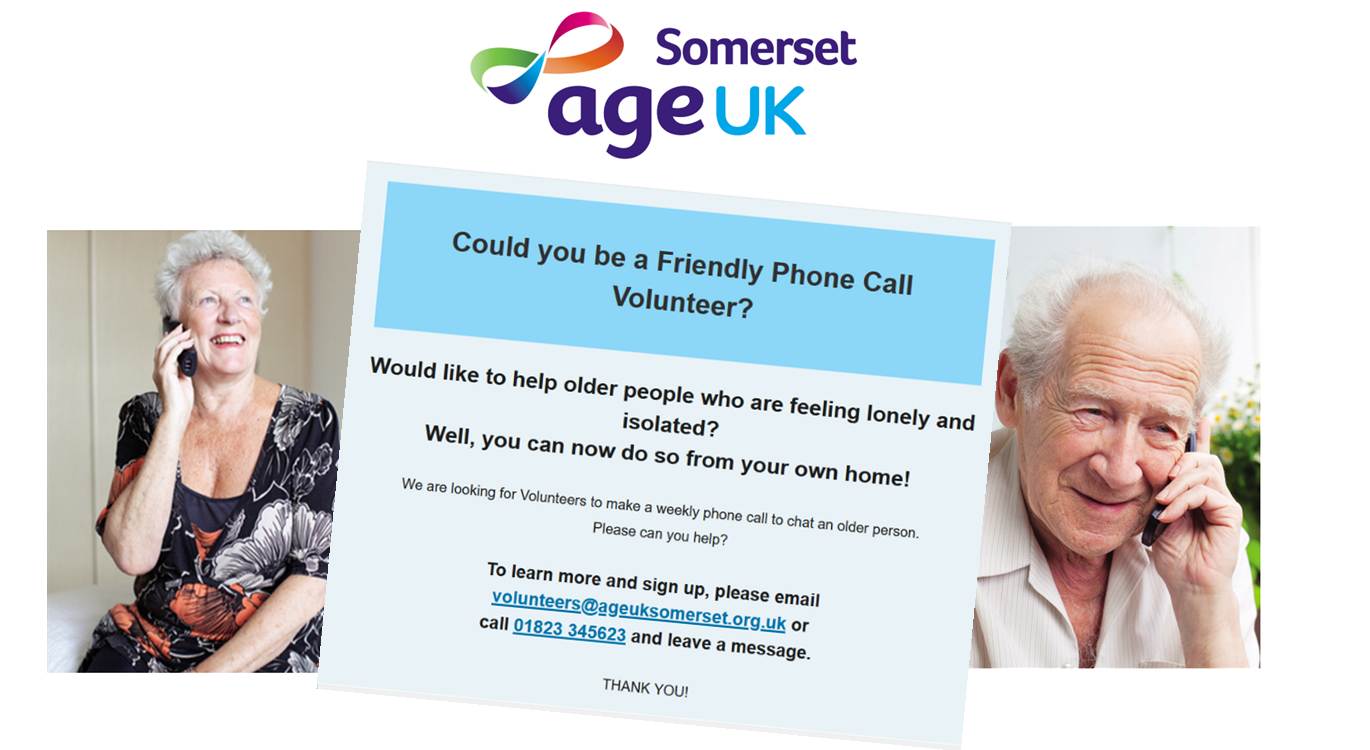 What we are doing
As the local charity for older people we are working with local authorities and other local voluntary groups and organisations at this trying time to put in place a county-wide plan to ensure that those in need of help are supported. With new government advice that people over 70 should self-isolate we are urgently reviewing how we will be providing our services. More information will follow.
Be aware of SCAMS!
Some nasty people are taking advantage of people's anxiety during this time to try to scam them. We've had some information about various scams going round.
Help with benefits
Would you like some help understanding which benefits you may be entitled to? Our Information and Advice Advisors are here to help you.
Your questions answered
We provide information and advice for older people, their families, friends and carers. If we can't help we'll know someone who can!
Our Coronavirus Support website
Our quality marks

Age UK Somerset has achieved the Age UK Charity Quality Standard (CQS). The CQS is externally assessed by quality assessment experts, SGS.