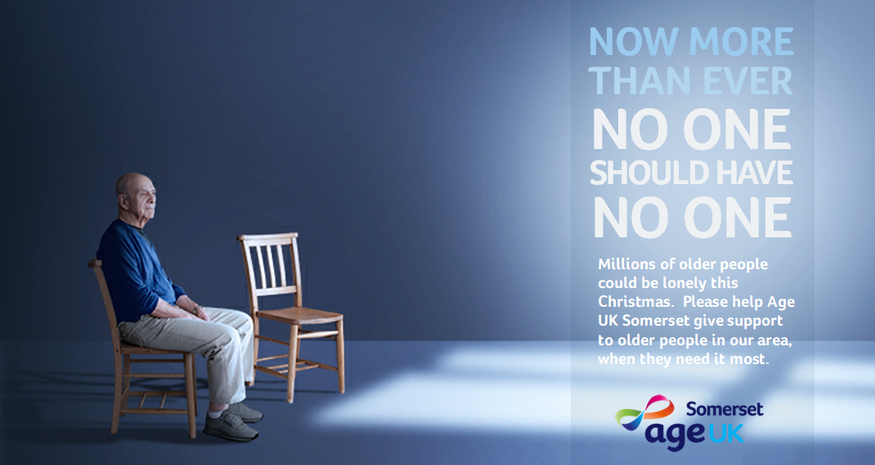 Help us to ensure that no-one has no-one this winter
Every year, thousands of local older people call on Age UK Somerset for practical and emotional support. Before the outbreak of coronavirus, we were already facing a loneliness epidemic amongst older people. But as a result of the pandemic, this crisis has intensified, and this Christmas will be the loneliest yet for the older people most in need. Now, more than ever, Age UK Somerset needs your help to raise urgent funds.
If you can't volunteer, please could you donate?  Every penny will count.
The NHS are also asking volunteers to register for volunteering and the details for this can be found here. https://www.goodsamapp.org/NHS

This is for people who can drive and get out and about and also for those willing to support patients by phone.

We want to make sure we can help all that need us, and be able to reassure the families, especially those who live outside the county, that we are doing all we can to protect and support their loved ones.

Did you know that we are a local independent charity? We have more than 180,000 older people in our area and we are responsible for raising our own funds. With the sudden closure of our only paid-for services - our exercise classes and our toenail cutting service - we have lost much-needed income at a time of unprecedented demand. This means that to keep vulnerable older people safe and well, we need your support and donations, however small.

WITH YOUR HELP WE CAN GET THROUGH THIS.

Thank you for playing your part.
If you use this link to get to Amazon, every time you buy something they will make a donation to us and help us to put smiles on the faces of older people across Somerset and North Somerset.
eNewsletter
Sign up to receive our newsletter by email.