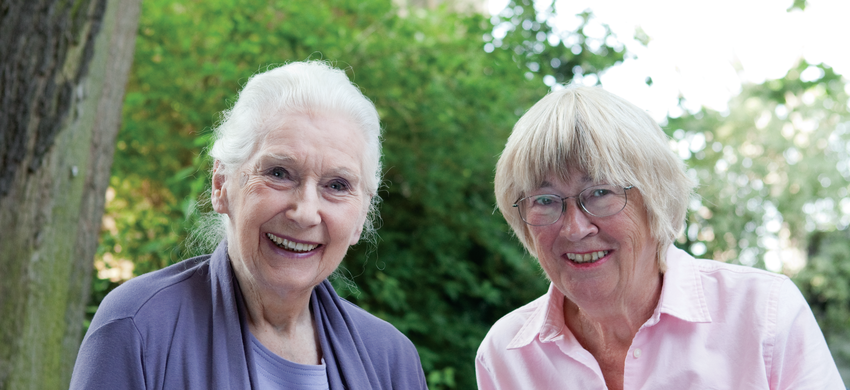 Age UK Somerset relies on volunteers to help us offer vital services in the local community.
Would you like to lend a hand?
Our amazing team of volunteers help us to support older people in Somerset and North Somerset. We have a variety of satisfying roles so we hope you can find something to suit you. Why not become part of the team and make a difference by volunteering with us?
Our Volunteering roles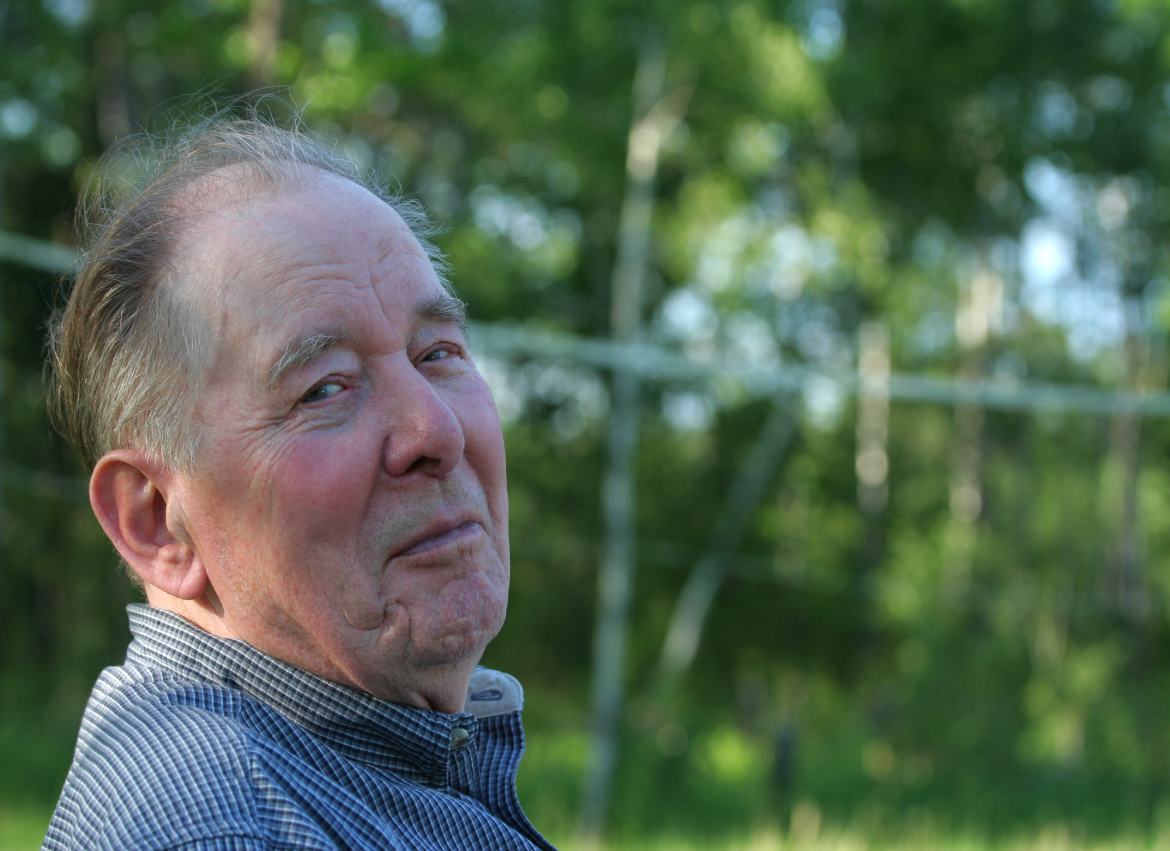 Walk and Talk - Active Befriending
We have just started a new Active Befriending service.
This service combines company with activity and aims to help clients to rebuild their confidence after lockdown.
This role will involve meeting clients outside their homes and accompanying them for a short walk and a chat to encourage gentle physical activity.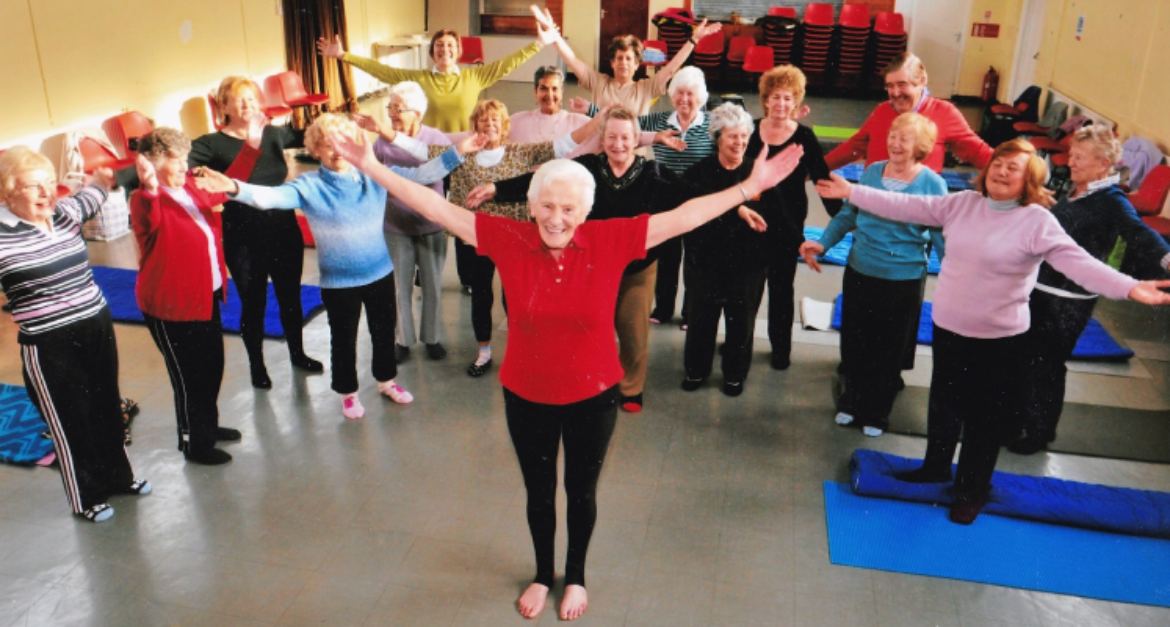 Ageing Well - our fun physical activity sessions

Become an Ageing Well Volunteer and you'll be bringing a group of older people together for regular, fun, sociable activity sessions.
You will be trained as a 'Flexercise' leader and don't worry, you do not have to be super fit and no previous experience is necessary! Flexercise is a gentle chair based activity session incorporating fun and activities with equipment and much laughter! The aim of the sessions is to keep older people active and connected and improve both physical and mental wellbeing.
For this role we ask you to spare an hour or so each week after training, and have a good sense of humour.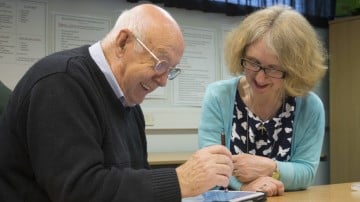 Information and Advice Volunteers
In 2019 our Information and Advice (I&A) Volunteers helped improve older people's lives by assisting them in claiming more than £2m in the benefits that they were entitled to. This can make a huge difference in reducing financial anxiety.
In the I&A volunteer role you will support clients with practical help, for example, visiting them at home to help fill out forms. Our I&A volunteers tell us that contributing to a successful claim can be very satisfying and they also report how much they enjoy meeting new people and how they like the feeling of being useful and keeping their brains active!As an I&A Volunteer you would receive all necessary training and regular refresher sessions. At the beginning you would be accompanied by an experienced Volunteer until you felt confident enough to go out by yourself. This opportunity suits someone who is good with paperwork and well organised. In terms of time commitment this role is very flexible. Once trained you would receive details of a possible assignment in your local area as and when they come up. You can say 'no' at any time and make appointments that fit in with you.
This 'free-to-client' service covers the whole of Somerset and North Somerset. Understandably demand is high so we are always looking for volunteers to help!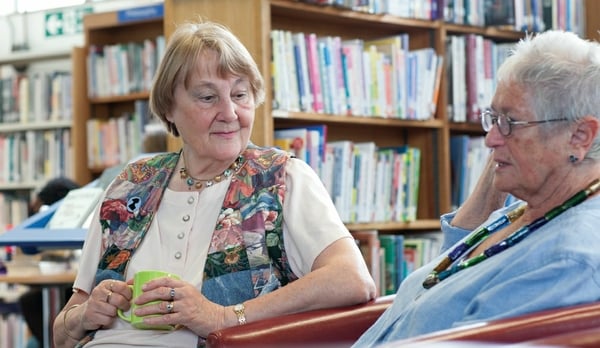 'Memory Connections' Maintenance Cognitive Stimulation Therapy
This service is for clients with a recent, mild to moderate diagnosis of dementia. It involves weekly activity sessions which have been shown to slow the progression of the disease.
We are looking for Volunteers are needed to support the fun activity sessions.
If you would like to help, please email volunteers@ageuksomerset.org.uk or call 01823 345627
Frequently Asked Questions about Volunteering
Why volunteer?
Volunteering is a great way to meet new people, learn new skills, gain experience, give something back and support the work we do in the community. Many Volunteers find their roles very rewarding.
Who can volunteer?
Almost anyone over 18 can volunteer with us. We have a wide range of roles which suit different people and different skills.
What can I do?
We need Volunteers in a variety of roles across the whole of Somerset and North Somerset. We hope you can find an opportunity to suit you.



Will I enjoy it?
Whether you have retired and want to try something new, want to give something back to the community, want to meet new people, or have just begun your career and want experience of working with older people, volunteering could be a very rewarding and enjoyable experience for you. The Volunteers who responded to our Annual Volunteers Questionnaire say they really enjoy it!



How much time will it take?
Some of our volunteering opportunities are flexible; you can choose how much time you would like to give, others require a regular commitment. We hope there will be something to suit everyone's availability.
Our Information and Advice service changes in response to the needs of local older people. If there is a case in your area, we will contact you and you will be able to choose whether or not to take it.
Our Active Befriending and Ageing Well roles require a regular committment of an hour or so a week.
Will I be properly supported?
All Age UK Somerset Volunteers receive Induction training. In addition further specific role training is carried out on a regular basis where appropriate. Continuous help, advice and support are happily given by the staff at Age UK Somerset and there will be plentiful opportunities to meet and talk to your fellow Volunteers.
What's the procedure for becoming a Volunteer?

In summary:
we ask you to complete an application form in which we ask for references.
Once these have been returned we will contact you to complete a DBS form if necessary.
After this has come back clear you will be invited to attend an Induction Event, where all volunteers receive relevant information and have the opportunity to raise questions eg, about travel expenses claims, ID badges etc.
Depending on which service you join, you may have an induction period during which training is more intensive, or regular updates as often as necessary, and you may go on visits with an established volunteer.
You will also receive a Volunteers Handbook which contains all the information that you might need and our rules and guidelines.
It is vital that everyone involved with Age UK Somerset acts in a professional manner and understands the requirement for firm policies about such things as confidentiality and safety, and the procedures to follow that ensure smooth-running services, with the minimum of complications.
How can I find out more?
How to apply

If you have already decided to apply please contact us to ask for the Application form to fill in. We will send our application pack to you in the post or by email, whichever you prefer. We always apply for references, and some posts require a DBS Certificate (formerly CRB).

You will have a chance to meet the Service Manager for the service that interests you for an informal interview once we have received your references, to make sure both sides are happy to go forward. However, please do not hesitate to contact us if you have any questions in the meantime.
Get in touch
Someone from the Volunteering team is usually available from Monday to Friday.

Please contact us.
Telephone: 01823 345627 (please leave a message as we are working from home and picking up messages remotely)
eNewsletter
Sign up to receive our newsletter by email.