Age UK Somerset relies on Volunteers to help us provide our vital services in the local community.
Our amazing team of volunteers help us to support older people in Somerset and North Somerset. We have a variety of satisfying roles so we hope you can find something to suit you. Why not become part of the team and make a difference by volunteering with us?
Charity Trustee Vacancies
Due to forthcoming retirements from our Board, we wish to invite applications  from enthusiastic and motivated people who share our commitment to our charitable aims and core values and would like to become our new Trustees.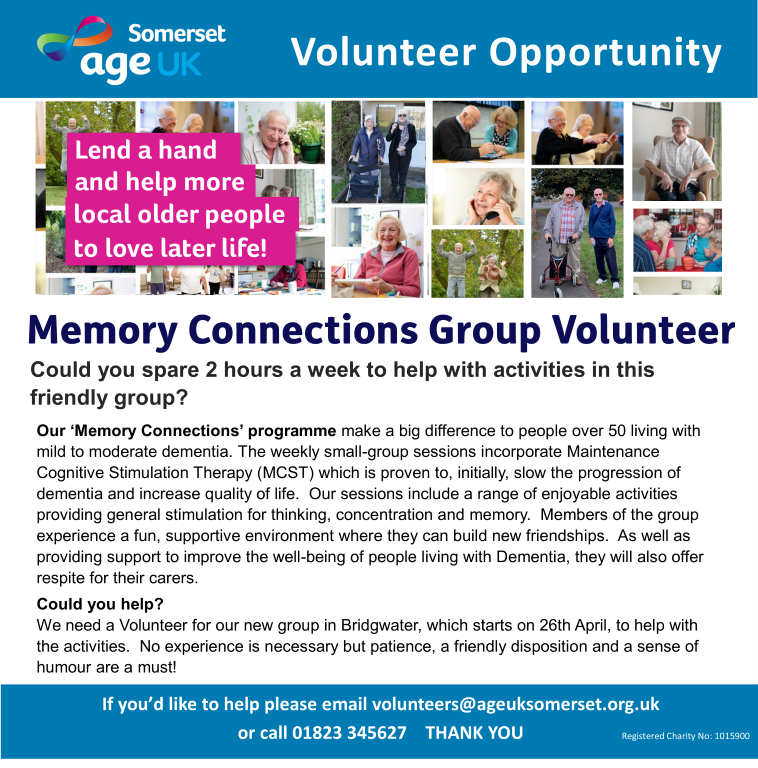 We urgently need a Volunteer to assist at our new Memory Connections group in Bridgwater and at our new groups starting in Burnham on sea and Clevedon.
Please can you help?
Please get in touch by email to volunteers@ageuksomerset.org.uk or give us a call on 01823 35627 if you are able to help.
Our Volunteering opportunities
Volunteers' Week 2022
Every year we use Volunteers' Week as an opportunity to say "Thank You" to our wonderful Volunteers. We invite all of our Volunteers to outings and events across Somerset and North Somerset.
Please could you take our quick survey about Volunteers & Volunteering?
As it is Volunteers' Week in June, this month's SOOM (Somerset Older Opinions Matter) Survey is all about Volunteers and Volunteering.  Have you Volunteered?  Have you had help from a Volunteer?  The survey is anonymous, it will only take 2 minutes to complete and we'd really appreciate you sharing your opinions!  THANK YOU.
Frequently Asked Questions about Volunteering
Why volunteer?
Volunteering is a great way to meet new people, learn new skills, gain experience, give something back and support the work we do in the community. Many Volunteers find their roles very rewarding.
Who can volunteer?
Almost anyone over 18 can volunteer with us. We have a wide range of roles which suit different people and different skills.
What can I do?
We need Volunteers in a variety of roles across the whole of Somerset and North Somerset. We hope you can find an opportunity to suit you.



Will I enjoy it?
Whether you have retired and want to try something new, want to give something back to the community, want to meet new people, or have just begun your career and want experience of working with older people, volunteering could be a very rewarding and enjoyable experience for you. The Volunteers who responded to our Annual Volunteers Questionnaire say they really enjoy it!



How much time will it take?
Some of our volunteering opportunities are flexible; you can choose how much time you would like to give, others require a regular commitment. We hope there will be something to suit everyone's availability.
Our Information and Advice service changes in response to the needs of local older people. If there is a case in your area, we will contact you and you will be able to choose whether or not to take it.
Our Active Befriending and Ageing Well roles require a regular committment of an hour or so a week.
Will I be properly supported?
All Age UK Somerset Volunteers receive Induction training. In addition further specific role training is carried out on a regular basis where appropriate. Continuous help, advice and support are happily given by the staff at Age UK Somerset and there will be plentiful opportunities to meet and talk to your fellow Volunteers.
What's the procedure for becoming a Volunteer?

In summary:
we ask you to complete an application form in which we ask for references.
Once these have been returned we will contact you to complete a DBS form if necessary.
After this has come back clear you will be invited to attend an Induction Event, where all volunteers receive relevant information and have the opportunity to raise questions eg, about travel expenses claims, ID badges etc.
Depending on which service you join, you may have more intensive training, or regular updates as often as necessary, and you may go on visits with an established volunteer.
You will also receive a Volunteers Handbook which contains all the information that you might need and our rules and guidelines.
It is vital that everyone involved with Age UK Somerset acts in a professional manner and understands the requirement for firm policies about such things as confidentiality and safety, and the procedures to follow that ensure smooth-running services, with the minimum of complications.
How can I find out more?
How to apply

If you have already decided to apply please contact us to ask for the Application form to fill in. We will send our application pack to you in the post or by email, whichever you prefer. We always apply for references, and some posts require a DBS Certificate (formerly CRB).

You will have a chance to talk to the manager of the service you would like to Volunteer with before you make your application.

Please do not hesitate to contact us if you have any questions - volunteers@ageuksomerset.org.uk or 01823 345627
Get in touch
Someone from the Volunteering team is available from Monday to Friday.

Please contact us.
Telephone: 01823 345627 (please leave a message if there is no answer and we will call you back)
eNewsletter
Sign up to receive our newsletter by email.