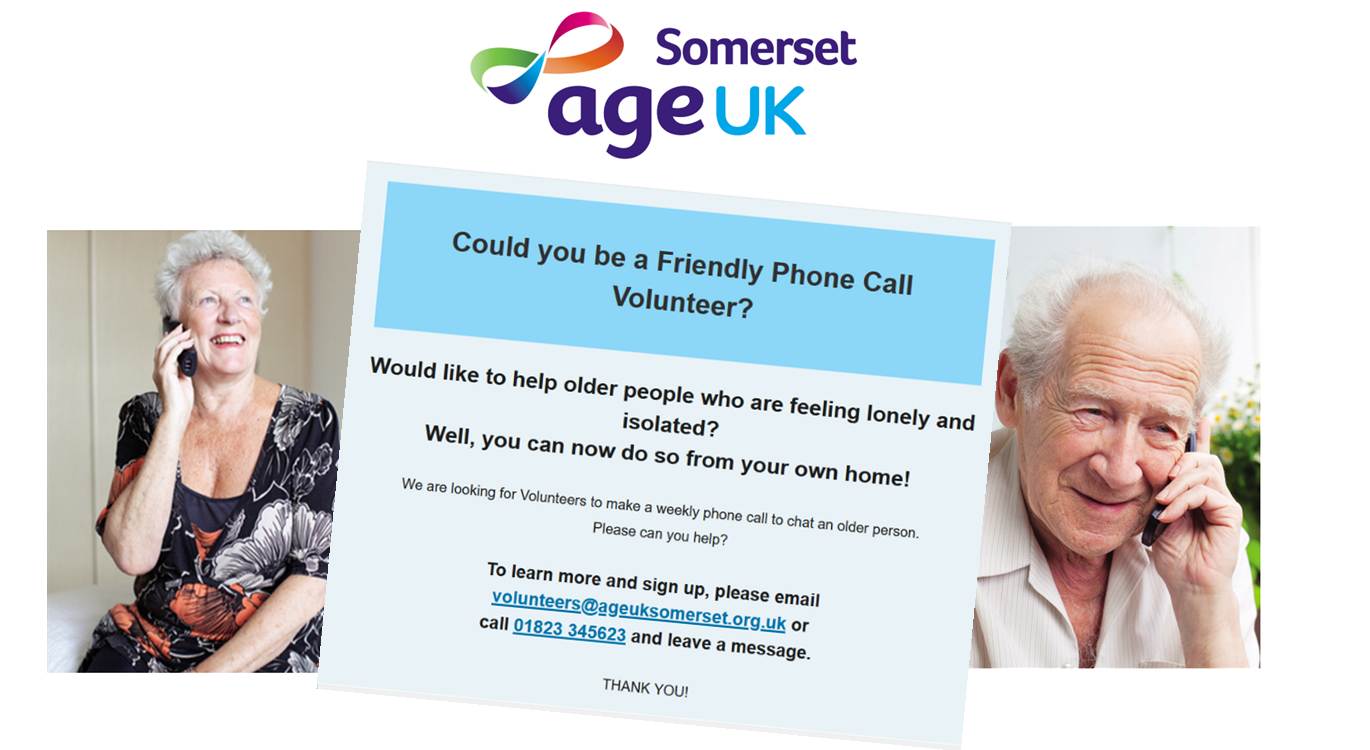 Friendly Phone Calls Service
At the start of the pandemic we set up a new service in response to the increased isolation it has caused many older people to experience. The Friendly Phone Calls service has gone from strength to strength and we are now seeking more Volunteers!
The role involves making a friendly weekly phone call to an older person you will be matched with, to brighten their day and alleviate their sense of loneliness.

If you'd like to volunteer, please email volunteers@ageuksomerset.org.uk.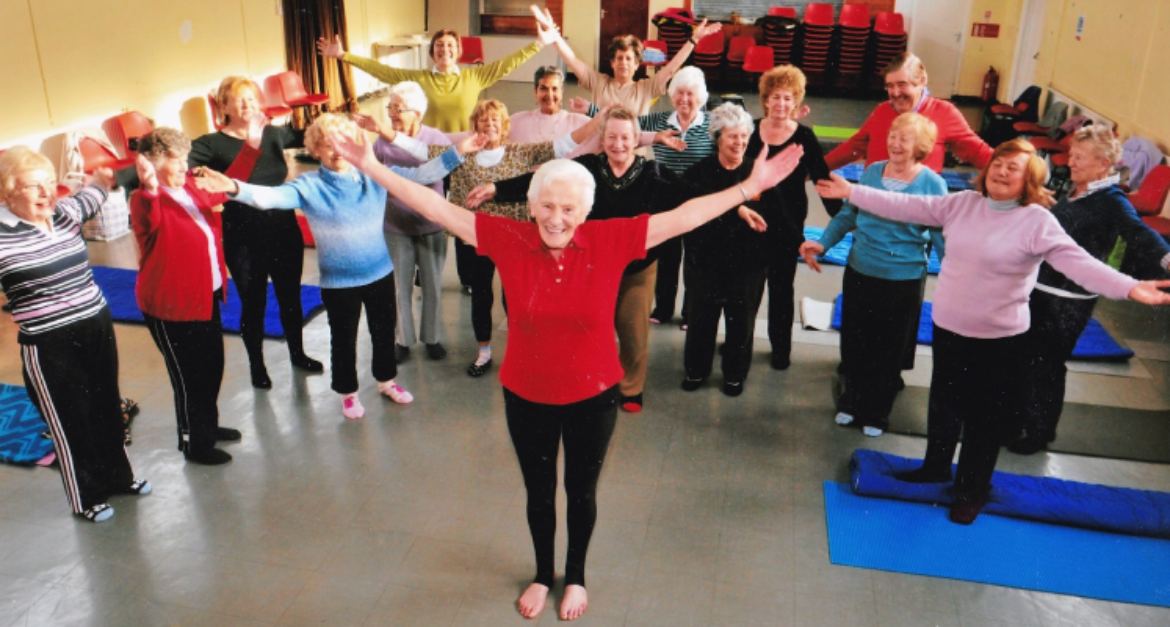 Ageing Well - our fun physical activity sessions

Become an Ageing Well Volunteer and you'll be bringing a group of older people together for regular, fun, sociable activity sessions.
You will be trained as a 'Flexercise' leader and don't worry, you do not have to be super fit and no previous experience is necessary!
Flexercise is a gentle chair based activity session incorporating fun and activities with equipment and much laughter! The aim of the sessions is to keep older people active and connected and improve both physical and mental wellbeing.
For this role we ask you to spare an hour or so each week after training, and have a good sense of humour.
Information and Advice
Last year our Information and Advice (I&A) Volunteers helped improve older people's lives by assisting them in claiming more than £2m in the benefits that they were entitled to. This can make a huge difference in reducing financial anxiety.
In the I&A volunteer role you will support clients with practical help, for example, visiting them at home to help fill out forms. Our I&A volunteers tell us that contributing to a successful claim can be very satisfying and they also report how much they enjoy meeting new people and how they like the feeling of being useful and keeping their brains active!
As an I&A Volunteer you would receive all necessary training and regular refresher sessions. At the beginning you would be accompanied by an experienced Volunteer until you felt confident enough to go out by yourself. This opportunity suits someone who is good with paperwork and well organised. In terms of time commitment this role is very flexible. Once trained you would receive details of a possible assignment in your local area as and when they come up. You can say 'no' at any time and make appointments that fit in with you.
This 'free-to-client' service covers the whole of Somerset and North Somerset. Understandably demand is high so we are always looking for volunteers to help!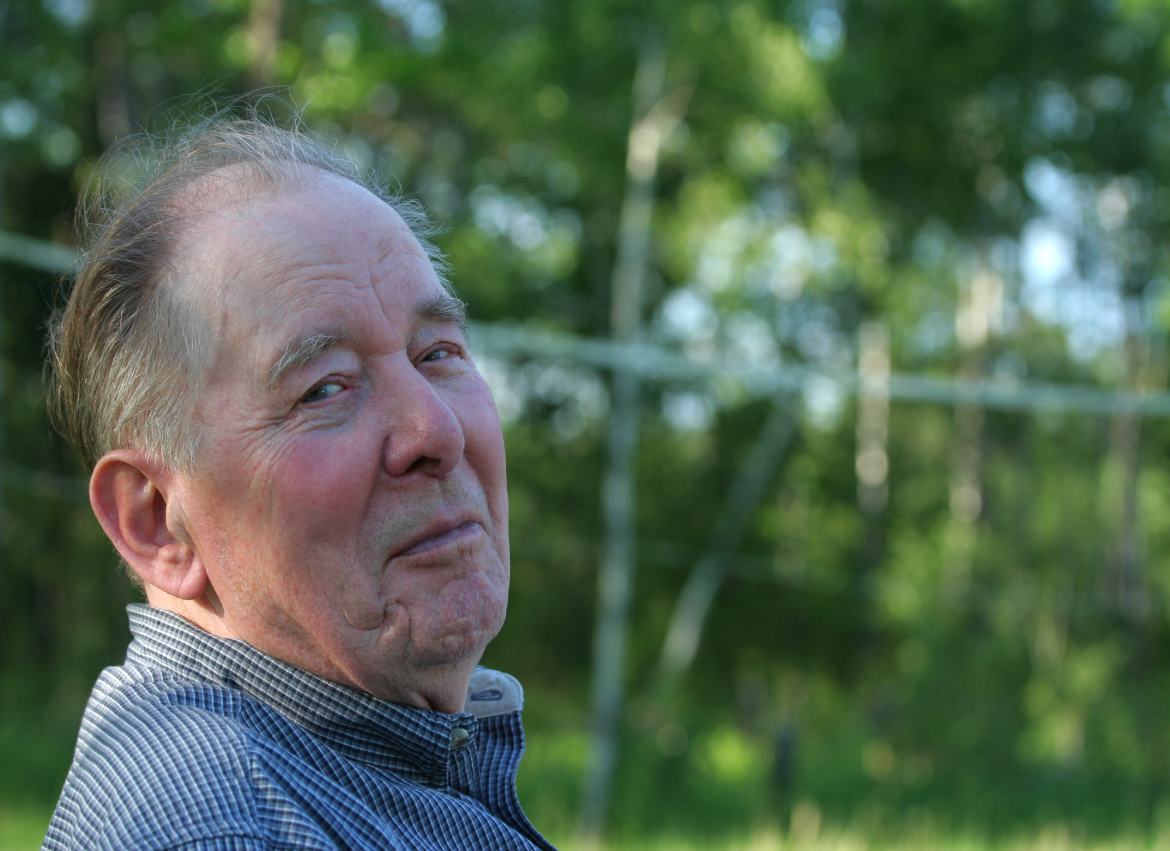 Walk and Talk - Active Befriending
We have created a new Active Befriending service, to help clients to rebuild their confidence after lockdown. This will involve meeting clients outside their homes and accompanying them for a walk and a chat to encourage gentle physical activity.
Cognitive Stimulation Therapy
This service is for clients with a recent, mild to moderate diagnosis of dementia. It involves weekly activity sessions which have been shown to slow the progression of the disease.
Volunteers are needed to support the fun activity sessions.
If you would like to help, please email volunteers@ageuksomerset.org.uk.
Get in touch
Someone from the Volunteering team is usually available from Monday to Friday.

Please contact us.
Telephone: 01823 345627 (please leave a message as we are working from home and picking up messages remotely)
eNewsletter
Sign up to receive our newsletter by email.