This is where you can find information about the Age UK Somerset activities and events taking place.
New!  Online Dementia Carers' Support Group
Are you an unpaid Carer for a loved one with dementia or memory loss?
Would you like to chat with others who understand exactly what you are going through?
Would you like to learn coping strategies or just have the chance to let off some steam?
Then join our new group! Friendly sessions every Wednesday at 3pm.
New Strong and Steady classes are now running in North Somerset and Somerset!

We are expanding our service...

We are thrilled to announce new exercise sessions across North Somerset to help you stay independent. Our classes are now in Weston-Super-Mare, Winscombe, Clevedon, Yatton, Shipham, Portishead and Nailsea.

To match your needs, we are introducing two levels of Strong and Steady classes, so you can join a session that is right for you.

Our Get Strong Get Steady classes will help you transition from seated to standing exercises, whilst also helping to strengthen specific joints.

Our Stay Strong Stay Steady classes will help to strengthen your lower body muscles, improve your balance and increase your confidence in moving around.

For a chat about which class is right for you please contact us:

01823 345614

fallsprevention@ageuksomerset.org.uk

Now launched in North Somerset!

ESCAPE-pain is a free, group-based rehabilitation program for the management of knee and hip arthritis.

The classes are delivered over a six-week period by an exercise professional and each class includes a short education session as well as some physical activity. The program has been clinically proven to reduce pain, increase function, improve mental well-being and self-confidence.

Have you had chronic hip or knee pain for at least 3 months?

Are you aged over 45?

Are you independently mobile and able to carry out individual exercises?

Are you willing to attend the class twice a week for six weeks?

If so, then this program might be just right for you.

Please get in touch for more information and to discuss self-referral into the service.

01823 345626 ageingwell@ageuksomerset.org.uk
Let's Move together and improve together!

Many of our community-based exercise classes are restarting and we are looking forward to welcoming you back!

You can still maintain your fitness without leaving the house! We offer a number of virtual exercise sessions run using Zoom. If you are new to Zoom we can provide some technical support.

If you are living with mild to moderate dementia discover our new Dementia Maintenance Cognitive Stimulation Therapy (MCST) Service called 'Memory Connections'. We run groups in Taunton and Weston super Mare.
Let's Move Together and Improve Together
We deliver a variety of community-based classes in Somerset and North Somerset. They are a great way to become fitter, healthier and to meet people. We are delighted to welcome new clients and would love to see you at our classes.
Online exercise sessions
Maintain your fitness level from the comfort of home!
Full support is given by our team to make booking and attending your class possible.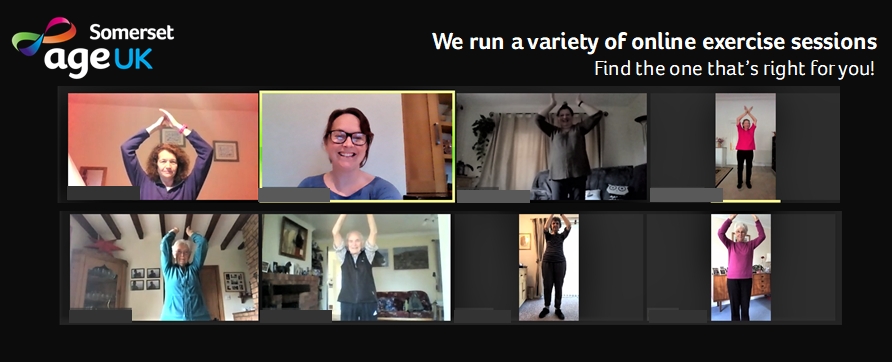 eNewsletter
Sign up to receive our newsletter by email.