Ageing Well - activities and exercise classes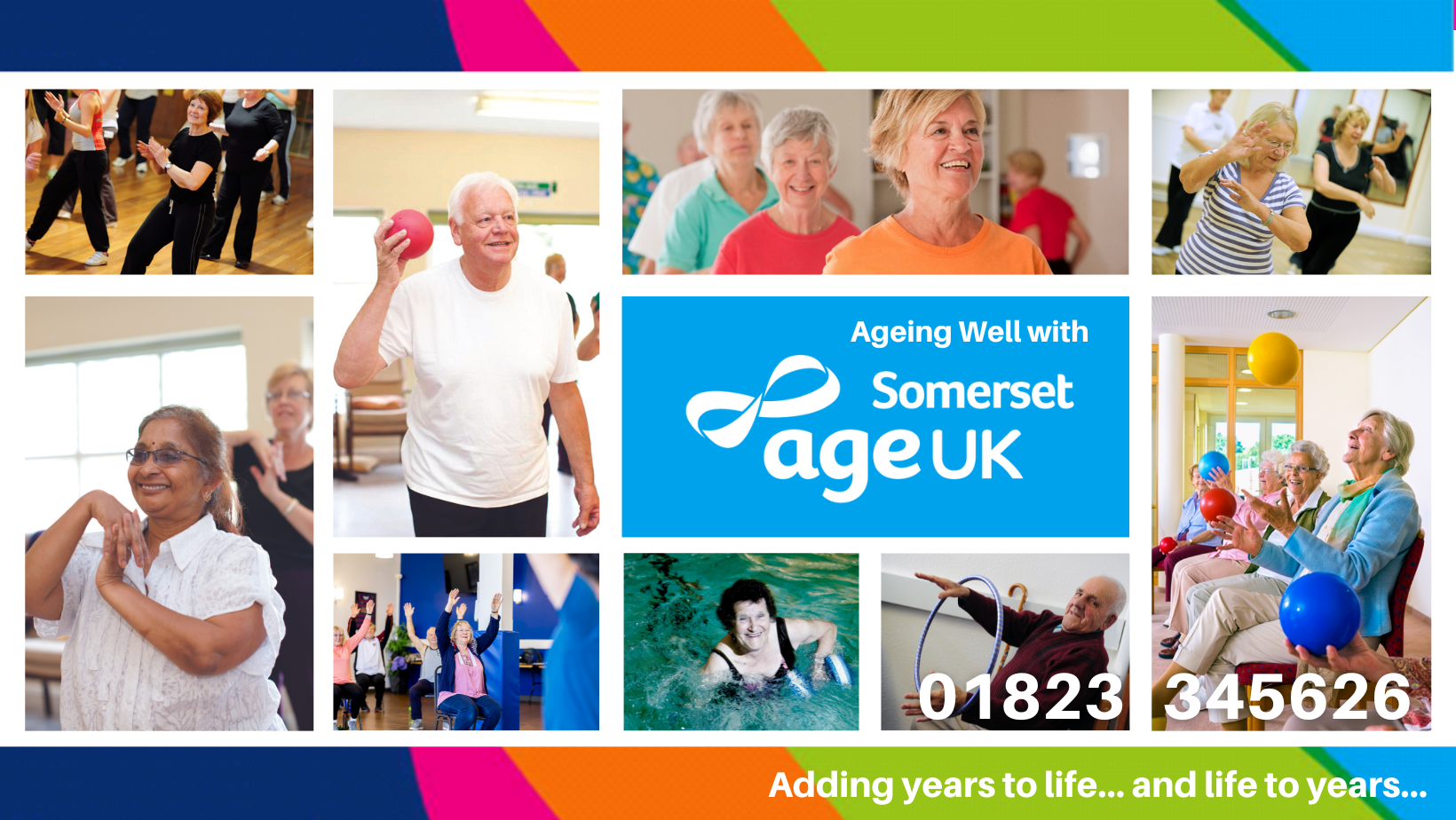 Ageing Well is dedicated to improving the health and wellbeing of older people.
We deliver a wide range of exercise sessions in Somerset and North Somerset - general fitness, strength and balance, chair-based classes, swimming, fishing, Yoga and Tai Chi. There is something to suit everyone!
Call 01823 345626 for more information.
Our exercise and activity sessions
We are delighted to welcome new clients and would love to see you at our classes. Click on the blue box below to see our class timetable.
We also deliver online sessions, if you want to join us from the comfort of your own home then click here:
Find out which exercise groups are running near you on our map
How to book an exercise class
Booking is easy, but before attending your first class you will need to fill in an application form
, which can be done online
here
.
Alternatively, we are happy to send you a form in the post. Just telephone our dedicated booking line number 01823 345624 or you can email bookaclass@ageuksomerset.org.uk
Once we have received your completed application form we will then contact you to let you know when you can start the class.
Adding years to life, adding life to years
What type of classes are available?
Information about the different types of classes can be found by clicking on the links below.
Other activity and exercise sessions- more coming soon.
For more information or if you have any questions please contact the Ageing Well team.
Phone: 01823 345626
Covid Safety
We want to keep you safe.
Cleaning, Hand Hygiene and Ventilation
We will be continuing to have increased hand hygiene (e.g. frequent washing of hands and freely available hand sanitizer), cleaning (notably wiping touch points), and ventilation (before the class, and possible during the class) at all of our venues.
Vaccination and Testing Policy
We will continue to encourage our participants to have the vaccination and any boosters they are offered, if able to do so.
Social Distancing, PPE and Face Coverings
In line with the government's advice, we recommend the use of face coverings in enclosed spaces and where people feel more comfortable wearing one, but you are not obliged to do so.
We will continue to monitor class numbers, maintaining a reasonable distance from others during your class.