Christmas Giving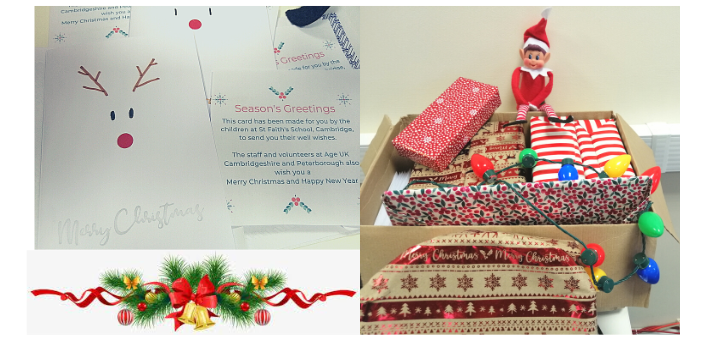 Published on 18 January 2022 02:47 PM

We would like to thank the kindness shown by so many over the Christmas period in making donations to us. We are an independent charity and as such we must raise all our own funds to deliver our local services to and for older people living in the Cambridgeshire and Peterborough area. We are part of a Brand Partnership, sharing an ethos and some resources (e.g. research) but we are a different charity to our national partner Age UK and we do not receive donations made directly to this charity. Therefore, receiving support locally is very much appreciated.
At Christmas people and businesses in our community thought of how they could support local older people and contacted us with various offers. We received wrapped Christmas gifts, luxury food, handmade cards, and knitted garments to pass on to our service users, Christmas Afternoon Tea takeaways were delivered, raffle donations for the Friendship Clubs and volunteer help given, and money gifted. All were very welcome and received with delight.
In all we had over 300 gifts to deliver, over 100 Christmas cards and £4,250 in donations. The money donated is 'ring fenced' to be used to support our friendship services, reducing isolation and loneliness, delivered in the local area of the donor – so literally returned back to their local community. This is such a great example of giving back and community kindness and support.
On this page we share some photos and a couple of videos (Links below to our You Tube Channel), showing the journey from some of the donors to some our service users. Gifts were passed on to people who were unlikely to get much, if anything, this Christmas. They were welcomed by recipients with delight and wonder – that others (strangers) were thinking of them, showing kindness and sending well wishes. With so many heartfelt thanks from our service users we can only hope you understand the gratitude and appreciation we pass back to our donors. Christmas can be a very lonely time, the kind donations made it a little more bearable for some.
This is just one example of feedback from one of our members of staff:
"I delivered a Christmas gift and card from St Faith's on Sunday to my chap, I was unable to take pictures, he's in a hospital bed, but I just wanted to let you know his response. On arrival my usual jovial chap was in a low mood, yes he had not long woken up but he told me he was fed up and did not think life would come to this. He has no family and just sees the carers and me.
His face lit up when I gave him the card and present, "what for me?". I then read the card and he was so touched by the words from Adam and his classmates.
Please say thank you to St Faiths, I left my chap with a smile on his face because someone thought about him. It really was special."

Thank you again for thinking of our charity to be a beneficiary of your generosity. Acknowledgements to:
Waitrose Ely
Individuals that gave
If you would like to make a contribution to our work please take a look at the links below or get in touch by email to: donate@ageukcap.org.uk

The Christmas Giving Journey - from Donor to Recipient
Short video showing donors wrapping and sending their Christmas gifts to us.

Short video showing the gifts being delivered by our staff.
Make a Donation
Donate locally to ensure your money is spent helping local older people.
How Can You Help?
If you would like to make a contribution to our work please take a look at our Get Involved Page
How Do We Help?
Learn about Our Services and the support we give to older people and their carers