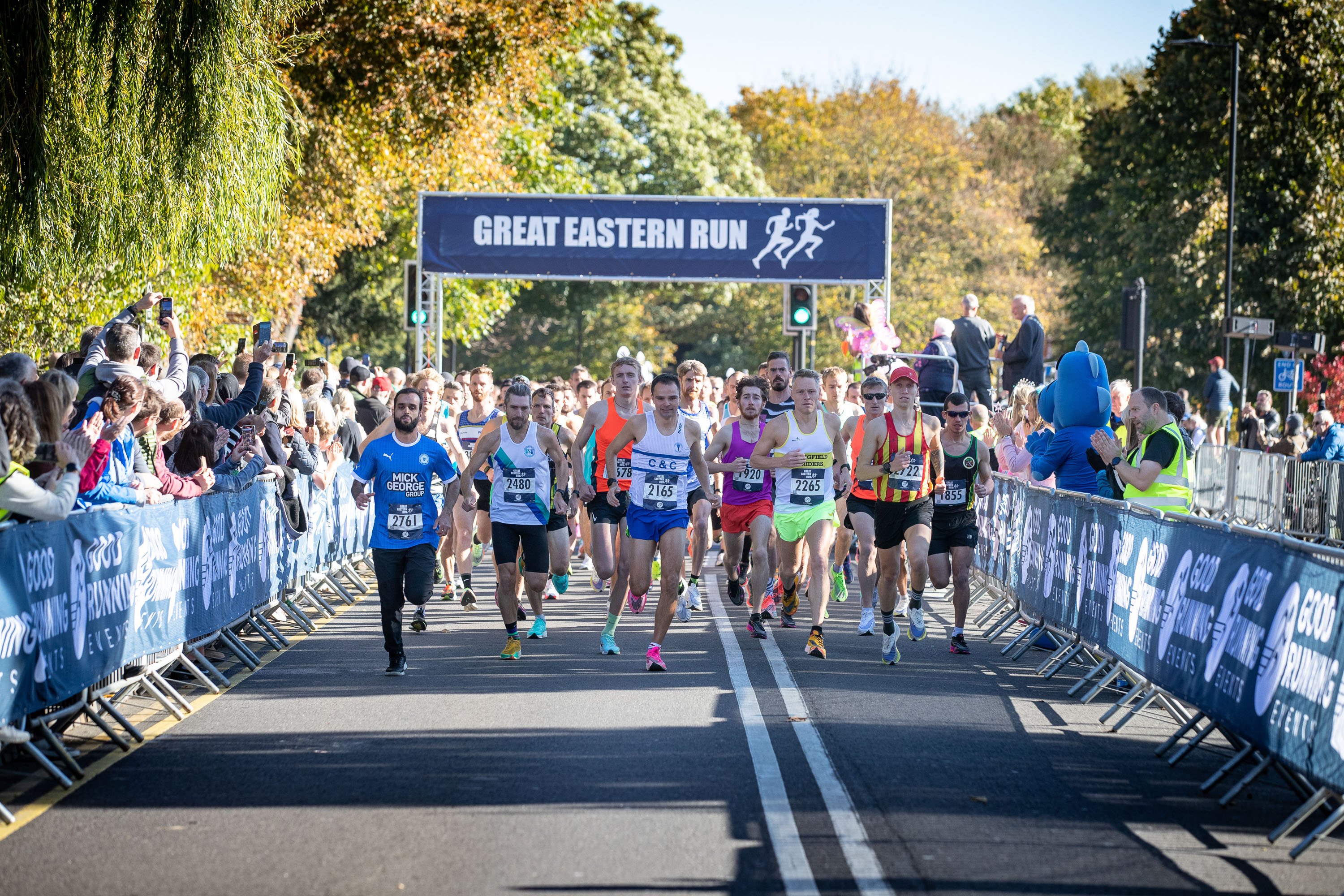 Great Eastern Run Sunday 15th October 2023
Good Running Events looks forward to welcoming thousands of runners of all abilities and ages back to the streets of Peterborough City Centre, for the return of the Great Eastern Run Half Marathon, and will aim to raise many thousands of pounds for good causes.
We are inviting people to take part and run the Great Eastern Run on our behalf.
The Run Details:
Date: Sunday 15th October 2023
Registration Open: 7.30am
Half Marathon Start: 10.30am
For your information:
Registration fee is £15 plus a processing fee of £2. We're offering our places at a reduced rate, to ensure that money isn't a barrier to getting involved.
We ask for a commitment to raise at least £50 for us. Again, we recognise the cost of living is hitting people hard, so we appreciate every donation, asking that our runners do their very best to raise £50, which will go towards our mission of supporting older people living in Cambridgeshire and Peterborough. We hope you exceed this amount, but if this goal is not reached, runners will not have to pay the difference.
Find out more information on the Great Eastern Run website
Once you have registered with us we will send you your own unique code in a few days and a registration link for you to register for the event.
You will receive: A bespoke medal, and goodie bag will be available to all runners, provided by Great Eastern Run organisers.
Reserve your tickets here
If there are no tickets available but you would still like to join, email us at fundraising@ageukcap.org.uk
Cut off date for purchasing a ticket is 15th August 2023
Donating the money you raised
After your run please donate the money you have raised to Age UK Cambridgeshire & Peterborough find out how here . You can also set up a supporters page/ fundraising page for us at Give as you Live- DONATE to collect donations/sponsors. More information on how to do this is HERE.
Did you know we are a different and separate charity from the national charity, known as Age UK? We share the overall brand but we are independent. This means we have our own Board of Trustees and deliver services to older people living in our area, that of Cambridgeshire and Peterborough. To deliver these local services we must raise all our own funds.
If you want to give a donation, fundraise or provide other support to the local brand partner, look for the geographical location in the Age UK brand logo - this indicates the charity is independent and delivering local services.
Reserve your tickets here
Great Eastern Run Website
See more details about the event on the Great Eastern Run website.
See the current Fundraiser's from our Runners
I am running a half marathon at the Great Eastern Run on 15th October to raise money for my local charity Age UK Cambridgeshire & Peterborough.

Please donate to my fundraiser so Age UK Cambridgeshire & Peterborough can continue their great work.

Hi my name is Keiran and on the 15th of October, I will be participating in my first ever half marathon to raise money for Age UK. Any donations no matter how small or big are hugely appreciated.
I'm running the Great Eastern run 2023.

This year for the first time ever I've decided to raise money for charity.

I'm running the Great Eastern half marathon this year and raising money for Age UK Peterborough.
Most people will feel lonely at some point in their lives. It's a deeply personal experience that - in most cases - will thankfully pass. Sadly, 2.65m older people feel they have no one to turn to for help and around 3.9m older people consider TV to be their main form of company. Donating to this page will help the national Age UK to continue providing vital services that offer companionship, advice and support for older people facing later life alone.