Covid 19 - Community Support Resource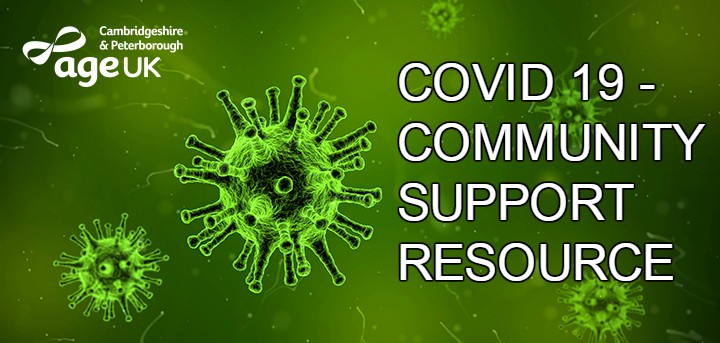 Published on 23 March 2020 04:09 PM
**The Community Support Resource Document has been removed from this page to download as it is no longer in operation (the last update being 22.09.2020).
As part of our Covid Recovery Roadmap, our pandemic response services have been incorporated into our usual delivery services. If you need support, please contact our HELPLINE on 0300 666 9860 **
We are responding to a very high volume of enquiries for support for older people living in our area. Many of the enquiries are coming from concerned relatives and friends who live outside of the Cambridgeshire and Peterborough area, not only in the UK, but across the world.
The public response to help one another had been outstanding and neighbourhoods across our county are coming forward to offer help to older people and those who are self-isolating.
We do not have the resources to support our thousands of existing service users AND the number of new referrals. However with communities mobilising, together we can certainly help lots of people in need. To assist we have created a Community Support Resource, mapping the locations where support is being offered. We have contacted every parish council in our area and collated community groups offering help, harvesting social media groups.
The document can be downloaded in the link beneath. Scroll through to find your local area, which is divided into the following sections:
Cambridge City
East Cambridgeshire Villages
Fenland Villages
Huntingdonshire Villages
Peterborough Wards
South Cambridgeshire Villages
There is also a section with notes on what is known (currently) to us about the offers from the major Supermarket chains, such as designated opening times for older people.
We are regularly updating the resource, at least weekly, but as things are moving rapidly we will aim for a daily website update, but please bear with us and check the date on the document – it may not be the latest.
Every effort has been made to provide the most current, accurate and clearly expressed information as possible. Nevertheless all information is provided in the best faith and is subject to change. Age UK Cambridgeshire and Peterborough makes no representations or recommendations for the information included in this document nor can we accept responsibility for any adverse or unexpected consequences of using the provisions offered within the local communities.
If you wish to be added to the list or have relevant information wich can be added, please email covid19@ageukcap.org.uk
Please also carefully read our information on how to stay safe and protected from Scams and Fraud. BE AWARE : TAKE CARE
COMMUNITY SUPPORT RESOURCE DOC.(last updated 22.09.2020)
Find help where you live
Services Update
How are we currently delivering our services?
Stay Safe
Read how to protect yourself
Please support us and DONATE
Our resources are stretched please support us to help as many older people as possible