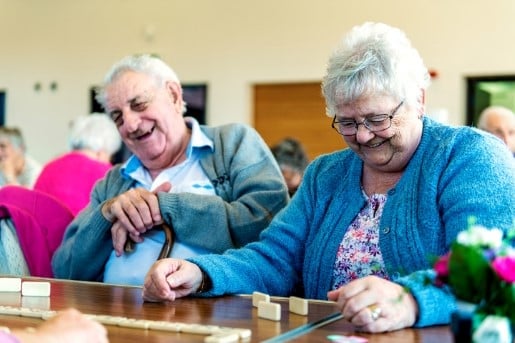 Day Services
Our services offer opportunities to socialise and feel secure in a happy and stimulating environment. We have several Day Services at different centres across the county.
Tea or coffee is offered and a hot meal is provided at most of the clubs.
Games, quizzes, entertainment, speakers and sometimes outings can be a part of our day.
We may be able to arrange transport or direct you to local services that can help with transport arrangements.
The service is available for residents of the area where clubs are listed. If the service is not delivered in your area please contact Information and Advice service on 0300 666 9860 and we can advise you on what is available in your location.
Our local helpline 0300 666 9860 is open between 9am-3pm Monday to Friday, calls made outside these hours will be transferred to the Age UK National Helpline.
Our Venues
The Oasis Day Club
The Oasis Community Centre, St Michael's Avenue, Wisbech, PE13 3NR
Wednesdays and Fridays
Monday Day Club
March, Cricket Club, off Burrowmoor Road, March, PE15 9RS
Mondays
Tuesday Day Club
March, Cricket Club, off Burrowmoor Road, March, PE15 9RS
Tuesdays
Ambury Road Day Club
Ambury Road, Huntingdon, PE29 1AD
Wednesdays and Fridays
Cherry Trees Day Club
The Cherry Trees Club, St Matthew's Street, Cambridge CB1 2LT
Monday, Tuesday, Thursday
Orton Day Club
Steve Woolley Court, Benyon Grove, Orton Melbourne, Peterborough, PE2 5HP
Mondays and Wednesdays
Day Services
For more information on our Day Services and all other services please download our leaflet