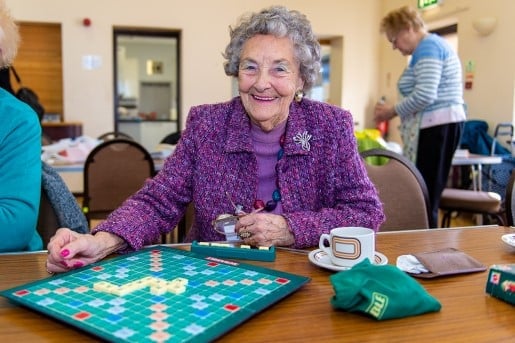 We support a number of clubs in and around the Peterborough area, with more clubs being developed and introduced across Cambridgeshire. The clubs are independent and run by volunteers, with Age UK support and guidance.
The clubs meet once a week and offer a place to enjoy the company of others, and some also have a home cooked meal.
You can access information and advice, take part in a wide range of activities and on occasions the clubs also offer various entertainment, trips and outings
Just come along or Ring 01733 352213 / email friendshipclubs@ageukcap.org.uk for more information
The service is available for residents of the area where clubs are listed. If the service is not delivered in your area please contact Information and Advice service on 0300 666 9860 and we can advise you what is available in your location.
Please contact us for more information, ideas for other venues or if you could help run a club.
Our Club Venues
Bretton Friendship Club
The Pyramid Centre, Bretton, Peterborough, PE3 8DX
Tuesdays - 10.00am - 2.30pm
Glinton Friendship Club
Glinton Village Hall, Glinton, Peterborough, PE6 7JP
Mondays - 10.am - 2.00pm
Paston and Gunthorpe Friendship Club
Paston and Gunthorpe Community Centre, Hall Fields Lane, Peterborough, PE4 7YH
Wednesdays - 10.00am - 2.30pm
Thorney Friendship Club
Bedford Hall, Station Road, Peterborough, PE6 0PN
Mondays - 10.00am - 2.30pm
City East Friendship Club
St Marys Court, City Road, Peterborough, PE1 1UN
Wednesdays - 10.00am - 2.30pm
Central Friendship Club
The Lindens, 86 Lincoln Road, Peterborough, PE1 2SN
Thursdays - 10.00am - 2.30pm
(from March 2020 the club will meet every other Thursday)
Netherton Friendship Club
St Andrews Church, Ledbury Road, Netherton, Peterborough, PE3 9RF
Tuesdays - 10.30am - 2.30pm
Stanground Chat Club
Kingfisher Court, Thistle Drive, Stanground, Peterborough, PE2 8NZ
Meets every other Tuesday - 2.00pm- 4.00pm
Eye Friendship Club
George Matthews Community Centre, Hodney Road, Eye, Peterborough, PE6 7YJ
Mondays - 2.00pm - 4.00pm
Werrington Friendship Club
Sutton Court, Skaters Way, Peterborough, PE4 6GG
Meets every other Tuesday - 2.00pm - 4.00pm
Orton Friendship Club
Matley Community Centre , Matley, Orton Brimbles, Peterborough, PE2 5YR
Meets every other Tuesday - 2.00pm - 4.00pm
Wisbech Friendship Club
ROSMINI Centre, 69 Queens Road, Wisbech.
Every Thursday 10:30 until 1 pm
Somersham Friendship Club
Victory Hall 53 Parkhall Rd, Somersham, Huntingdon PE28 3HE
Meets every Tuesday 10:30 until 1pm
Little Thetford Friendship Club
Village Hall The Wyches, Little Thetford, Ely CB6 3HG
Meets every other Monday 10:30 until 1pm
Whittlesey Friendship Club
Whittlesey Friendship
Ivy Leaf Club, 1 Gracious St, Whittlesey, Peterborough PE7 1AP
Meets every Thursday 10:30 until 1pm
Contact Us
For more information on the service and volunteering please call Friendship Club Service on 01733 352 213 or email friendshipclubs@ageukcap.org.uk. Alternatively, please call our helpline on 0300 666 9860 between 9am-3pm Monday to Friday, calls made outside these hours will be transferred to our Age UK National Helpline.
Friendship Clubs
For more information on our Friendship Clubs and all other services please download our leaflet