Warm Heart Camden 2023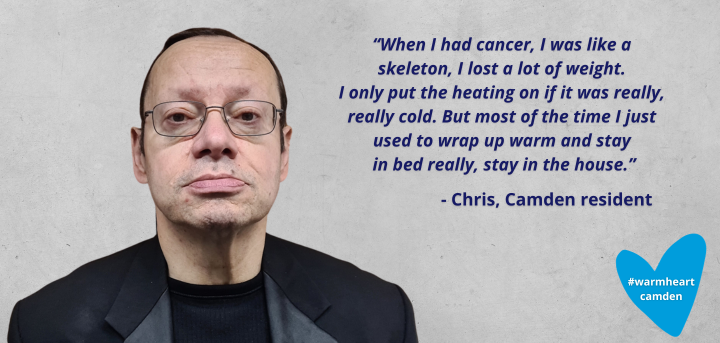 Published on 20 November 2023 11:03 AM
This Christmas, a time when many people join together with family, friends and loved ones to share food, joy and warmth, 1 in 4 older people living in London are in poverty. And, with 47% of the older people we work with living alone, the colder weather can lead to people feeling more isolated than ever.
Which is why we have launched our 2023 Warm Heart Camden winter fundraising campaign.
To help older people in need of support this winter, we're asking individuals and businesses to get involved and donate to Warm Heart Camden. All donations welcome, big or small. For example, if you are eligible for the winter fuel allowance, but don't need it yourself, you could choose to donate the amount to help those who need it this winter.
All donations will be used within the borough of Camden to help deliver Age UK Camden's vital services to older people, such as:
providing homemade hot meals and a warm space for older people at one of our day care centres
ensuring our Information and Advice team can advise an older person about their rights and the benefits they are entitled to, making sure they don't have to choose between heating and eating

enabling our befrienders to telephone and speak to an isolated older person or dementia sufferer, helping to tackle loneliness

helping an older person access an important hospital appointment, when the cold weather can make this harder than usual, with support from our Care Navigation team

supporting a home visit to an older person who is unable to access our services in person.
Donate to Warm Heart Camden today
Your generosity could help an older person like Chris:
"When I had cancer, I was like a skeleton, I lost a lot of weight. I only put the heating on if it was really, really cold. But most of the time I just used to wrap up warm and stay in bed really, stay in the house. I didn't really turn the heating on much because heating bills are quite expensive. I used to put on two dressing gowns. During the winter months I used to stay in bed a lot just to keep warm. I was very weak anyway, I was emaciated."
Mary Burd, Chair of Age UK Camden shares this message:
"By donating to Age UK Camden's Warm Heart Camden appeal, the local community can make a huge difference to older people's lives. We know that the ongoing cost of living crisis is affecting many people right now, and we are very grateful for any support that you can give."
We know that with the ongoing cost of living crisis, this winter may be a difficult time for many people. If you are struggling this winter, take a look at our Information and Advice pages or get in touch today.
Information and Advice for older people in Camden