Update to service
After consultation with our clients, staff and local commissioners we have taken the decision to temporarily close our all our Day Time Support centres which are situated in Nelson, Padiham, Burnley, Garstang and West Lancashire. The welfare and safety of our clients and employees is always our number one priority and during the current COVID 19 pandemic, the risk is too high to continue operating this service in the usual way.
We
are working hard behind the scenes, with the team and commissioners, to develop methods of supporting our Day Time Support members in different ways during this period of closure and will be keeping clients and their families informed in the coming days.
Our Day Time Support team have been working tirelessly to ensure that our members have been well supported in these uncertain times and we are understandably keen to continue to ensure everyone remains safe and well.
If you are concerned about yourself or a loved one and would like information on options and support available to you then please contact us on 0300 303 1234, or email advice@ageuklancs.org.uk.
This website will be regularly updated as the situation develops and you can also follow us on social media by liking our Facebook and Twitter pages.

On behalf of Age UK Lancashire, stay safe and well.
What is Day Time Support?
Age UK Lancashire's Day Time Support Service provides an opportunity for those in later life to socialise, learn or relearn skills and take part in fun activities. The service is delivered in a friendly, welcoming and safe small group environment. We offer a range of activities which build confidence, promote independence and most importantly, are engaging and fun! Our local community-based centres are equipped with modern, appropriate facilities, resources and all of our members retain a guaranteed place on days of their choice.
For Carers
Day Time Support provides much-needed respite to families caring for individuals and important social interaction for older people who are isolated. We have designated centre's providing both dementia support and enhanced support for people with a need for a higher level of care. All individuals are fully assessed to ensure that their needs are met in a person-centred way, we make this process as simple and straightforward as possible and liaise with social workers on your behalf if required.
Activities and Food
We provide a wide-ranging variety of enjoyable activities designed to encourage participation and stimulation. We also present a nutritional, healthy two-course meal with refreshments, snacks throughout the day and offer free taster sessions.
Our Promise
Our highly trained, dedicated staff and volunteers are experienced in building trust and confidence whilst providing responsive and sensitive care. The needs of individuals are at the heart of the service which is delivered within appropriate staffing levels, supported by volunteers. Age UK Lancashire specialises in providing quality services to the older people of Lancashire and aims to ensure that each person has a positive experience. Centres are staffed with a minimum ratio of 1 member of staff to 3 Day Time Support members (with enhanced needs) and 1 member of staff to 6 members (with standard needs).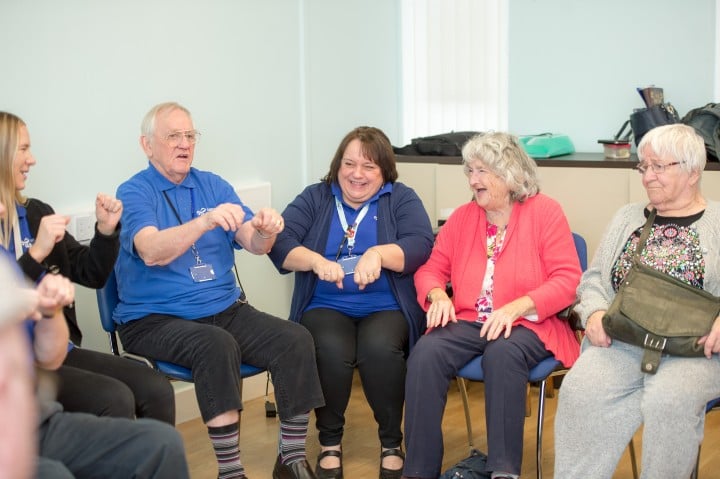 Why choose us?
Become a member and enjoy...
Taking part in fun activities and learning new hobbies
Freshly cooked, delicious food
Meeting new friends
A warm and welcoming 'home from home' environment
Carers will benefit from...
Knowing your loved one is safe and well looked after
Enjoying much-needed respite and time to yourself
Having a support network and someone to talk to
Easy access to a whole range of continued support
Health professionals can...
Be confident that we are a trusted and experienced supplier
Benefit from a fast and simple referral process
Be confident we will meet the needs of your clients
Have confidence in our Quality Standards and Approved Supplier status

Just ask our members!
100% would recommend our service to their friends & family
100% say they are treated with respect
100% rated the service as excellent or very good
100% agree that our staff are friendly and knowledge
Figures based on feedback from our How Did We Do forms 2019
Locations and contact details:
Padiham
Knight Hill House, Memorial Park, Blackburn Road, Padiham, BB12 8JZ
Open: Monday to Friday
Contact: 01282 779158 0r 01282 477554
Nelson
Walton Lane Community Centre, Leeds Road, Nelson, BB9 8RW
Open: Monday to Saturday
Contact: 01282 447030 or 01282 477554
Garstang
Wyrebank Banqueting Suite, Kepple Lane, Garstang, PR3 1PG
Open: Tuesday and Thursday
Contact: 07807 349990
Ormskirk
Wellbeing Centre, Moorgate, Ormskirk, L39 4RY
Open: Thursday
Contact: 07812 382172
Newburgh
Apple Cast, Community Building, Cobbs Brow Lane, Newburgh, Lancashire, WN8 7SF
Open : Tuesday
Contact: 07812 382172
Hesketh Bank
Cropper Gardens, Hesketh Bank, Nr Tarleton, Lancashire, PR4 6PL
Open: Monday
Contact: 07812 382172
Burnley
Unfortunately, we have had to take the difficult decision to close Ashiana DTS permanently. We would like to say thank you to all the wonderful customers, volunteers and staff who supported Age UK Lancashire over the years.

Related Links
for Lancashire.gov.uk/health-and-social-care/adult-social-care