Age UK Lancashire's 2022/23 Impact Report
Welcome to Age UK Lancashire's Impact report which highlights the essential role it is playing to support thousands of older people in Lancashire each year.
In 2022/23, we reached 52,910 individuals across Lancashire including older people, carers and family members with the oldest person to benefit being 111 years of age. Over 72,000 hours were dedicated to tackling loneliness, enabling older people to live independently and engaging with the most vulnerable older people in the county.
Age UK Lancashire has been supporting older people in Lancashire for 78 years. A gateway for those seeking help and advice. Our free 0300 Helpline received a record 33,931 enquiries to support with a range of health and care issues, claiming benefits, housing options and signposting to local services. The impact of our Information and Advice service is huge, providing over 1,500 individual advice appointments this past year, helping older people in crisis generate over £2.44 million in additional income through welfare benefit claims.
This past year Age UK Lancashire has increased the number of dementia services available in the county, and in doing so we provided support to over 320 people living with dementia through our 1-2-1 and group sessions.
9,148 people received support from Age UK Lancashire's Hospital Aftercare team. Partnering with the NHS (National Health Service), the Hospital Aftercare Service operates across the whole of Lancashire supporting people coming out of hospital with vital aftercare, supporting them to live independently, whilst at the same time reducing the strain on the NHS.
Age UK Lancashire is passionate about tackling loneliness and our 'Good Day Calls' and digital inclusion services are connecting older people and reducing isolation. This year, we launched our new 'Connecting Veterans in the Community' project funded by the Armed Forces Covenant Trust. This project engages the most isolated and vulnerable older veterans in the county, introducing them to other services in Lancashire. Lancashire has a large community of veterans and since the launch of the project, over 100 veterans have been given vital support. Eunice was one who benefited from the service; following a hip operation she felt isolated and couldn't leave the house. Thanks to the project, we were able to connect Eunice with Blackpool FC Community Trust Veterans breakfast, as well as Lancashire County Council's Armed Forces Service, who have allocated her a mentor.
Eunice's daughter, Aly said:
"Thank you so very much for all your help. All these 'little' things have certainly made a HUGE difference to her, enabling her to meet people with something in common."
Teri Stephenson, CEO of Age UK Lancashire, reflects on the past 12 months:
"Age UK Lancashire exists to give older people in Lancashire a better later life and we are delighted with the impact we have had in the past 12 months. Behind each impact is someone's story, such as Eunice, and this is what we are really passionate about; being accessible to older people and tailoring our services to support their needs.
I want to thank all our partners and supporters, without whom we could not have the same impact on older people. We know there is so much more we can do, and the cost-of-living crisis and ageing population has meant the demand for our services has increased and will continue to increase each year."
If you would like to donate and support older people like Eunice, please visit our donation page here or call 0300 303 1234. Everything donated to Age UK Lancashire stays in Lancashire continuing our #LoyalToLancashire campaign.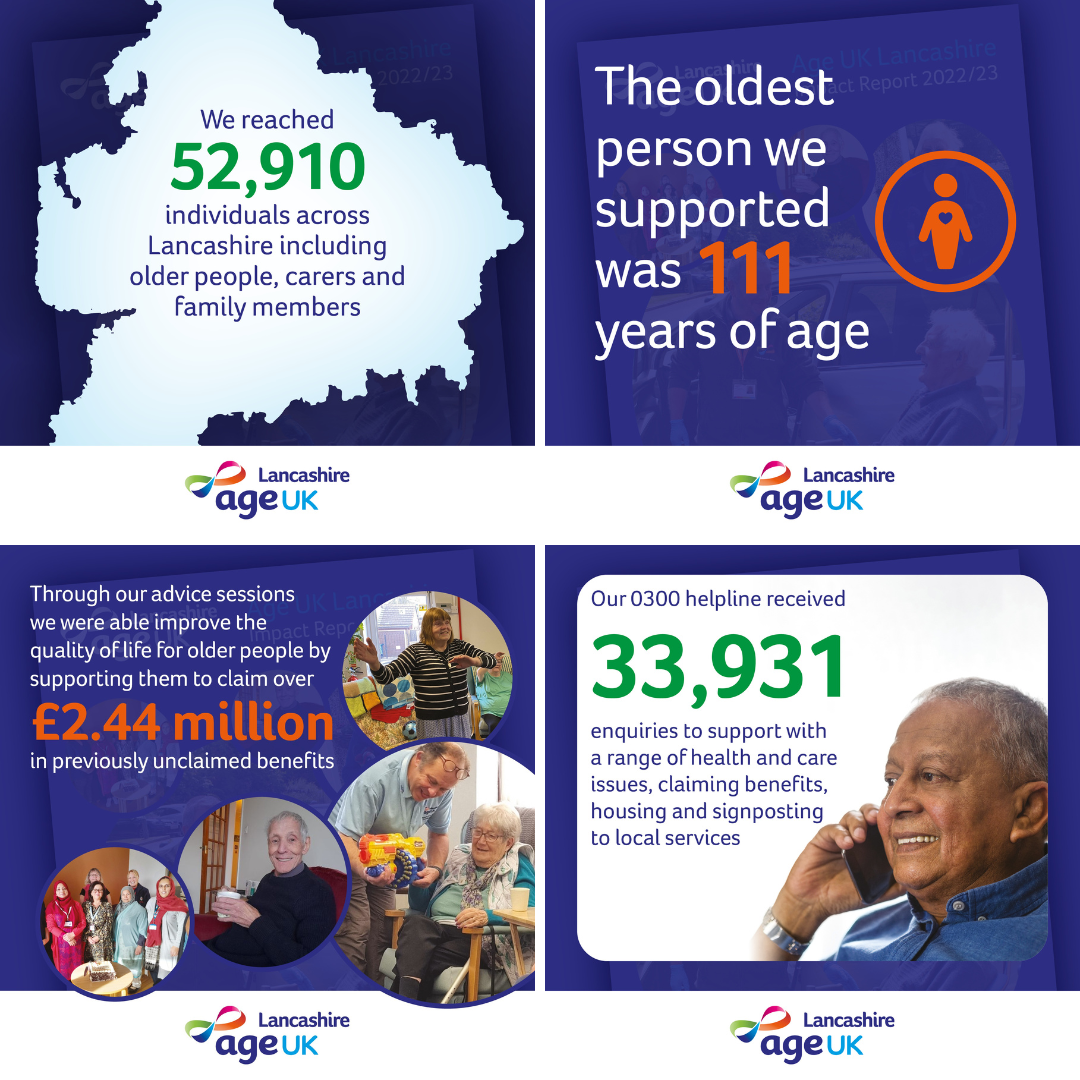 Age UK Lancashire's Impact Report 2022/23