Dementia is no barrier to art skills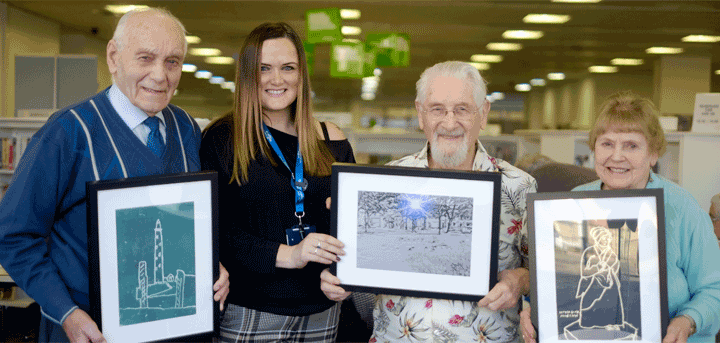 Published on 14 January 2020 09:00 AM
Dementia Connections shows that dementia is no barrier to art skills
People continuining to live with dementia are set for a brush with fame when they hold their first ever art exhibition.
More than ten customers who attend our arts and crafts group run by Dementia Connections at North Shields Customer First Centre will display works including photographs, prints and watercolours.
The Dementia Connections Art Exhibition will be held at Whitley Bay Big Local, on Whitley Road in the town centre, from January 28 until 4 February.
The group was set up almost three years ago and has made a massive difference to people living with the condition, our Dementia Connections Co-ordinator Sarah Jane Scott said: "Engaging with the arts provides a non-pharmaceutical approach to dementia which promotes inclusion, can help to alleviate anxiety and confusion, enhance cognition and build confidence. Participants have an opportunity for creative self-expression whilst giving carers the chance to spend quality time with their loved ones. The aim of the group is to provide an enjoyable activity in a social environment and to create art work which challenges the stigma of dementia and showcasing creative abilities of those with the condition. The group shows what people living with dementia can achieve if they get the right support."
The exhibition came about after several members of the group said they were eager to have their work showcased for the public.
Betty Watson, 86 from North Shields, has painted more than 100 pictures which she has in her house. However, this will be the first time she will have seen her work exhibited in public.
She said: "I have been coming to the group since it started. I love all the people here and have made some wonderful friends. There is a fantastic camaraderie. This last year I have had some memory loss which has been terrible but I do what I can. Coming along has helped me to remember things. I have been painting one of the North Shields wooden dollies, and I remember being two or three and my dad would lift me up to kiss its face. I can't wait for the exhibition – I have my paintings up all over my house but have never seen my work exhibited in public. It is all very exciting."
Ted Joicey, 87, brings along his wife Rita, also 87, who lives with dementia. The pair, from Whitley Bay, have been married for almost 65 years.
Ted said: "Rita has been like this for three years but coming to this group is great for her. She is reluctant to go but then when she gets here she really enjoys herself. This gets her out of the house and seeing people, and everyone is the same here. It is a great place for her."
Susan Ogden (Dementia UK Ambassador) added her endorsement of the exhibition. "A belated note to say how much I enjoyed the Art Exhibition - pictures which anyone would be proud to display in their own home.Talking with the artists I know how much they gain from what they do. Please pass on my congratulations to them and many thanks to you for your inspiration and hard work"
Dementia Connections Arts and Crafts Group, which which runs twice a month, is one of a number of ways in which we look to improve the lives of people living with dementia here in North Tyneside.
Other activities provided include singing groups, memory cafes, a peer support group and a 'Time Travellers' group at Segedunum Roman Fort.
We also have four specialist Admiral Nurses in North Tyneside who provide expert practical, clinical and emotional support to families living with dementia to help them cope.
Our social enterprise EveryDay Care also provides respite for carers through our three wellbeing centres located in North Shields, Wallsend and Killingworth.
To find out more, click on the links below.