Please note:
Group activities
Due to changing COVID-19 restrictions, some of our group activities, such as our Best Foot Forward walks, have restarted. We look forward to welcoming you back. Service details may continue to change. Please call 0115 844 0011 or check the website for the most up-to-date information.
Shops
Our Mansfield and West Bridgford shops are now open and we look forward to welcoming you back. Please help to keep our staff, volunteers, and other customers safe by continuing to wear your face mask over your nose and mouth while in our shop (unless exempt).
Head Office
Our Head Office is now permanently closed and we are currently in the process of relocating to another Nottingham City location. Please check back for further information.
Men in Sheds is a ground-breaking project for older men. Activities include woodworking, skills sharing and socialising.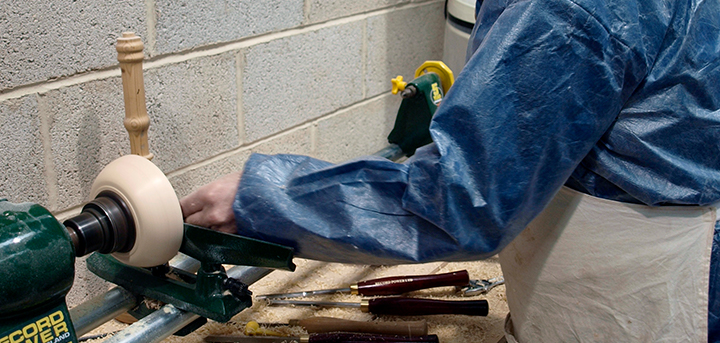 Men in Sheds supports older men who want to get together, share and learn new skills all in the welcoming setting of a workshop. It also supports older men who are isolated or disengaged from their community or are experiencing major changes in life.
We provide the shed (a workshop), tools and equipment and a team of volunteers for support - but the members take part in the day-to-day running of the shed and decide on activities they want to follow including woodworking, skills sharing and socialising. Essentially, through taking control and ownership of the shed, the shed members are empowered.
What are the benefits of joining this project?
Opportunities to socialise and make new friends
Experience the camaraderie of working with other men
Put practical skills to good use and share them with others
Try something new and learn new skills
Who is this project for?
How much does it cost to become a member?
Find out more:
So if you, or a family member, would like to get involved in the project and visit one of our sheds, get in touch with your nearest shed:
Blidworth shed
Unit 4, Boundary Court
Gilbert Way, Burma Road Industrial Estate
Blidworth
Nottinghamshire
NG21 0RT
Opening hours: Mon - Thurs, 9am – 4pm
Shed Directors: Peter Anderson, Alan Ormston & David Ives
t 01623 797 750
Daybrook shed
The Stores Building
Jubilee House Compound
Nottingham Road
Daybrook,
Nottingham
NG5 6LU
Opening hours: Mon - Thurs, 9am – 3:30pm
Shed Directors: Les Taylor
t 0115 920 8771 (Call Monday - Thursday, 9am to 3pm)
m 07872 839 570 - Les Taylor (Call Monday to Saturday, 9am to 6pm)
e meninsheds-daybrook@ageuknotts.org.uk
Worksop shed
Unit 2, Kilton Terrace
Kilton Road
Nottingham
S80 2DQ
Opening hours: Mon - Thurs: 9am - 4pm
Shed Director: Bernard Miles
t 01909 549 078
The Men in Sheds Project is provided by Age UK Notts Men in Sheds CIC, a Registered Community Interest Company and a Company Limited by Guarantee, Registration No. 11722728, Registered in England and Wales, Registered Office 12 Shakespeare Street, Nottingham, NG1 4FQ, a wholly owned subsidiary of Age UK Nottingham & Nottinghamshire, Charity Number 1067881.
Related links
Donate to Men in Sheds
Buy from Men in Sheds
Download more information