COVID-19 Update
The government has now lifted some of the restrictions which have affected the work of our charity over the past couple of years. We're pleased to let you know that our face to face services are now resuming and we're looking forward to seeing you.
You may still have worries about Covid and information is still available from https://www.gov.uk/coronavirus.
For all your concerns or worries about any topic, give our friendly staff a call on 0115 844 0011 or email us at info@ageuknotts.org.uk. We're here to help.
Men in Sheds is a ground-breaking project for older men. Activities include woodworking, skills sharing and socialising.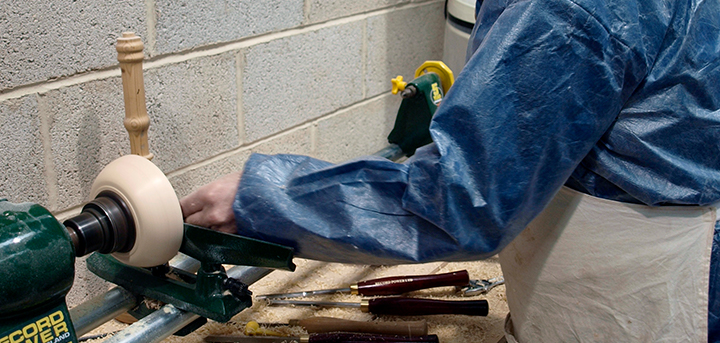 Men in Sheds supports older men who want to get together, share and learn new skills all in the welcoming setting of a workshop. It also supports older men who are isolated or disengaged from their community or are experiencing major changes in life.
We provide the shed (a workshop), tools and equipment and a team of volunteers for support - but the members take part in the day-to-day running of the shed and decide on activities they want to follow including woodworking, skills sharing and socialising. Essentially, through taking control and ownership of the shed, the shed members are empowered.
What are the benefits of joining this project?
Opportunities to socialise and make new friends
Experience the camaraderie of working with other men
Put practical skills to good use and share them with others
Try something new and learn new skills
Who is this project for?
How much does it cost to become a member?
Find out more:
So if you, or a family member, would like to get involved in the project and visit one of our sheds, get in touch with your nearest shed:
Blidworth shed
Daybrook shed
Worksop shed
Veterans in sheds
Age UK Nottingham & Nottinghamshire is a registered charity (registered charity number 1067881) and a company limited by guarantee registered in England and Wales (registered company number 3455485). Correspondence address: The Lifestyle Centre, 16 - 18 Bridgeway Centre, Nottingham NG2 2JD. Registered office: The Sybil Levin Centre, 577a Nuthall Rd, Nottingham NG8 6AD.
Related links
Donate to Men in Sheds
Buy from Men in Sheds
Download more information