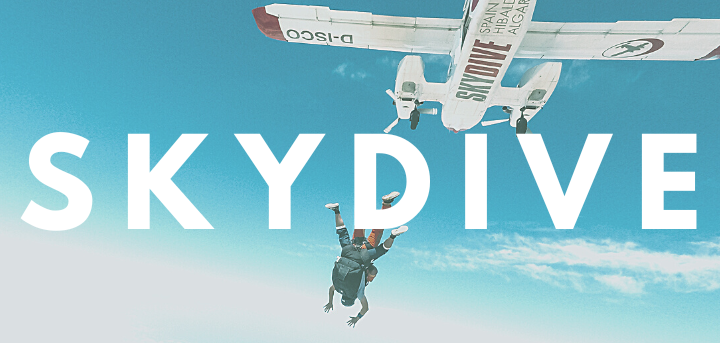 Are you an adrenaline junkie? Is a skydive on your bucket list? Want to do something amazing? How about taking on a tandem skydive from 10,000ft in aid of Age UK Plymouth!
Cornish Parachute Club is the only skydive centre in the UK to boast the beach as a drop zone! Situated on the cliffs at Perranporth, Cornish Parachute Club is a family run skydive centre with fully qualified instructors with over 22,000 jumps combined. Climb to 10,000 feet, taking in breath taking views of the Cornish coast line before hurtling towards the Atlantic at 120 mph!
Sound amazing? IT IS!
So, do you have a birthday coming up and you're not sure what to do or do you have a holiday in Cornwall over the summer, if so, why not jump on a day that suits you and support Age UK Plymouth.
Seeing is believing and with a DVD and photos of your skydive, you can show off your days antics to friends and family, reliving the experience over and over again....
How to book your skydive!
You can choose your jump date between July and September 2022. Just hit the 'sign me up' button below where you will be directed to the Cornish Parachute Club website.
Skydive Info
Registration fee of £50 (payable directly to CPC)

We ask those skydiving for us to raise a minimum of £350 which covers the cost of the skydive and provides funds for Age UK Plymouth
Age UK Plymouth Contact Details: fundraising@ageukplymouth.org.uk
CPC Contacts: 07790 439653 & cornishparachuteclub@hotmail.co.uk
Location: Cornish Parachute Club, Perranporth Airfeild, Higher Trevellas, Perranporth, TR5 0XS
The Cornish Parachute Club will let us know you have signed up and are supporting us here at Age UK Plymouth.
PLEASE NOTE: You can reimburse yourself out of any cash donations that you receive. However, please note that you will not be able to reimburse yourself from any funds raised on your online fundraising pages, as this money will go directly to Age UK Plymouth.
Fundraising
You can download our sponsorship form here to start using now and don't forget to log in/register with 'Local Giving' to raise funds online. https://localgiving.org/
We will send you a free t-shirt to wear for the skydive, don't forget to take lots of photos to share with us.
Please give us a follow on Facebook and Instagram to share your story!
For any tips on fundraising please refer to our Sponsorship Hints & Tips!
Skydive Forms
Below are the links to the forms you will need to complete in order to skydive:
Medical Information & Declaration
Please read the and take a look at the FAQs here http://www.cornishparachuteclub.co.uk/faq.html
Now…sit back and enjoy the ride!
Previous skydive statement:
'I completed my tandem skydive for Age UK Plymouth in 2021 and it was one of the best experiences I have had. I had all the support from friends and family who all thought I was crazy for doing it but it really was amazing. As you ascend, the views across Cornwall are incredible, even more so once you have jumped and you are on your way down. It's so peaceful as you float to the ground, you really get to 'take it all in'. The team were fantastic, they made me feel relaxed from the moment I arrived to the moment my feet landed firmly on the ground. I Would recommend this club to everyone, you will not be disappointed.
Age UK Plymouth were brilliant, they supported me with fundraising through social media posts and linking me to 'Local Giving' to make my sponsorship process simple. They are such a great charity and I am planning my next challenge for them already!'