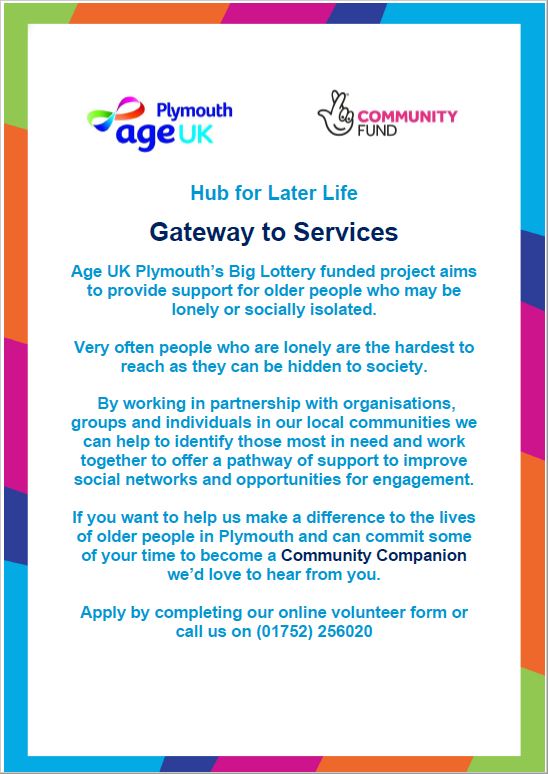 Community Companions
Community Companions
Health and Care Videos
Search our extensive Health Information Video Library for health advice at your fingertips
No referral is needed to access our services

People can choose to use whichever services they want to get involved in or need, as no professional referral is needed. You can find all our available services on our 'Our services' page

If you have an enquiry about our services, please send us a message here

You can use our online form to get more information about what we do, our current activities and what help we can provide for older people and carers in Plymouth
What our clients say
"A sincere thanks for all you have done for my wife and myself. You have a dedicated team who are completely devoted to those they serve. There is a 'warmth' care friendliness as soon as you enter the building. I have been constantly impressed by the variety of activities which cater for the sensitive and the 'outgoing'. My wife has never been a 'sporty', competitive person and I was amazed to see the joy on her face, catching and throwing a ball. I have always felt relaxed and welcomed; my wife and I will miss you all."
~ Mr H (Plymouth) to Age UK Plymouth Dementia Centre
Latest News
From people generously fundraising for us to upcoming local and national campaigns, read about them here
Published on 10 May 2019 10:11 AM

On Monday 29 April our very own Lynne Hodgson appeared on Radio Devon to speak with Janet Kipling. If you want to tak...

Published on 02 April 2019 03:58 PM

Age UK Plymouth Trustee, Benny Wright, along with the coaches and athletes of Plymouth Performance Gym have set...

Published on 21 February 2019 04:34 PM

Age UK Plymouth would like to hear your views on services and support for older people in the Southway area. Drop in ...
Help with benefits
Need a bit of help with your finances? We have advice to help
Day Care
Our Day Centre and Dementia Centre provide person centred activities and support for those who need a little extra help
Get fit and healthy
Kick off 2019 by changing your life for the better