Information & Advice: Best in Class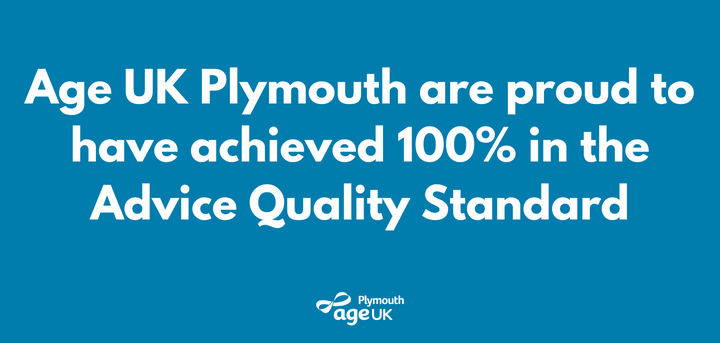 Published on 20 November 2022 11:12 AM
After a 12 month project, Age UK Plymouth are proud to have achieved 100% in the Advice Quality Standard.
The Advice Quality Standard (or AQS) is awarded by The Advice Services Alliance (ASA) to organisations that give advice to members of the public on benefits, housing issues, consumer issues and social care issues. The AQS Framework reviews governance arrangements and ensures that organisations are well led and that the assessment processes, policies and procedures are regulated, audited and meaningful.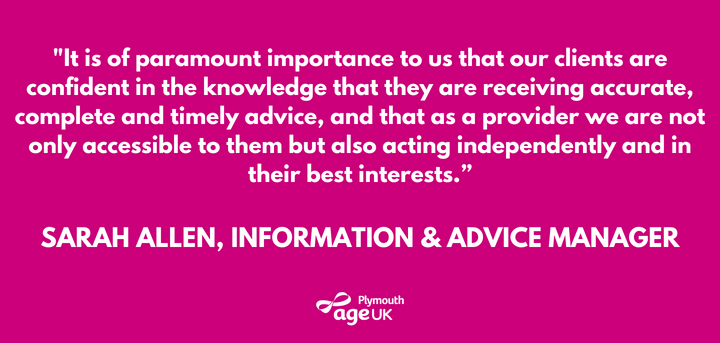 The team were awarded a 100% pass rating following the completion of the assessment which falls into two categories, Service Management Review and Quality Advice Assessment, covering all elements of the Information and Advice Service from quality of advice provided, policies and procedures to the supervision of the team, managing of volunteers and training.
Sarah Allen, Information and Advice Manager said, "The information and advice team have displayed an exemplary standard of casework and supported the organisation throughout this process. The AQS is a flagship quality standard and demonstrates the service level that we are committed to providing. It is of paramount importance to us that our clients are confident in the knowledge that they are receiving accurate, complete and timely advice, and that as a provider we are not only accessible to them but also acting independently and in their best interests."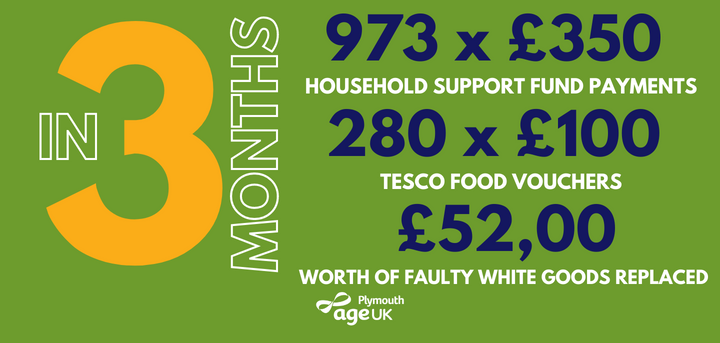 Working towards the AQS accreditation has demonstrated Age UK Plymouth's culture of continuous improvement and commitment to providing the best possible quality service to the community of over 50s in Plymouth that the charity supports. The AQS accreditation has also led to the renewal of the charity's Information and Advice Quality Marque from Age UK's umbrella quality assurance programme (IAQP). The IAQP demonstrates the charity's commitment to providing consistent, relevant and effective advice; to customer care, and that the service has clear and relevant procedures in place to manage the delivery of good quality information and advice to clients.
Throughout the accreditation project Age UK Plymouth's Information and Advice Team have managed to outperform their targets and achieve their most successful quarter to date supporting over 50s in Plymouth in securing £581,139 in entitlements in just a three month period. Undoubtedly a huge contributor towards this huge figure is the team's management of a large portion of Plymouth City Council's Household Support Fund (HSF).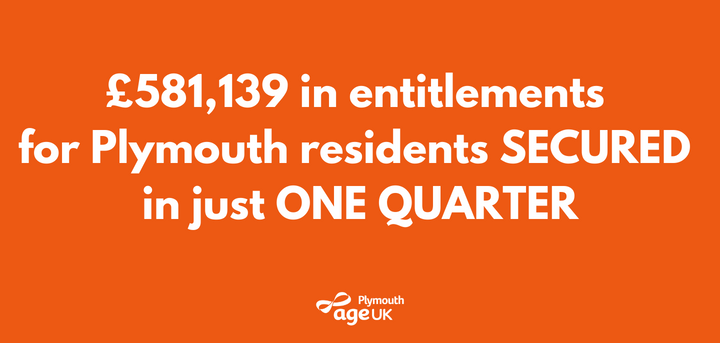 In just a few months the charity has been able to allocate £423,000 of funding towards the cost of living crisis. As the fund drew to a close at the end of September Age UK Plymouth has successfully assisted 973 individuals with payments of £350 (£450 to households with children) direct to energy suppliers, distributing £100 food vouchers to 280 people and replacing missing or defective white goods to the value of over £52,000.
David Wood, Age UK Plymouth CEO said, "It's astonishing what our Information and Advice Team have managed to accomplish in the past few months. As a charity it's of upmost importance to us to be able to support people who come to us for help but projects of this size and with such tight deadlines demand a high level of commitment from our teams and we're extremely proud of the work of I&A and the support from the wider organisation. The Household Support Fund has been a life line to many of those who have received it, and as always it's a bittersweet testament to how very necessary this help is that we have been able to make such a difference to people."
A study by Age UK in July 2022 showed that between 1.4 and 2.1 million pensioners in the UK are living in poverty, yet around 2.4 billion pounds of Pension Credit and Housing Benefit is unclaimed every year. With the current huge financial pressures due to rising costs, it is more important than ever that people receive their full entitlements. For more about the Information and Advice Service and how it may benefit you, a friend or relative please visit the 'Services' section of the website (www.ageuk.org.uk/plymouth) or call Age UK Plymouth on 01752 256020.