Dementia Awareness Training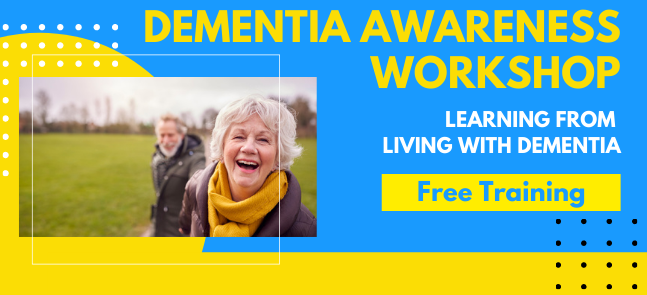 Please note, this service is not available outside Age UK Plymouth - Head Office's catchment area.
Age UK Plymouth are offering free training and information for your group or organisation. Tammy Walker our Training and Wellbeing Dementia Lead, has a vast experience of supporting people living with dementia and will support your commitment to awareness through your chosen course at your organisation's place of work or group's regular meeting location.
Dementia Training Workshop, Learning from Living with Dementia
A one day dementia awareness training course with a big difference. Not only was it co-produced with people living with dementia, but all the key learning points on this course are taught, via embedded video clips, by people who have dementia. Tammy is licenced to deliver the course, trained by Buz Loveday, Director and Lead Trainer of Dementia Trainers.

Involving participation from the attendees, this workshop is informative, fun and thought provoking and all participants will receive a certificate on completion of the training.
Dementia Friends Infomation Session
This information session cannot be used as a replacement for training but is a brilliant insight into what dementia is and why people present with certain behaviors. Tammy will modify the training to suit a range of organisations, from schools and youth groups to businesses looking to support and equip public facing members of staff with the tools to serve their patrons and community. The training describes the experience of living with dementia in a way that will help attendees visualise it and increase their understanding. All participants will receive a badge and information card.