Meet Your Portsmouth North MP
Published on 29 June 2017 11:27 AM
Come along to the Bradbury Centre at 16-18 Kingston Road, Portsmouth on 14 July, from 9.30 - 11.30am and meet Portsmouth North MP, Penny Mordaunt.
FREE event – no need to book
Do you have any concerns you want to discuss with your MP?
Concerned about your pension, health services or independence?
Do you know any older people who may need some help?
Find out about the services Age UK Portsmouth can offer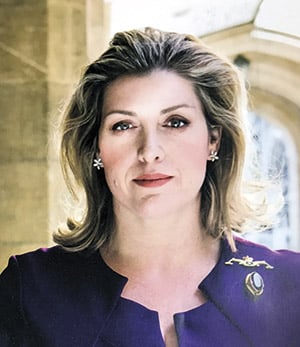 Penny has lived in Portsmouth since she was two years old. Her father, who was born in Hilsea barracks, was in the Paras before becoming a teacher at Oak Park School and later a youth worker for Hampshire Council.
Her mother, who died of breast cancer in 1988, was a special needs teacher at several Purbrook schools, and her stepmother was also a local primary school teacher. Penny has two brothers, Edward and James, who is her twin. She was educated at Oaklands RC Comprehensive School and sixth form.
She worked at the old Johnson and Johnson factory and as a magician's assistant for Paulsgrove resident and former President of the Magic Circle, Will Ayling, before becoming the first person in her family to go to university.
She gained an interest in politics having worked in the hospitals and orphanages of post-revolutionary Romania, for the year before and during her time at university.
She has a successful career in business and communications working in the private, public and charitable sectors. She supported British truckers during the French blockades while working for the Freight Transport Association. She is proud to have been a director of one of the top-performing local authorities in the UK – delivering excellent services for one of the lowest council taxes in the country.
She went on to be a director of a national lottery distributor and created the Veterans Reunited programme, enabling service men and women to visit WWII battlefields and be involved in commemorative events.
In 2006 she became Director of Diabetes UK – the largest patient organisation in Europe. She expanded the services of the charity and substantially increased its income, and set up services in developing countries particularly prone to diabetes.
In 2004 she set up her own business which she sold on her election to Parliament in 2010.
Penny is a Royal Navy reservist at King Alfred on Whale Island. Her hobbies include astronomy, painting and Burmese cats. Penny ran the League of Friends visiting team at the Queen Alexandra Hospital for eight years and now fundraises for several local charities.
She is a patron of the Victoria Cross Trust and Enable Ability, a Trustee of the Wymering Manor Trust and a Scouting Ambassador for Portsmouth.
In 2015, Penny was appointed as the Minister for Armed Forces and is the first female member of parliament to hold this position. In 2016, Penny was appointed as Minister of State for Disabled People, Health and Work.