IT Sessions for Beginners
Nowadays computers and the internet have become a part of everyday life – from staying in touch with friends and family and sharing photographs to researching your family tree and doing your shopping online. It's all really useful . . . if you know how.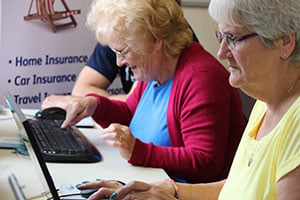 If you feel like you have missed out on learning about computers, don't worry. Our IT sessions are open to anyone over the age of 50 who would like to improve their basic computing skills.
It doesn't matter whether you are completely new to computers or whether you already have a little computer experience, our friendly volunteer tutors will explain things clearly in plain English to help you get the most out of your computer and the internet.
Tell us what you want to learn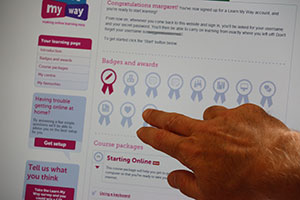 Our volunteers will find out how much or how little you know and will then structure the IT session around you, to teach you exactly what you want to know – whether you need help with something in particular or just a general introduction to computing.
The sessions are very relaxed so that you are able to learn at your own pace and you have the chance to ask as many questions as you like.
You can either use one of the computers in our IT suite or, if you prefer, you are welcome to bring along your own laptop or tablet to practise on.
What you could learn in our IT sessions
The basics of using your computer keyboard and mouse
Setting up and sending emails
Creating, saving and printing documents in Microsoft Office programs
How to view, save and edit your digital photographs
Connecting to the internet and staying safe online
Using Skype to keep in touch with friends and family all over the world
Do your shopping online and have it delivered to your door
Save money by using price comparison and review websites
Banking and paying your bills online
Researching your family tree
Using social networking sites like Facebook and Twitter
Catch up on TV programmes you have missed
Where are the IT sessions held?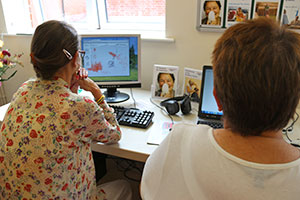 We have had to temporarily suspend our IT sessions because of Covid 19 restrictions. We hope to be able to restart the sessions again in the near future as the restrictions continue to be eased.
For more information about our IT sessions please ring us on 023 9286 2121 or email reception@ageukportsmouth.org.uk.