Age UK Shropshire Telford & Wrekin's weekly social groups help older people to meet up with friends or make new ones.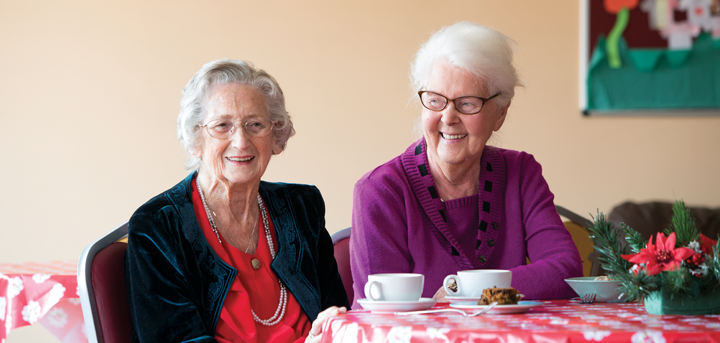 Meet up with friends or make new ones from your community while enjoying a cup of coffee or a slice of cake at one of our social groups.
Social groups
Friday Mornings at The Base
Held in the newly refurbished community room at Shrewsbury Baptist Church, all are welcome to drop in for some reasonably priced refreshments including hot drinks, bacon rolls, tea cakes and tray bakes.
Venue: The Base, Shrewsbury Baptist Church, Crowmere Road, Shrewsbury SY2 5JJ
When: Every Friday morning, 9.30am-12.00pm
Cost: Free
Contact:
Susan Stefiuk
Phone number: 01743 233 123
Email: enquiries@ageukstw.org.uk
---
Over 60s Coffee Morning
Pop in for a cuppa, make new friends and enjoy the company of 11 furry felines at Shropshire's first cat café. One or two hour sessions are available but booking is essential.
Venue: Paws Café, 53 Mardol, Shrewsbury SY1 1PP
When: Every Thursday morning, 10.00am-12.00pm
Cost: £10 per hour
Contact:
Angela Goodman
Phone number: 01743 233 123
Email: pawscafeuk@gmail.com
---
Traditional Board Games
Every Wednesday, people aged over 60 can play traditional board games for free in Shrewsbury's dedicated board game café. Socialise over a game of chess, draughts, backgammon, cards or dominoes.
Venue: Nerdy Coffee Co., 49 Mardol, Shrewsbury SY1 1PP
When: Every Wednesday, 11.00am-4.00pm
Cost: Free for people aged over 60
Contact:
Angela Goodman
Phone number: 01743 233 123
Email: enquiries@ageukstw.org.uk