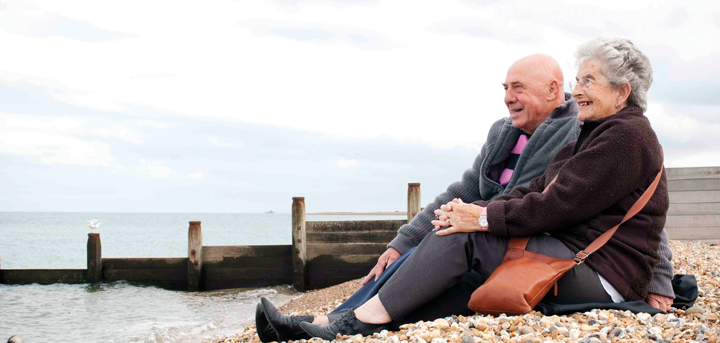 Remember Age UK Shropshire Telford & Wrekin in your Will and make sure an older person in the county will be given that helping hand they need at a time when they are feeling most vulnerable.
A gift in your Will can help us be there day after day
An important part of our donated income comes from legacies left by ordinary people who, after providing for their loved ones, want to leave something to a local cause they believe in. Some may have been helped by Age UK Shropshire Telford & Wrekin themselves, or had an older relative or friend who has benefited from our services.
Legacies support services that we couldn't otherwise afford to run. They don't have to be large to make a difference, whatever you leave is a gift for the future; your way of ensuring that your kindness and compassion live on for a cause that you care about.
Get a free Will information pack
For many people, writing a Will can seem daunting but it is so important to have one as it is the only way to ensure your wishes are carried out after your death. It doesn't have to be complicated or expensive.
Age UK Shropshire Telford & Wrekin have produced a free Will Information Pack which will give you the information you need to know. If you would like one, please call 01743 233 123 or email enquiries@ageukstw.org.uk and we can post one out to you.
Write your Will for FREE
We are offering our supporters the opportunity to write a Will for free with ActiveWills. You can write a simple online single or mirror Will for nothing. Just click on the button below to save yourself at least £100.
The online process takes you through writing your Will step by step. If you would like help to do this then ActiveWills offers telephone support or you can make an appointment for one of their legal consultants to come to your house and assist you to make a Will. Should you wish to make a more complex Will or discuss other requirements then you will be offered a free no obligation consultation with a professional estate planner. All Wills are checked by a solicitor.
If you use this free service, you are under no obligation to include a gift in your Will to Age UK Shropshire Telford & Wrekin, but we hope you will consider it, after you have provided for your loved ones.
Help us to reach more older people who feel forgotten and alone by leaving a gift in your Will: no matter how big or small it will make a difference.
About ActiveWills
Based in Market Drayton, ActiveWills is a company which specialises in Estate Planning. For more information go to activewills.com
Please note: Age UK Shropshire Telford & Wrekin does not endorse ActiveWills nor are we receiving any financial benefit from this offer. There are many solicitors and Will writers who can help you to make your Will. We would always recommend that you seek professional advice.
How to leave a gift in your Will
Having a Will and keeping it up-to-date helps ensure that your wishes can be respected and your property and assets benefit people and causes you really care about. We would always recommend that you speak to a qualified professional such as a solicitor, when making or amending your Will.
Your solicitor will be able to advise you on the required wording to carry out your wishes. If you wish to leave a gift to Age UK Shropshire Telford & Wrekin in your Will, all you need is our charity details below:
Age UK Shropshire Telford & Wrekin, 3 Mardol Gardens, Shrewsbury SY1 1PR
Registered charity number 1090445
If you already have a Will
If you already have a Will and you want to include a gift to Age UK Shropshire Telford & Wrekin in it, there may not be need to rewrite it. You can ask a qualified professional such as a solicitor to add an amendment (called a codicil). As a general rule, if the change you wish to make is quite small or simple, you can use a codicil, and if the change is more significant or complex you should make a new Will. You can download a template codicil form here.
What kind of gift can I leave?
You can leave a specific sum of money or an item such as jewellery or a piece of art. Or you can leave a share in, or all of, what's left of the value of your estate after family and friends have been taken care of. The advantage of leaving a share (also known as residuary gift) is that it remains the same over time, and you won't need to change your Will to keep up with inflation.
How else can we help?
We can arrange for you to speak to one of our trained information and advice officers or volunteers if you feel you need more information.
Once a month, we provide a free legal surgery where we can book a 15 minute appointment for you with a local solicitor who is a member of Solicitors for the Elderly.
Age UK also offer a Funeral Plan to help you spread the cost of your funeral, please ask for more details.
Contact us to find out more
If you are interested in leaving a gift in your Will and want more information, please feel free to contact us and we would be happy to talk to you further.