Age UK Shropshire Telford & Wrekin has a team of volunteers who provide companionship and support for older people.
Our volunteers can visit you in your own home, provide a regular telephone call for those that enjoy a friendly chat or accompany you to access social activities in your neighbourhood. They all enjoy making new friendships and sharing experiences.
Home visiting
Our volunteer befrienders visit on a regular basis to provide support to older people who may be experiencing loneliness and isolation. They do this in a number of ways:
as a new friend, someone who listens, cares and gives you confidential support
by providing regular contact and conversation
by engaging in activities, maybe going for a walk, playing scrabble, watching a film or sharing hobbies
by providing information about services provided by Age UK Shropshire Telford & Wrekin and other organisations in your area.
Short term befriending
It is often difficult to try new things at any age, but particularly if you have lost your confidence. You might want to try a local club or activity but the thought of going alone for the first time puts you off. Our short term befrienders will accompany you to whatever activity, group or club that interests you; and they will continue to attend with you until you feel confident enough to go by yourself. The aim, after all, is to make new friendships.
Telephone buddy
Our telephone buddy volunteers provide a regular telephone call to older people who enjoy a friendly chat. The calls are usually weekly and you may get a different volunteer each week. All our volunteers enjoy sharing experiences and offering a supportive listening ear.
We can also arrange to use the national Age UK charity's service, Call In Time. This operates in a similar way to our telephone buddy calls. We are happy to discuss the available options with you.
All these services are free of charge and can be accessed by calling us on 01743 233 788.
Friendly LGBT+ companionship and support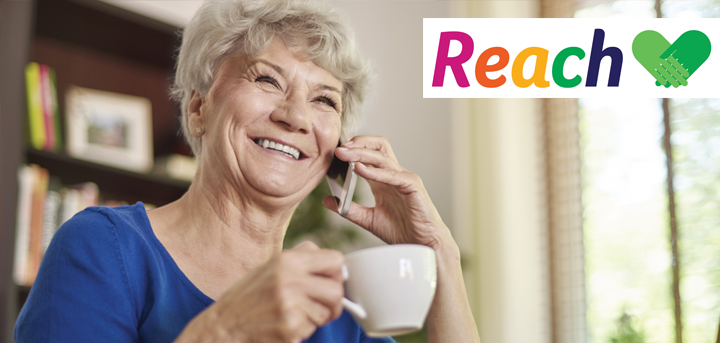 We've launched Reach, a pilot project to support our older LGBT+ community with telephone companionship.
How we can help
Reach offers older LGBT+ people a regular confidential phone call with a friendly trained volunteer. You might want to talk about what's on your mind or simply talk about what you've been getting up to. We have someone who can listen. We'll match you up with a likeminded person who has similar interests or hobbies.
This service is free of charge and can be accessed for as long or as little time as you need.
How Reach can benefit you or someone you know:
It can help to reduce the feeling of loneliness
It provides you with a regular and consistent volunteer to speak to
It can help you to build confidence to attend social activities you would like to reengage with or may have not done before
It provides a vital connection to someone that can signpost you to additional support.
Call us on 01734 233 123 to find out more.
About the Reach project
Age UK Shropshire Telford & Wrekin, Age UK Herefordshire & Worcestershire and SAND (Safe Ageing No Discrimination) are working in partnership to reach more older LGBT+ people and increase visibility and support for the LGBT+ community.