Runners tackle Great Birmingham Run 2017 (half marathon)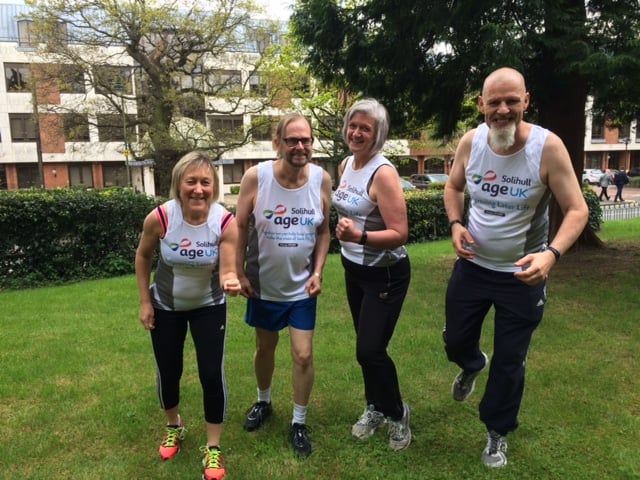 Published on 02 November 2017 04:34 PM
Age UK Solihull were lucky enough to have a group of brave fundraisers that decided to take on the gruelling Great Birmingham Run - half marathon on Sunday 15 October 2017. Winding through famous landmarks around Birmingham such as Edgbaston Cricket Ground and Cadbury World, the 13.1 mile course was a challenge completed by all our runners and they helped to raise thousands for the charity.
David Johnson, pictured in the middle (Age UK Solihull Trading Manager), and his wife, Sue completed the run together. He says: "Sue and I ran the Great Birmingham Run (half marathon) on 15 October. We had started out with a great training regime planned, but after school started the autumn term, life became very busy and the strategy largely went by the boards. If/when I run a half again, I will definitely keep up my training in the weeks coming up to the run!
On the day, the support from the crowd was fantastic – gave a real buzz. I saw some friends, old and more recent, running on the day, which was nice. Sue and I finished together, with a time of just over 3:10, which wasn't too bad, and we reached the fundraising target we had set for ourselves, benefitting Age UK Solihull. Although I wouldn't have said so immediately afterwards, it was a great experience."
We are incredibly grateful to David, Sue, Clare, Alison, Glenn, Tanya and Fiona for deciding to fundraise for us and completing such a gruelling challenge all in aid of charity!
If you would like to get involved in fundraising for us, we will support you every step of the way, whether it's running or even putting on a bake sale! Age UK Solihull fundraising team are here to help.
Contact us on 0121 704 7842 or email events@ageuksolihull.org.uk